Shoes: Chie Mihara
Gosh, didn't that weekend fly past? I had a lovely relaxed one; mooching about, sleeping in, doing a bit of housework and a bit of crafting. It's always good to spend the first weekend after the first week back cruising, don't you think?
Despite the black/grey/neutral palettes that have been trending on the blog lately, I've been wearing the hell out of this rust-coloured skirt from Modcloth. Today's the first time I've tried teaming it with this stripey tee, which has been languishing at the bottom of a drawer for so long I (oops) kind of forgot I owned it.
I bought it a few years ago at one of the Queen Victoria Night Markets, but I'm pleased to say it's also available on Etsy. It's only available in one size, but it's supposed to be fairly loose-fitting, so fortunately it fits The Rack of Doom easily.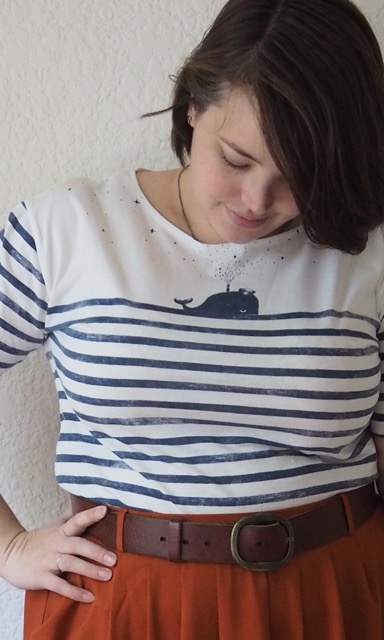 The stripes are kind of roughly screenprinted, giving the top a nice home-made feel, and I totally love the little whale who's -improbably – spouting scattered stars from his blow hole.