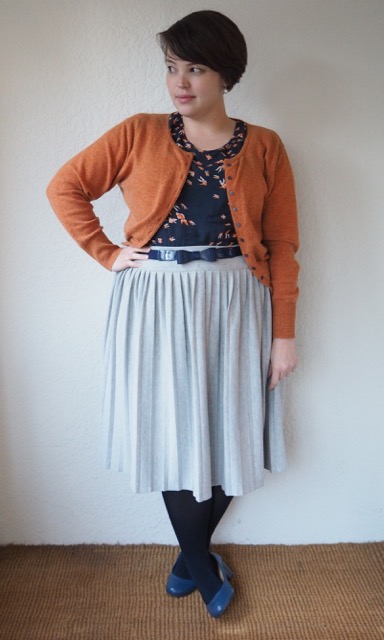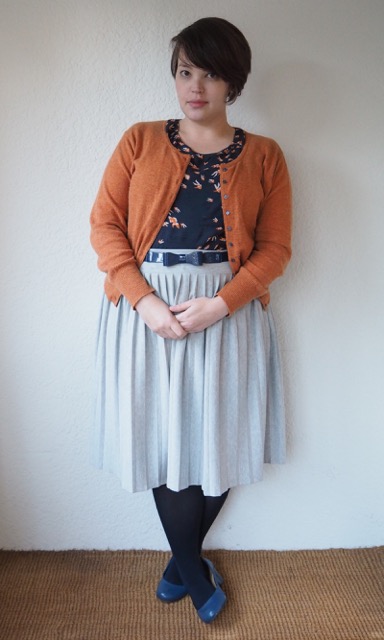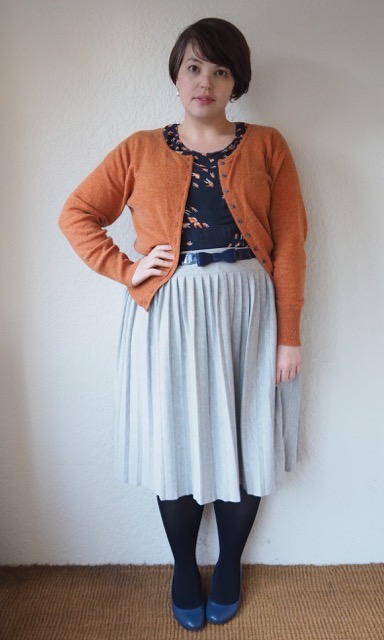 Top: Dorothy Perkins
Skirt: Asos
Tights: Sonsee
Shoes: Comfortview Regina
Belt: Closet Confessions Boutique
It's been a really cold start to winter in Melbourne – the coldest in 65 years, apparently – and my staple range of stretchy cotton cardigans really isn't cutting the mustard in the keeping-me-warm stakes.
After shivering through the last days of autumn, I thought I'd take advantage of the free world-wide delivery, and multi-buy discounts at Woolovers and get a few merino/cashmere blend cardigans to wear this winter. I'm so glad I did because they're snuggly warm and great quality for the price.
I've been wearing this russetty-orange number for a couple of weeks now, and it's still in great condition. It hasn't lost its shape, or become hilariously pilly, and while it's not as butter-soft as my pure cashmere cardigans, it's still soft enough to wear against the skin without feeling like I've been attacked by a swarm of bees.
I've been so impressed with the range of colours that I have to tell you that they're probably going to be my go-to shop whenever I'm looking for cardigans from now on. They've got cotton cardigans and cotton-silk blend cardigans which will be nice as the weather warms up. And they've got some pieces with stripes or polkadots too – yay! I like the way they've got actual measurements for width, length, and sleeve length. I bought L's, and they fit my F-cups fine. You can shop by colour, which means that (just letting you know) there's an entire section for mustard yellow cardigans.
If you're interested in snapping up a couple then I'll let you know that when I placed my order with Woolovers they sent me a 10% discount offer to share with other first-time customers. Just click here for the code.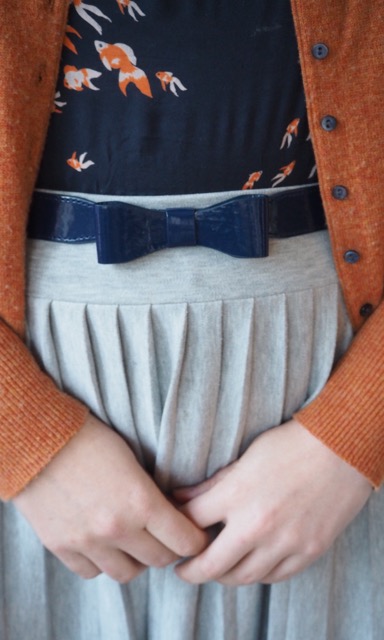 Belt: Closet Confessions Boutique
Meanwhile, in other news, I've discovered my dream belt! This classy little piece is from blogger Caitlin Bradley's online shop Closet Confessions Boutique. Caitlin's started the shop towards the end of last year, and has cherry picked some really cute rockabilly-styled pieces including dresses, skirts, accessories, handbags, and these OMGCUTE bow belts that I spotted on Instagram and knew I'd have to add to my wardrobe. They're a steal at just $12, come in six different colours, and fit up to a 50″ waist, so win-win-win as far as I'm concerned.