Top: Katies
Tee: Gorman
Shoes: Seychelles
In January when I posted about my first wax print skirt I mentioned that I'd bought a second skirt from Canberra-based company Prodigal Daughter. Well, here it is! Like the gorgeous full midi skirt that I bought previously from Anna Devine it's a riot of bright colours and good quality cotton fabric.
This skirt is fully lined in cotton, giving it a bit more structure than the average pencil skirt. The size 16 that I bought is a snug fit, but there's a slit at the back that makes it fine for striding about in.
I'm still struggling a bit with what to wear with my wax-print skirts. I don't have a lot of plain coloured tops, and I'm not really confident enough in my pattern-matching skills to teams prints with prints. I decided to team this with my old gold polkadot tee from Gorman, and a navy tie-front cardigan from Katies.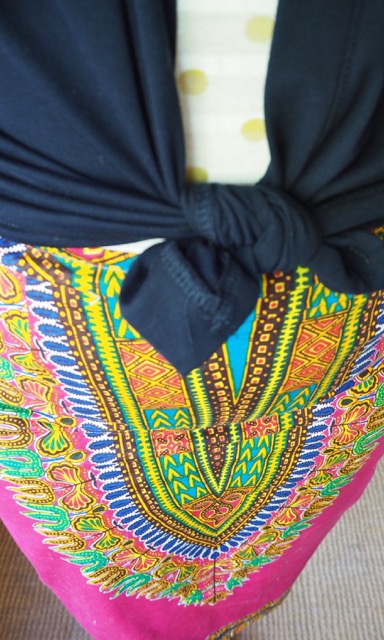 The skirt is waistband-less, and pocket-less, with a sleek invisible zipper installed at the back. The minimalism suits the bold print, which is mirrored on the rear too.
It's a great, bright piece that will inject a bit of colour into a grey day as the weather cools in Melbourne.