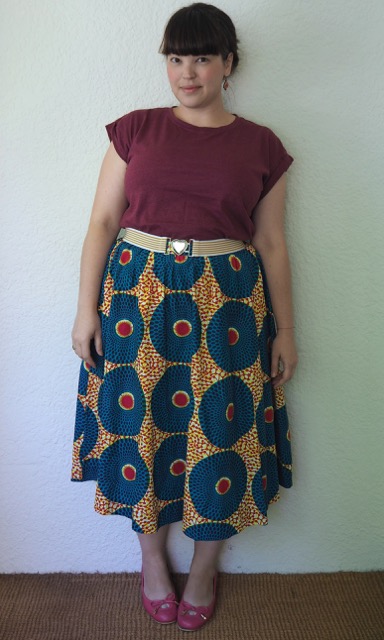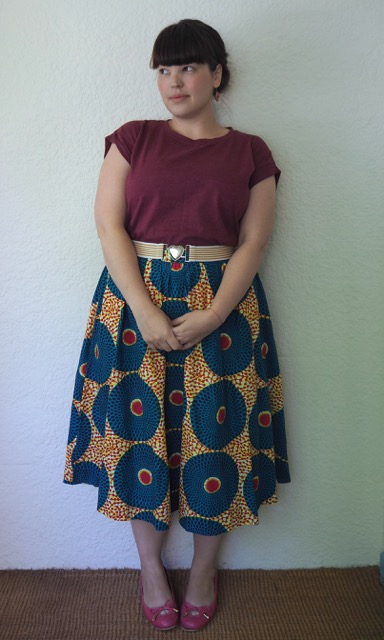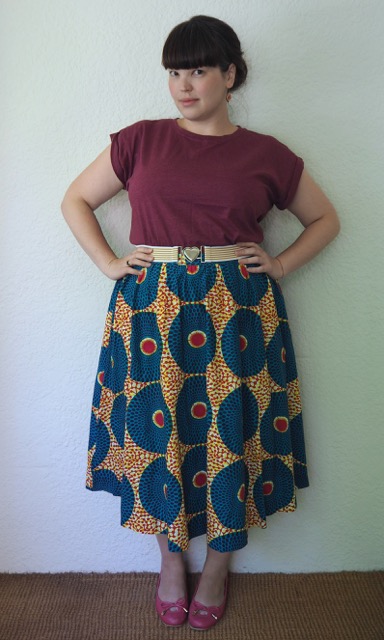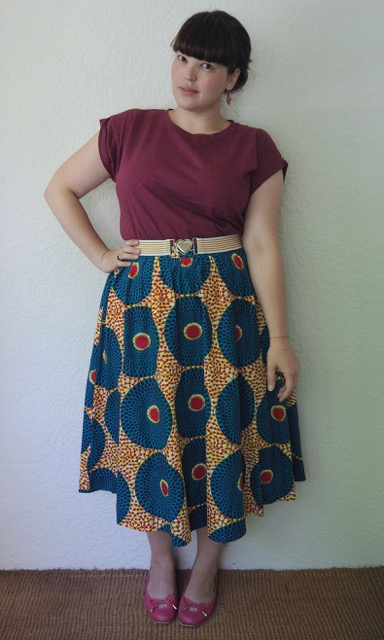 Top: Miss Shop @ Myer
Skirt: Anna Devine
Belt: Modcloth
Shoes: Comfortview via One Stop Plus
I'm a huge fan of the bold, and brightly coloured wax prints that are so synonymous with the fashion of of West Africa. The incongruous and irreverent patterns really speak to me, and I've been delighted to watch them start to hit the mainstream market. Where the saturated bright colours and big prints might overwhelm slight figures, they seem to particularly suit bigger bodies which provide a larger canvas to play with.
I've been a bit too anxious about cultural appropriation, and aware of my own ignorance about the political and sociological history of Ankara, or wax printed fabrics, to wear it before now. I didn't want to be the (mostly) white girl wearing something in ignorance, like the people wearing Native American head-dresses to music festivals.
I was at the Finders Keepers Market in Melbourne a few months ago, and came across Anna Devine's stall of beautiful wax print skirts. I was stopped in my tracks, and meandered over to have a little fondle. Anna overheard me telling my friend why I couldn't wear the prints, and she told me the revelationary news that "African" wax printed fabric is actually considerably more global than that.
The leading manufacturer of Ankara fabric is Vlisco, a Dutch company that started producing wax print fabrics in 1846, after being inspired by the Indonesian Batik brought back to Holland by the Dutch East India Trading Company. There's a fascinating article on Slate about the history if you're interested in reading more.
The fabrics usually have names – this one is called "Record" – most with stories behind them, which you can read on the Vlisco website (I got a giggle out of "You Fly, I Fly" which depicts a bird escaping an open cage  and is worn by newlywed women as a warning to their husbands!).
The skirt is very full, and the fabric is quite stiff, but I believe it softens with repeated wears and washes. It's 100% cotton, and gorgeously bright. In all honesty I had a little trouble finding something to wear it with – Anna suggests a plain black tee, and I've often see the bold prints paired successfully with crisp white shirts, too. This plummy roll-sleeve t-shirt from Miss Shop works fine.
I was so glad to discover I could wear the big bold prints of Ankara fabric without offending anyone's culture, or treading on anyone's toes. I've since bought a second skirt (from Prodigal Daughter in Canberra) and I've got my eye on a few other pieces I've seen around the traps.