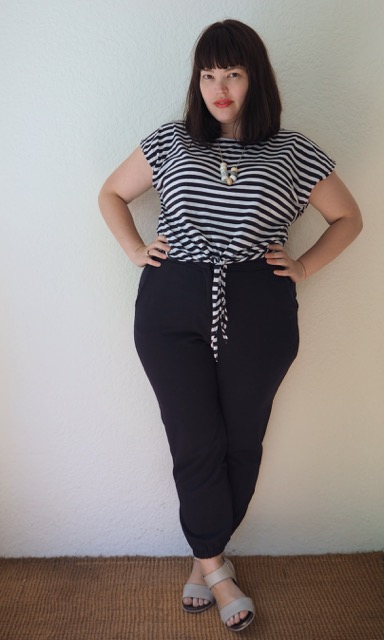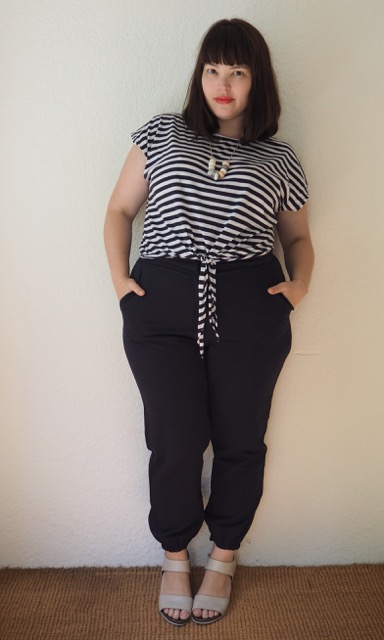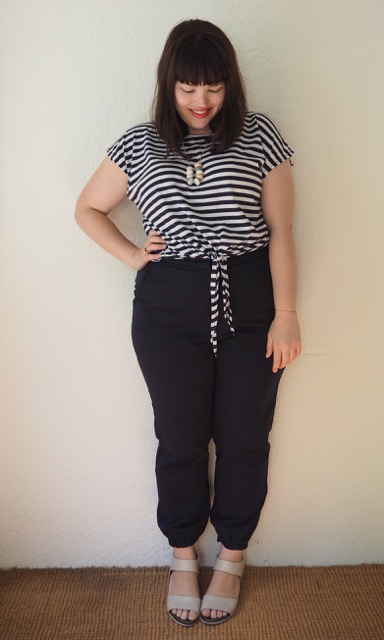 Top: Urbane at Myer
Shoes: Gino Ventori at Bob's Shoe Store
Necklace: Made By Emily Green
I don't wear trousers very often, and toe-baring shoes even less often, so this outfit is a bit out of my normal comfort zone. It includes two things I always swore I'd never wear: joggers (the last time I wore elastic cuffed trousers they were probably fleece, it was probably the 80's, and I could probably count my age in single digits) and open-toed sandals (I don't like showing my toes. It's weird, I know. My toes are fine, I get that. I just don't like them on display).
I'm a frocks and skirts girl usually, but on really sweltering days when things get a bit sticky and uncomfortable (ahem! stay tuned for an updated post on THAT particular issue) I often just want to reach for a breezy pair of trousers. These navy pants – currently on sale at Asos – look surprisingly put-together for something with elastic cuffs: the tailored detailing, high waist, and side pockets make them perfectly suitable for the office. Teamed with a cropped tee and some sandals they're also great for casual weekend wear.
Watch out for your size – there's non-stretch, and I bought the smallest size thinking they'd be too big, but they're actually fairly snug. Unusually for Asos Curve I'd say the size chart is about bang on the money. They're a tight fit on my thighs, but fit comfortably around the calves, and don't cut in around my ankles (which look positively dainty).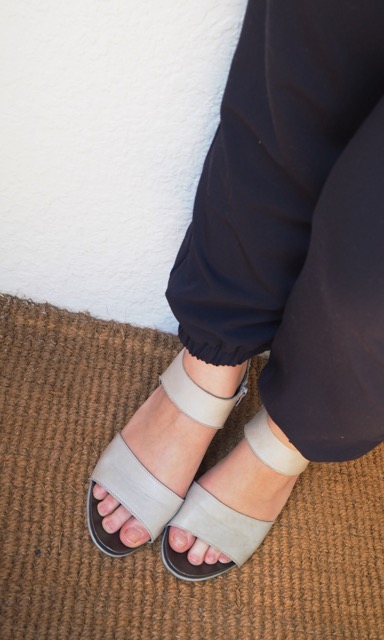 Shoes: Gino Ventori at Bob's Shoe Store
I do a lot (a lot of a lot) of walking in my day-to-day life, so comfortable shoes are an absolute must. I've been looking for something a bit more open and breezy for those really hot days, but had basically given up of finding a pair of sandals that were versatile, comfortable, and didn't make me hate my feet.
I was in Perth just before Christmas for work, and was meeting my little sister in Fremantle after I finished on the Friday so I took the opportunity to do a bit of shoe shopping. I spent the better part of an hour at Bob's Shoe Store, putting a very patient salesperson through her paces while I tried on a good thirty percent of the store's inventory. These, miraculously, ticked all the boxes: They're soft and comfortable with a little bit of a wedge heel, a flexible sole, a versatile colour, and a style that worked with my wide calves. I tossed the box before I flew back to Melbourne so I haven't the foggiest idea what the style is called, and I'm only about 75% sure they are even from Gino Ventori since I've managed to walk the logo off. Sorry, bad  blogger (obviously I need Penny from the Big Bang Theory's shoe finder app).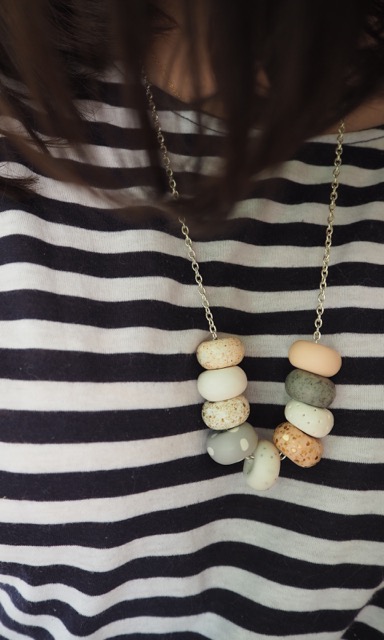 Necklace: Made By Emily Green
I also bought myself a second Made By Emily Green necklace, and I'm loving the hell out of it. The nude shades work with pretty much everything in my wardrobe, and I like how the individual beads have different textures or patterns: polkadots, glitter, pin-pricks or a kind of granite effect. It's goes well beyond my own bodgy DIY'd attempt (unless you count cat fur as a texture….)