Top: Friends of Couture (now Princess Highway)
Skirt: Ivanka Trump
Tights: Sonsee Woman
Shoes: Aerosoles
Many years ago I missed out on one of the great cultural zeitgeist moments of my generation.
In 1990 when the TV show Twin Peaks hit the screens I was twelve years old: My parents had just split up, and I was starting high school in an unfamiliar new neighbourhood. I had been a keen student at primary school, friendly with teachers and shy with strangers; I was feeling very much the fish out of water – inexperienced enough to wear the uniform to the first day of school, and foolish enough to think if I was nice to people, they would be nice back.
And I, um, developed early.
The combination of posh, square, timid and STACKED (for my age) proved to be too much fodder for some of the rougher young men in my grade, and with the popularity of David Lynch's new series I scored an obvious new nickname pretty quickly.
Unsurprisingly it turned me right off watching the seminal series.
Recently The Sophisticate decided that my wilful ignorance as to "who Killed Laura Palmer" had gone on long enough, and since I arrived we've been gradually working our way through the series.
I have to admit it's pretty good, in a part-hilarious-part-compelling-all-weird kind of way, and some of the preppy fifties-cum-eighties fashion has caught my attention.
I bought this little pleated skirt at Macy's big one-day sale (which has been going for a few weeks, as far as I can tell), and while I would normally avoid anything with the Trump name attached I tried this on and fell in love with it before realising what the label was.
The skirt's got a lovely fit (I bought the 14) – fitted to the hips before falling away in knife-edge pleats. The fabric's a silky polyester with a decent amount of weight. It's swooshes most satisfactorily when I swing my hips.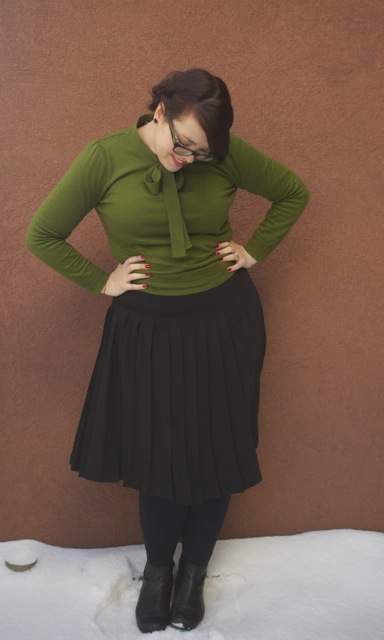 Of course, that's still snow under my boots, so under the Sonsee tights I've got thermal leggings on. And you should probably get used to seeing these boots. They're the Duble Trouble ankle boot from Aerosoles, and they're the most comfortable shoes I think I've ever worn.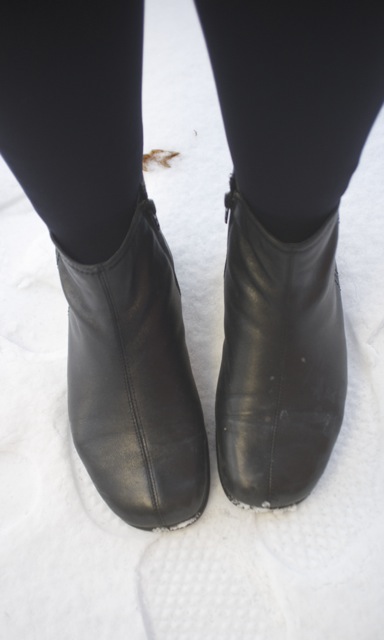 They're not my usual style at all, but I've discovered that in a lot of American shoe shops when a salesperson comes back with the shoes you've asked for in your size they'll often also bring a few other pairs they thought you "might like". I didn't like these at all…. until I tried them on. Then YUM. They're soft, incredibly flexible, and have good grip which is invaluable when you're picking your way over icy pavements.
Of course the great irony of blogging my fashion in New York is that 90% of the time I actually look like this: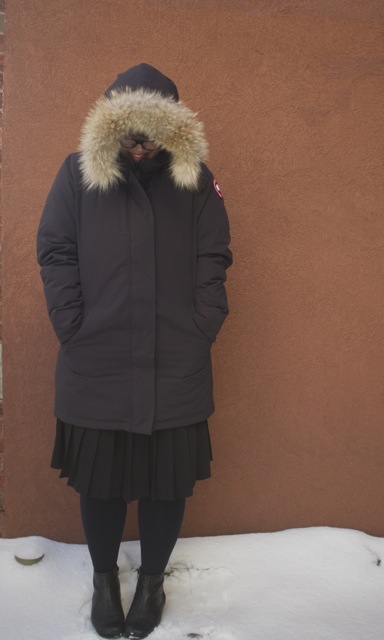 THIS is the favourite item in my wardrobe right now, a big down-filled, fur-trimmed coat from Canada Goose, which The Sophisticate bought for me when I arrived, and thank God for that, because when the top temperature is forecast to be minus five even I would rather be warm than look like a fashion plate.