Well, I'm back!
Back to Melbourne, and a brisk Australian winter, and my beautiful fur-baby, a new home and a half-empty bed. And back to a huge backlog of catching up on the blog to do!
Day four of Full Figured Fashion Week was a little more relaxed. I think the organisers figured we might be a little sore-headed and tired after the excitement of White Cruise the night before, so the first event for the Fashion Front was a Social Media Panel a little after lunchtime.
Bloggers and businesses were invited to sit down for a presentation and pow-wow with Heather McGarry (the marketing manager at Lane Bryant), Carina Sullivan (the marketing manager at Evans) Dina Fierro (social media VP and fashion blogger) and the Fashion Front's own Ty Alexander from Gorgeous in Grey (FFFWeek Fashion Blog of the Year)
I live-tweeted the panel, so you may have already heard some of my favourite insights, but I found the following tips from the day really helpful:
Each social media platform you work across (Twitter, Facebook, Instagram and Pinterest) should provide something different to subscribers, and you should endeavour to be useful, clever and interesting on social media. As a business you should always attempt to respond to your followers on social media – especially Twitter, which is becoming a great tool for customer service. And bloggers should avoid bad-mouthing brands on a public forum.
After the Social Media Panel the Fashion Front packed themselves up and headed off to Bloomingdales for the first of three runway shows.
I love that in America big name designers like Calvin Klein, Ralph Lauren, and Michael Kors all do ranges for plus-size women. They never seem to filter through to Australian stores, so I've always just looked at them online, and wondered.
Bloomingdales – being one of the great, oldest, and most upmarket department store chains in the world – stocks a huge range of these plus-size designer ranges, so I was excited to see what they'd bring out to show us at the FFFWeek Bloomingdales Fashion Parade.
I was delighted to see a lot of colour, some great dresses, and a few really show-stopping gowns from brands like Tadashi and Adriana Pappell. There was a lot of wearable casual clothing and some good professional looks.
I didn't see anything particularly exciting or innovative, but there were lots of easy-to-wear ensembles and some classic pieces that would be perfectly at home in my wardrobe.
Some of my favourites included: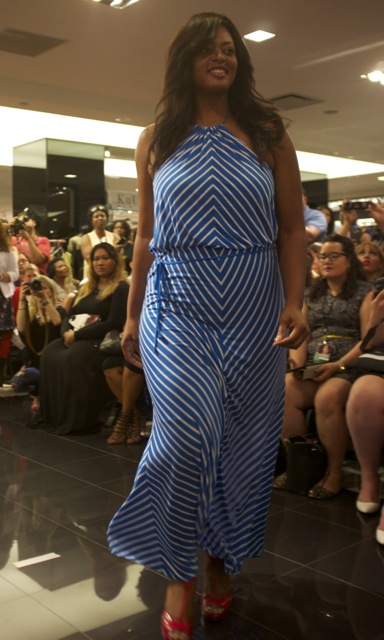 This Ralph Lauren Maxi dress was a beauty with its chevron print and halter-neck. It's in the dreaded "strapless bra" territory, but it's so breezy and fun looking that I'm willing to overlook that.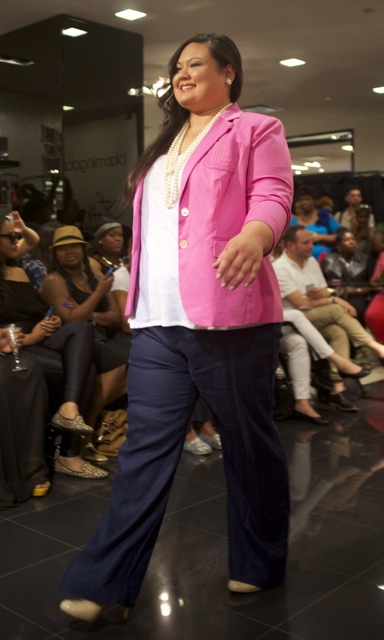 This is another Ralph Lauren ensemble, and though I'm not sold on the wide-leg pants I thought the colour combo and that hot pink blazer looked amaze.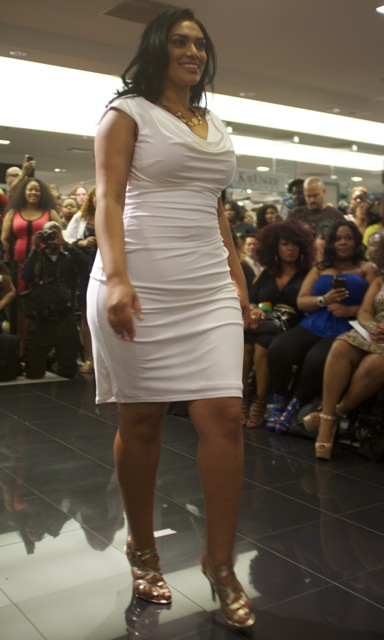 The LBD has been done to death, so I kind of loved the freshness of this LWD! Another Ralph Lauren piece the draped neckline and ruching give it a casual, but classy look.
This fabulous geometric print maxi is from Vince Camuto, and it was one of my favourite pieces from the night. The colours were gorgeous, and when I saw the back I was sold: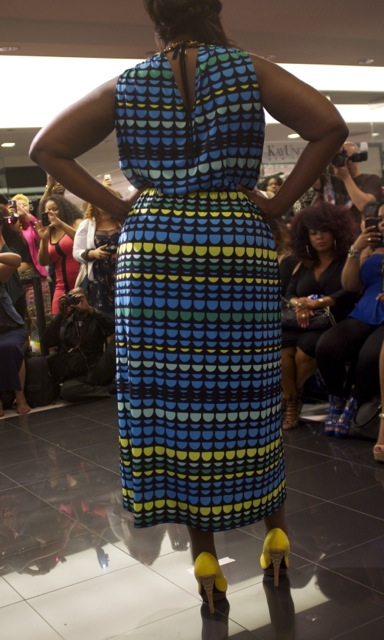 Something about that ribbon fastening at the neck makes my heart skip a beat.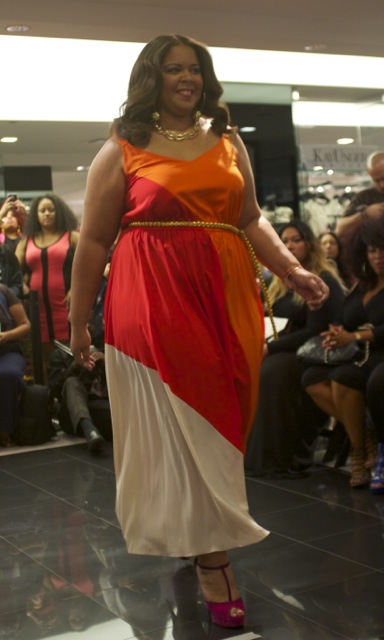 Another maxi dress – this one from Michael Kors. The three-tone colour blocking looked fantastic, and I loved the light, silky fabric and the way the dress swirled around the models legs as she walked.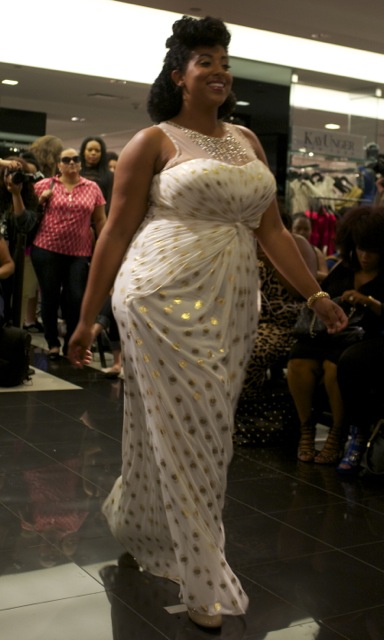 The evening wear section was gorgeous (of course), but the fabric on this Tadashi(?) dress  really caught my eye the most. Why don't more evening gowns have gold polkadots?