Top: Urbane at Myer
Skirt: GLM Fashion (remixed)
Shoes: Mollini
Necklace: DIY
So officially today's outfit is both a DIY (the necklace) and a remix (the skirt), but mostly it's a homage to one of my favourite outfits that I've seen on fellow blogger Alison from Wardrobe Oxygen.
I tried something similiarish in 2010, but the resulting outfit looked slightly prissy; cute, but definitely not casual enough for everyday wear.
Alison's blush skirt and knotted t-shirt nailed it though, and the leopard-skin flats gave the whole outfit a quirky cool. It reignited my desire for ballerina skirts and striped tops, and when I found this striped top on sale at Myer I knew I was half-way there so I went on an eBay odyssey to find the perfect, floaty, skirt with which to team it.
In the end I bought a maxi chiffon skirt from GLM Fashion – no idea what possessed me to choose a maxi, and when it arrived i know the bottom half would have to go. I made a pretty slapdash attempt at hemming it shorter, and it honestly looks like a bit of a dog's breakfast in the pictures, but it floats marvellously in person and you don't notice the wonky hem when I'm walking.
It's not bad quality for a cheapie item. It fits comfortably around the waist and isn't frighteningly transparent. The waist isn't a black strip of elastic, but a proper ruched waistband with the elastic inside. The blush colour is perfect ( I bought #2 "nude", btw). I had to squirt the skirt liberally with Statique to stop it clinging to my legs but apart from that I can't complain.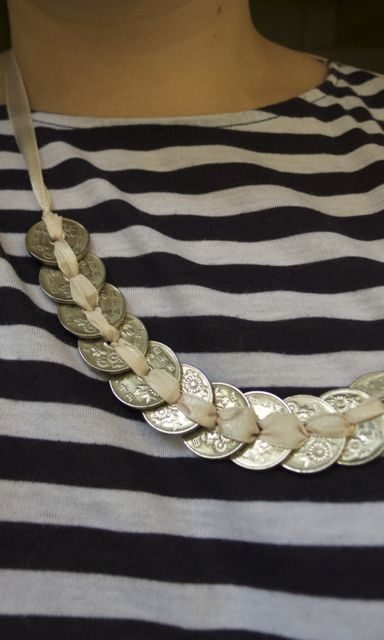 Meanwhile, on to the DIY component of today's outfit…
If you've been to Japan you might find my necklace looks suspiciously familiar. It's actually made of super-pretty 50-yen coins that I started stockpiling during my trip last year.
I got the idea after seeing this washer-and-ribbon project on Pinterest.
It was a quick and easy DIY after a few false starts (took me a while to get the threading correct so that the floral motif on the coins was always the side up). Surprisingly, it's not an unbearably heavy necklace either, and I'll never have to scramble for change in Tokyo again!