Dress: Ginger Tree
Shoes: Poetic Licence
Merry Christmas from everyone at Chez Lillipilli!
I hope you've all had lovely, restful weeks full of good food, friends and family. I certainly have.
The Sophisticate and I took a trip down to his family home, where we've spent the last five days being spoiled by his parents.
I don't have any phone reception down there, and the internet is a bit patchy, so it's always a really, truly holiday away from everything.
We've come back today with a bucket full of fresh-picked blackberries, so I'm in a frenzy of sticky-fingered jam-making. Though the stains around my mouth suggest to The Sophisticate that it's a case of one-for-me, one-for-the-jam.
I'm wearing one of my many (too many, really) floral dresses and I feel very 1950's with my apron and my home-made preserves.
I spotted this dress on a trek down Bridge Road a few months ago, but I haven't worn it on the blog before. It was from Ginger Tree (no website, I'm afraid) and I seriously deliberated over buying it.
As you know, I have more than a few floral dresses, and more than a few of them look pretty much exactly like this one. But it was only $49, and on close inspection I liked the watercolour print A LOT.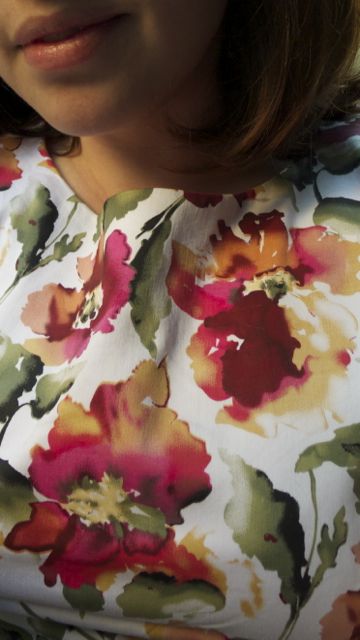 The fabric seems to be some kind of weird coated cotton. It feels almost like it might be waterproof (it's not, obviously). It's reasonably heavy and holds its shape well, doesn't crease badly, and the dress is fully lined.
The bodice is probably a smidge tight, but I don't really mind getting my boobs squished if the fabric doesn't look like it's straining. Sometimes (often) having larger breasts can be a burden, and having a outfit where I can pretend I'm a modest C cup rather than a flamboyant F is a welcome change.
Best of all, the dress goes PERFECTLY with my favourite Poetic License pumps.