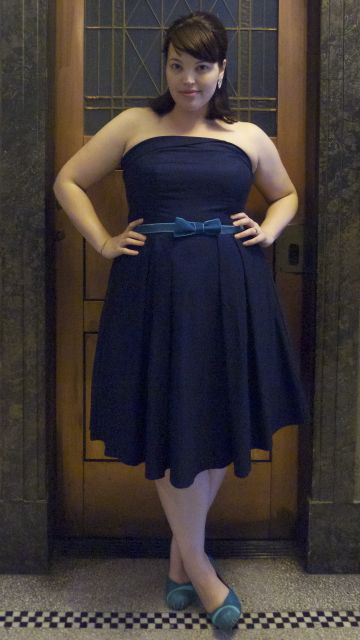 Dress: Dream Diva
Belt: DIY
Shoes: Chie Mihara
Barely squeaked in for the week's Aussie Curves challenge with a few hours to spare. Behold: Strapless!
Now, I wear an F-Cup, so any post about strapless dresses, is actually a post about strapless bras.
Don't get me wrong – I love this dress! It came from Dream Diva and while they don't seem to do the navy any more, they're now offering a basic black and a very pretty blush colour.
It's one of the best-fitting strapless dresses I've ever worn, with a scooped bodice that's lower in the back and under the arms, then rises higher at the front. It has a strip of silicone across the back that keeps the dress in place, and optional spaghetti straps if that's your thing.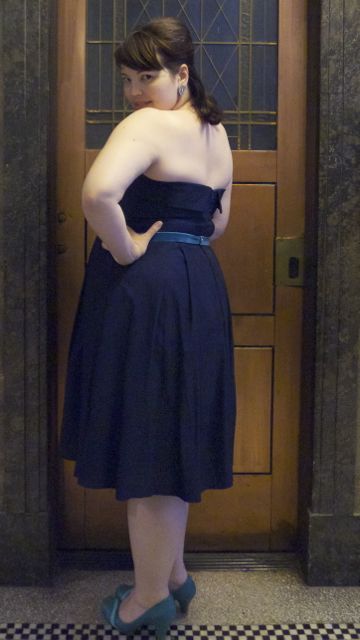 The skirt has a little attached crinoline for extra pouf, and it comes with a self covered belt that I subbed out for the velvet bow belt that I made myself earlier this month. As I mentioned in my original review I tried the dress on in-store, and sized down from the size chart; it means the dress is quite snug, but I feel more secure in my *gulp* strapless bra.
Because, as much as the advertising would like us to believe those "see-through" bra straps are invisible, they're really, really not (especially if your bra is carrying a few kilos of weight.)
And strapless bras can be agonising. Instruments of torture. I hate them so much that I rejected 98% of the dresses I saw when I was shopping for my wedding gown, because the idea of spending an entire day in one of those contraptions was more than I could handle.
I have, however, managed to find a few strapless bras that will support my generous endowments without me dissolving into tears and profanity by the end of the day.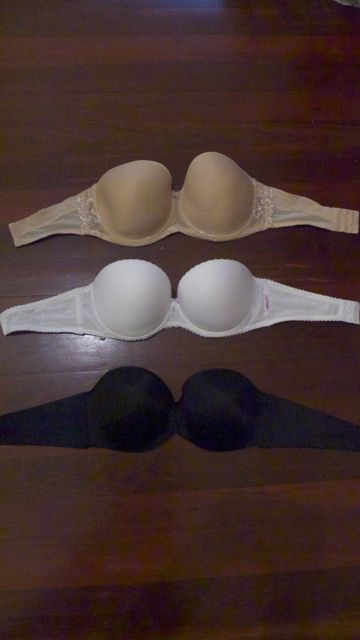 Top: Up top we have the matronly, but definitely most comfortable Triumph "Beautiful Silhouette" strapless bra which goes up to an 18G. It's soft and moulded with a silicone strip that runs all the way along the top of the bra, and removable straps. It's much higher in the cup than the other bras, which makes me feel less likely to fall out of it, but does mean it's not suitable under lower cup tops.
Middle: In the middle is my favourite bra designer Ewa Michalak's offering – the Mleczny. This bra has some serious moulding – it's practically solid, but still very thin, so you're not adding extra bulk. My boobs kind of go sideways in this bra, and it's quite low at the front and the sides. It doesn't have the same comfort factor as the Triumph, but it's the bra you need to wear when less is more.
Bottom: Berlei's Ultimate Strapless Bra is the first strapless bra that I managed to wear for an entire day, and though it only goes up to an E cup it's lovely and soft, and has a silicone strip around the top, the bottom, around the cups… This baby's not budging.
For me, a strapless dress is always a formal dress. I just don't seem to pull off the casual, summery strapless look, though I dearly wish I could. On me, bare shoulders automatically equate to over-dressed, unless I'm going out somewhere really swank.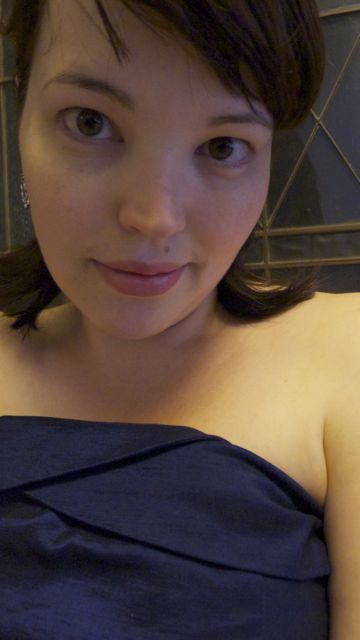 To check out the other entries for this week's Aussie Curves challenge, or to join yourself check out the link below: I love Alison's Skirt/Dress… She pulls off the "casual" strapless look like I wish I could. And Dani's extraordinary teal bustier top is seriously to die for, and the perfect colour.
Powered by Linky Tools
Click here to enter your link and view this Linky Tools list…
And today's also the final day to get your vote in for the Navabi Curvy Blog Awards, so one last time: If you haven't voted yet, please do. I'm number #190