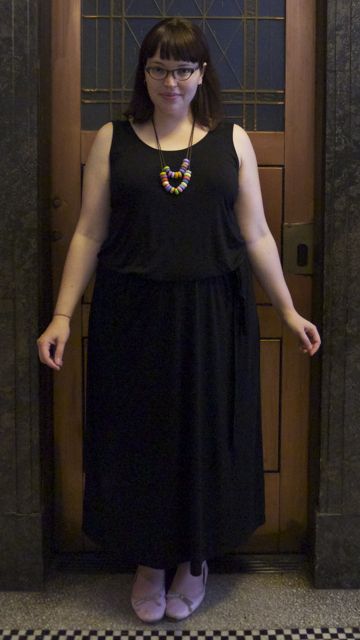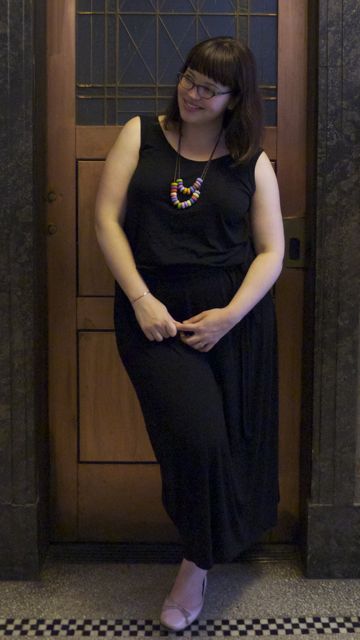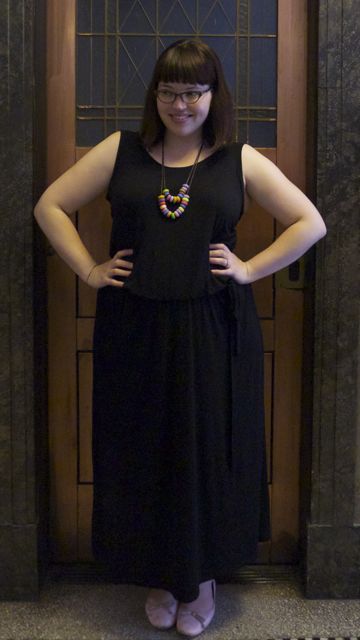 Dress: Savannah @ Harris Scarfe
Shoes: Milu
Necklace: DIY
A scorcher in Melbourne today! Forty degrees!
Don't you find it funny how maxi-dresses seem to be such a great go-to for hot days? You'd think the longer hem and expanse of fabric would actually make you less comfortable in the heat, but I usually find it the other way round. Maybe it's got to do with sweating, or chafing, or the heat of the sun on the skin, but when it gets really hot I'd take a loose, flowy maxi-dress over a teensy little pair of shorts every time.
I'm a brights girl (duh!) and as you know I wear a lot of colour. This week's Aussie Curves challenge "Dark" was always going to be something a bit different from my usual ensembles just by virtue of the fact I haven't got a HUGE amount of "dark" in my wardrobe (More than I have of shorts though. That'll be a REAL challenge when it comes up in a few weeks!)
I think probably I subconsciously rail against wearing dark, because so much fashion that has been made to fit me used to be exclusively dark coloured. "They" say plus-sizes should wear dark colours because it's slimming (that's important, apparently). Personally I have my suspicions that it's because it's easier to hide in dark colours.
Anyway, when I wear black it's because it looks good against my pale skin, it plays up my dark hair and eyes, and because it's fun to accessorise with a blank palette. And I make sure I always get my colour fix.
Today's colour fix is my tight-ass homage to the necklaces of Made By Emily Green. I've been lusting after one for years, but after hemming and hawing at countless craft markets over colour choices I came to the conclusion that they looked best in multiples… and I couldn't afford two necklaces. So I decided to make my own.
They're a little bodgy – you can see my fingerprints in the clay, and at least one has unintentional table-grit included – but buying the materials was a darn sight cheaper than buying the finished necklaces, and I have enough left over to make lots more beads for lots more necklaces, which means CHRISTMAS!
I'll put up the DIY instructions tomorrow, so stay tuned!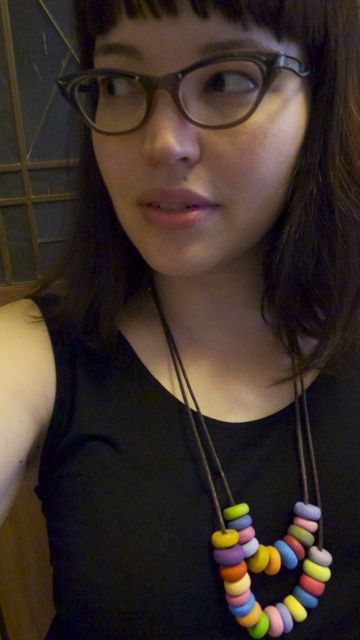 To check out the other Aussie Curves entries for the week click through below:
Powered by Linky Tools
Click here to enter your link and view this Linky Tools list…