Top: Dorothy Perkins – remixed
Skirt: Mokkafiveoclock
Shoes: Wittner
Melbourne's having yet another cold snap, with temperatures hovering around the twenty-degree mark, but this is unashamedly a warm-weather ensemble.
Which today was decidedly not.
I got struck down with a KILLER lurgie over the weekend, and spent most of the last four days laid up in bed feeling sorry for myself while The Sophisticate looked after me. As a result, this outfit (actually Friday's) is showing up on the blog a bit late.
Something about this bright red circle skirt screams summer. It arrived in the cooler months and I tried my best to winterise it, but in the end I had the resign myself to the fact that it would have to have to be shelved away until it it got hot.
And now it's cold again.
Still, there's a fair bit of summer still to come, with lots of opportunities to wear the skirt, and when I'm sweating through my fourth 35+ degree day in a row, I'll be thinking longingly back on this cool-not-cold weather.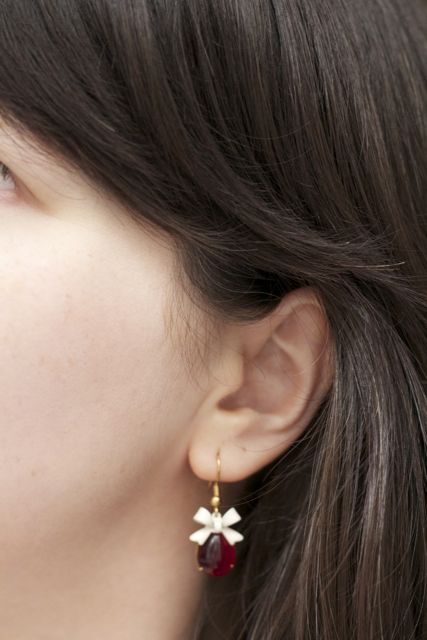 Earrings: Ruby Dalmation
Meanwhile here's another sneek-peek Wedding would-have-been.
I bought these earrings thinking they might do well as my wedding earrings, but I think they've been deemed not-formal-enough. Oh, too bad, so sad. It means I get to wear them straight away! Hurrah!