Shopping in San Francisco has been a bit of an experience, actually. Despite the amount of online shopping that I do I'm actually a very tactile browser: I like to be able to touch fabrics and look at the construction of different garments, so being able to walk in the doors of shops I've previously only been able to visit virtually is very exciting.
There's a couple of things that they do here in the US that are a bit different from Australia – For one thing, all the prices are listed sans tax, so it never ends up being quite as cheap as you think it is (though it still leaves Australian prices in the dust). For another, almost all the places I've been to have had this system where the dressing rooms have little whiteboards on the doors so the sales assistants can write your name and how many items you're trying on. Being asked solicitously "How are you doing in there, Lilli?" is much more fun than having the door rapped on when you're halfway in or out of a too-tight bandage dress.
One of the things I'm most enjoying about shopping in the US is that I can walk into most stores and I'll fit the clothing. I might not even be the top size. Coming from a country where I can only shop in a tiny percentage of "regular" stores this idea that maybe the top size doesn't have to be a size 14 (or a US 12) is a revelation. Sizes are pretty whacky between shops though, so that at least is familiar.
I'm on the road now, driving cross country to our next destination, so I thought I'd do little spot reviews of the stores I visited during the last few days in San Francisco.
First up, Old Navy.
I'd heard a lot about Old Navy, but as it previously never offered international shipping I'd never really bothered to spend much time on the site. It looks like it does now, but like a lot of US-based stores the shipping costs are pretty ridiculous, so maybe look into going through a shipping service if you're one of my Aussie readers, and you spot something you just HAVE to have.
For what it's worth, shipping might be astronomical, but at Old Navy you get a lot of bang for your buck. Here's some of what I tried on: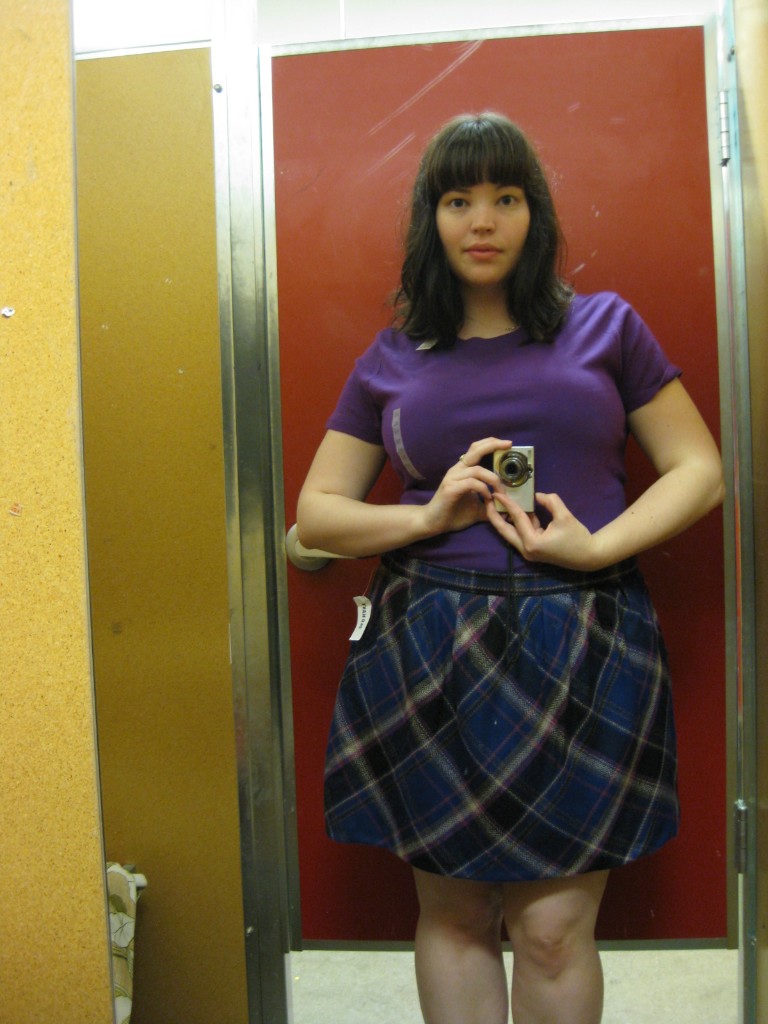 Skirt $20
The skirt was wool, and fully lined. I decided it was too short for my own comfort so I ended up giving it a miss, though at $20 it was a close thing & if I wasn't so worried about my return flight weight limit I'd've probably bought it!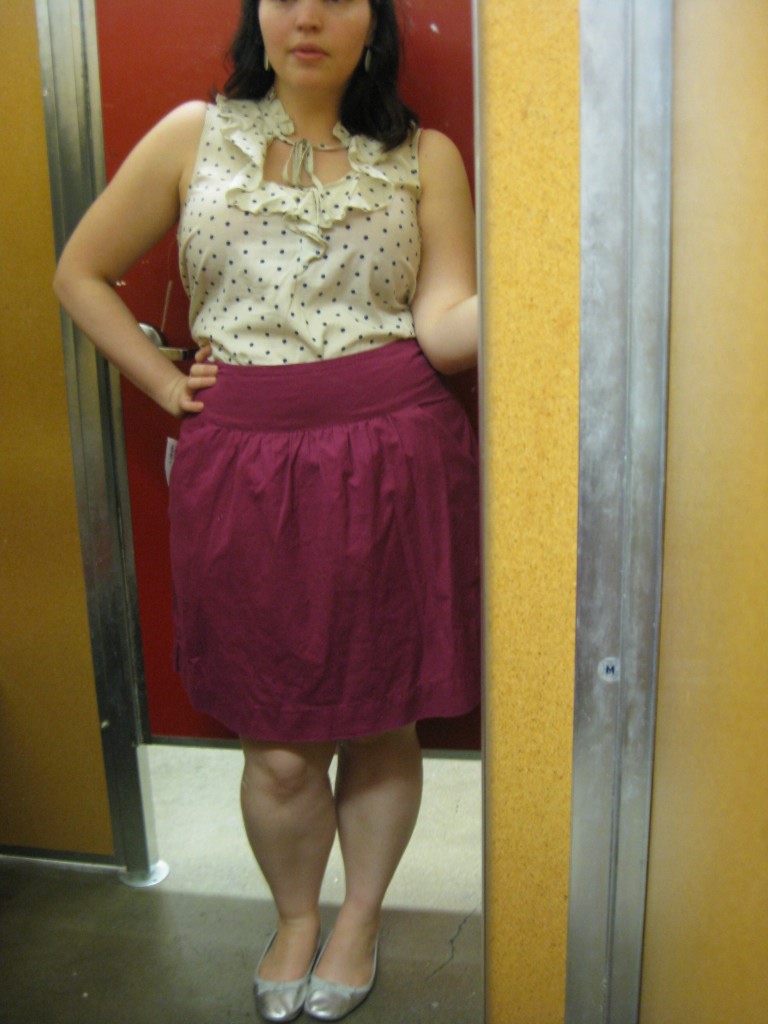 Skirt $29.50
This skirt was fabulous, and I ended up buying it for the hot pink colour alone, the blouse was good too, and I'll probably regret not buying it but I'm trying so hard to be "good", and I'm already in possession of more than one polkadot blouse.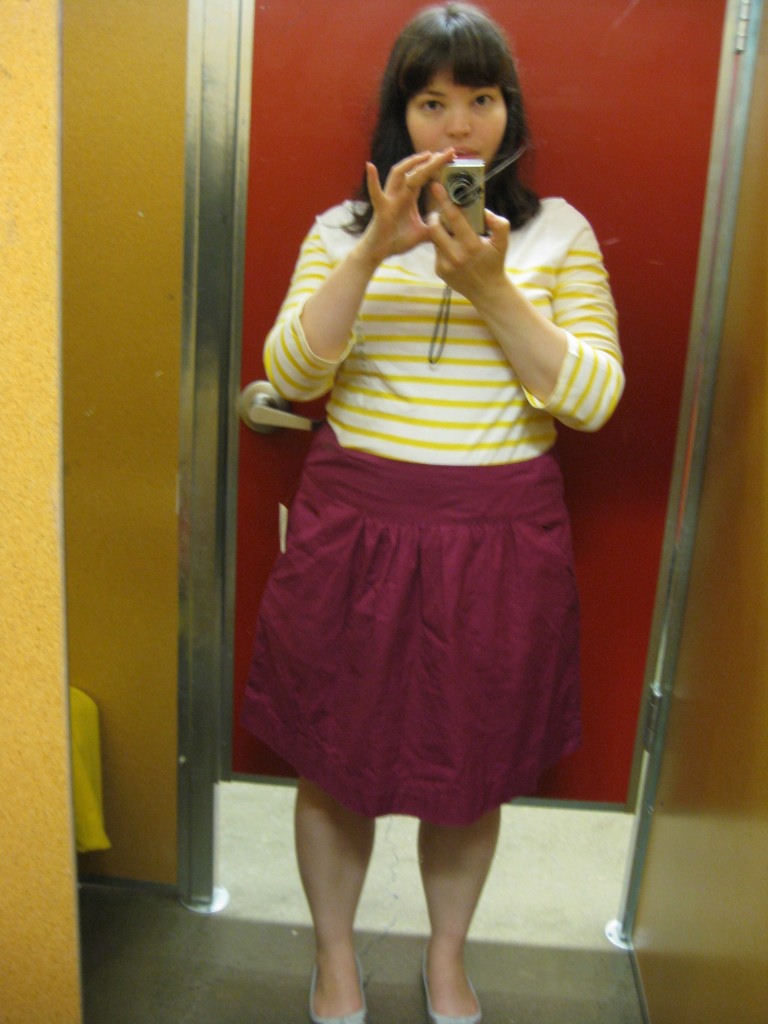 Skirt $29.50
$8?! $8?! I don't remember this top being $8 yesterday when I saw it in the shop! I didn't buy it, and if it had been $8 I can't imagine why not! A sunny yellow sailor top for $8? *googles Old Navy locations*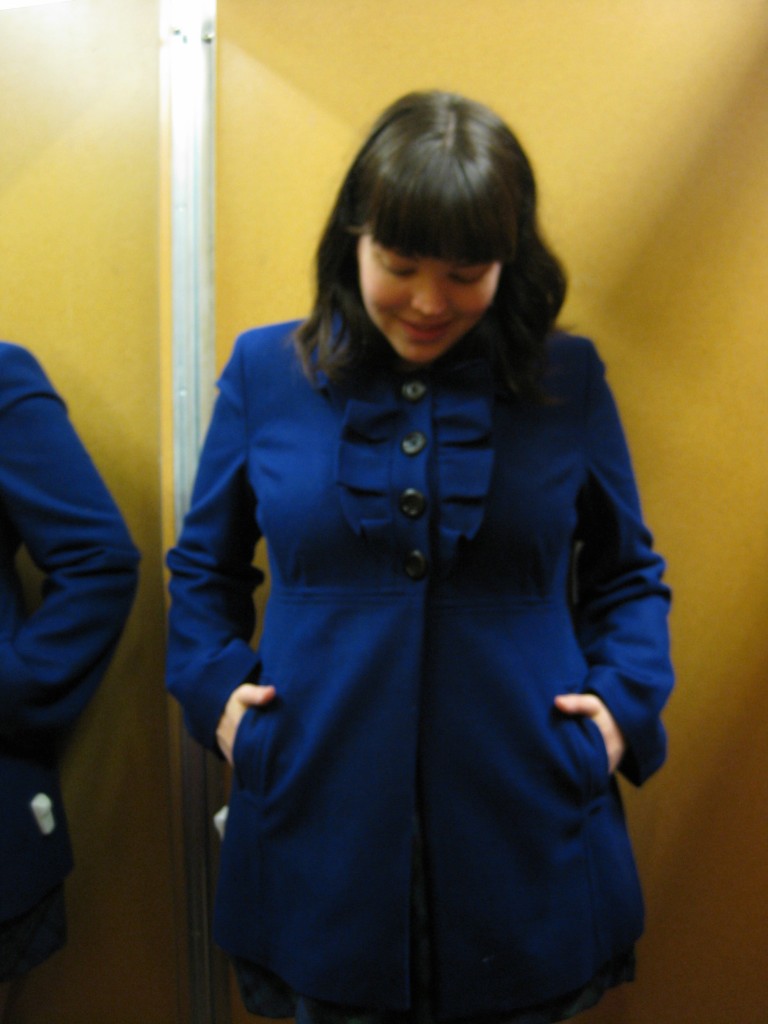 Jacket $60
I actually loved this jacket, but coming home to an Australian summer I dimply couldn't rationalise the purchase. Coupled with the fact I'd seen a divine leather Calvin Klein Jacket in Nordstrom that I'd fallen in love with but was annoyingly lost (not out of stock, just "missing") in my size left me feeling like maybe there were better jackets out there for me. Probably another missed shopping opportunity, and I'll be kicking myself come winter, but oh well.
There's one of two things from Old Navy I bought but haven't photographed, and lots that I tried on that didn't make the grade. Overall I was pretty impressed with the store. I can imagine it would be a regular spot for me if I lived in the States, but considering the shipping charges and the slightly skewy sizing, I'm not sure it's somewhere I'd frequent on an online basis.