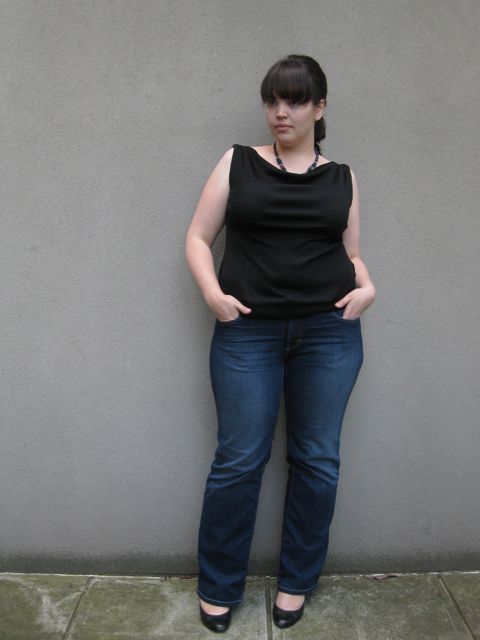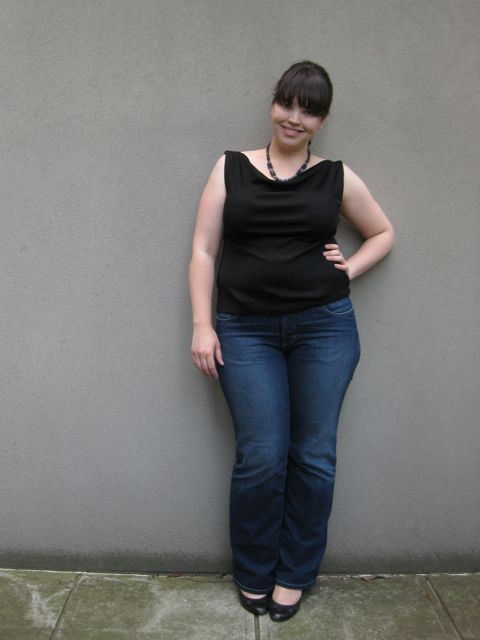 Jeans: Svoboda Style
Top: n/a
Shoes: Wittner
Sigh. The Sophisticate was supposed to be home this morning, but instead he's still stranded in the USA. He was flying home via Chicago O'Hare, and anytime we mentioned that to a US native they would suck their breath in through their teeth and ask "can you change that?". I figured how bad could it be? Quite bad, apparently. Weather caused a four hour delay which meant The Sophisticate missed his flight. Which means I'm cranky, and missing him.
I figured since I was cranky anyway, I'd blog my latest internet shopping experience:
So, on the 19th of August this year, I looked at the sorry state of my jeans collection (basically nil) and decided to bite the bullet and invest in a pair of jeans from long-time favourite Svoboda Denim.
Over the years I'd had numerous pairs of Svoboda jeans – they were really the first "premium" denim range that I'd had any experience with – and I liked their styles, their washes, and the fact they were baby-soft and madly comfortable to wear. I hadn't bought any for some time – a combination of trying to save my money, not liking a season's worth of styles and hearing iffy things about the new Mauritius-produced line – but I'd read nothing but praise of the new season and the two new US produced denim lines "360Stretch", and "TLC".
The jeans I had my eye on were called Moody Blues and they were part of the TLC range, which meant that they had a slimming tummy panel (a la Not Your Daughter's Jeans) and were made with Svoboda's trademarked new "architectural Denim" which, to quote the website, is
One of the most techincally advanced fabrics in the market. A heavier weight denim with multi-directional stretch, and one of the highest recoveries available today. In other words these jeans will smooth out "lumps" and "bumps", but won't "sag" or "bag"  with wear.
Architectural Denim is made of 72% cotton, and 28% of something called T-400, which kind of sounds like a new model of Terminator, but is apparently a fabric with much better recovery rates (i.e. bounces back after having been stretched) than spandex.
So far, so good.
In addition to having better fitting, better wearing jeans, styled specifically for curvier figures, the TLC jeans promise to
instantly trim your waist, lift your derriere, and contour your hips, thighs, and legs.
So TLC™ jeans, made with Architectural Denim™ (consisting of 28% T-400™) and including a SVELTE™ Tummy Control Panel.
Sign me up!(™)
I put my order through. And waited. And waited. And waited.
When two weeks had passed and the order was still sitting in the system as pending I sent Svoboda an email, and got the reply that the suppliers would have the stock to them in a few days.
Another week passed. Still pending. I emailled a second time and got the same reply.
I waited for a bit longer. September passed into October, the deadline for my trip to the US started knocking. I'd particularly wanted the jeans in time for the trip, so this time I emailed Jessica Svoboda directly.
She was very apologetic and explained that their manufacturers had been bumping them for bigger projects (which is terrible), but that she'd been chasing them and expected the jeans by Wednesday 6th October.
No worries, departure date was the 30th, so it still gave me a while to play with in case of slow shipping.
Except the jeans didn't ship until the 27th. Ten weeks since I'd first placed the order, and too late for me to take them to the US.
Now, I'm of the opinion that there's are few unwritten rules of internet shopping. They are:
1) If an item is out of stock, then the website should reflect this
2) If an order is placed and the item is out of stock then the customer should be informed
3) If an item is on backorder, you shouldn't charge the customer until it's ready to be shipped. Because I was a repeat customer I didn't panic, but a first-time shopper would have been wondering whether they'd been ripped off
4) Don't promise something will be back in stock by a date unless you're reasonably sure it will be.
Well, fortunately my housemate Joss was here to sign for my package when it finally arrived, and when I came back from the States I finally got to try the jeans on.
Verdict? They're great. I wish they'd arrived in time for me to take overseas.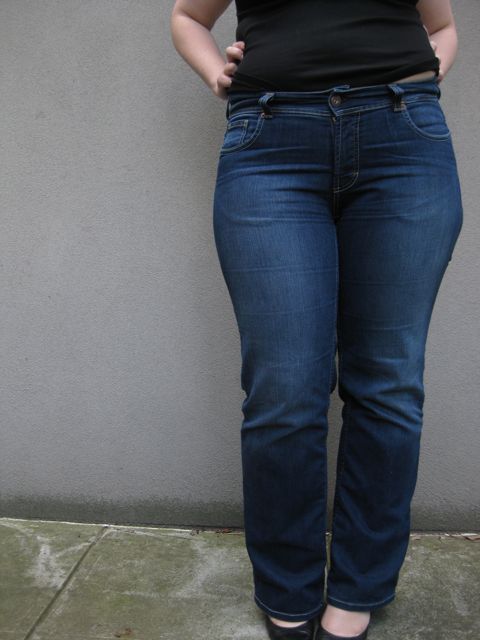 This photo was taken after four days on continual wear (I wasn't able to take them to the US, but they were the only thing I wore in Canberra) and apart from the usual fold-over waistband issue that I always seem to have with jeans, they fit as well on day four as they did on day one. The T-400 blend has resulted in a denim that doesn't loosen and lose shape as quickly as I've found with Svoboda's previous lines. You've sacrificed a modicum of softness for this, but not so much it's noticeable.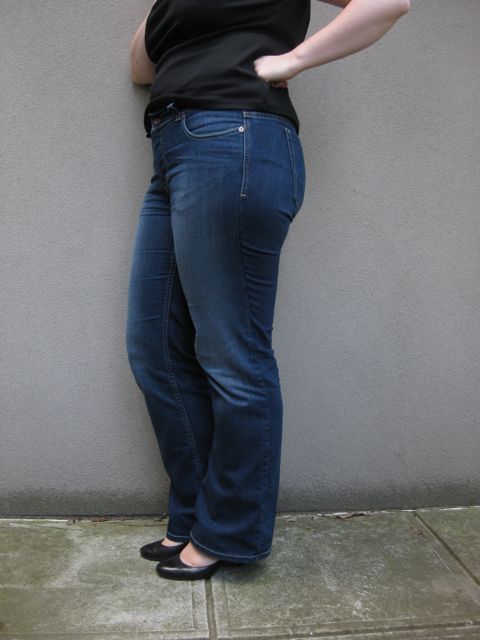 The TLC "slimming panel" that swears to suck you in six ways from Sunday does actually make a noticeable difference. Much more than Not Your Daughter's Jeans, I thought.
The jeans still have Svoboda's signature butt-minimizing large-size pockets: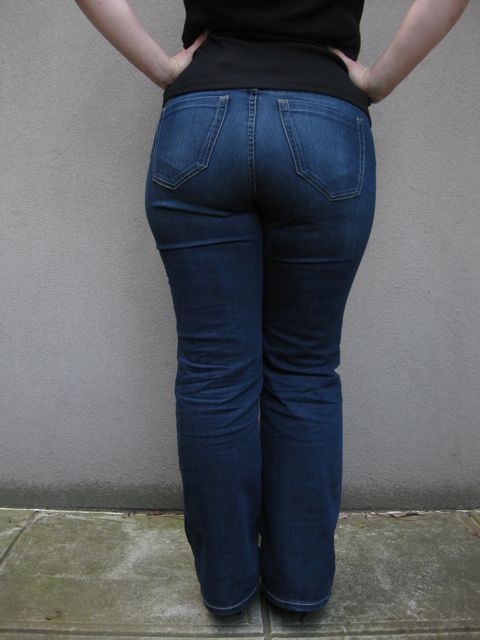 And also her scooped waistband (low in the front, high in the waist) which – as someone who spends a lot of time bending over in public places – is one of my favourite features of Svoboda jeans: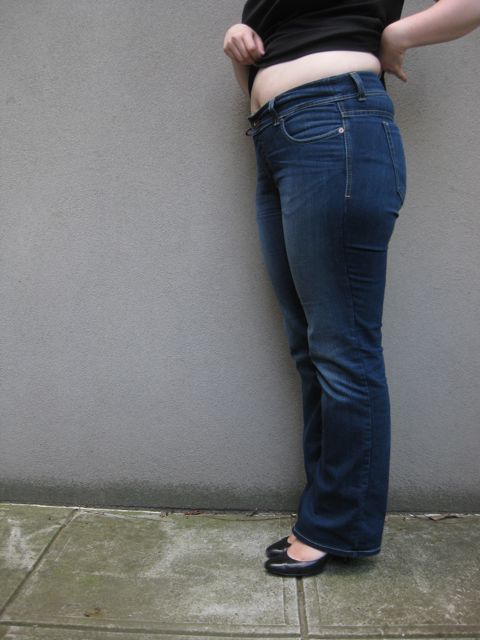 So it's not an unreservedly positive review. I can confidently say that I was FANTASTICALLY disappointed in the customer service, but the product was worth the wait. Maybe just email them to check that stock's on hand before handing over your money.