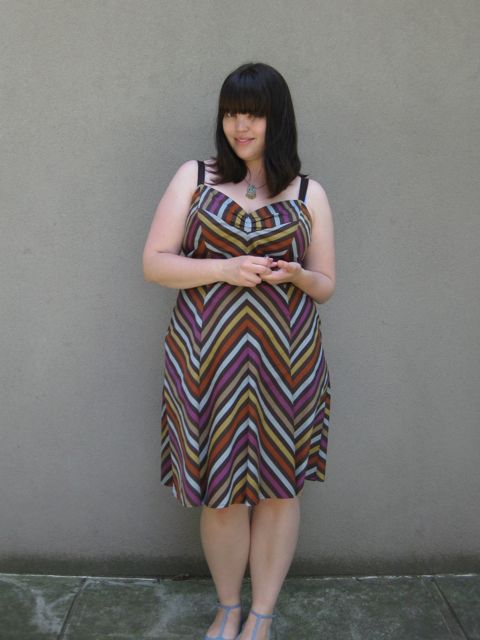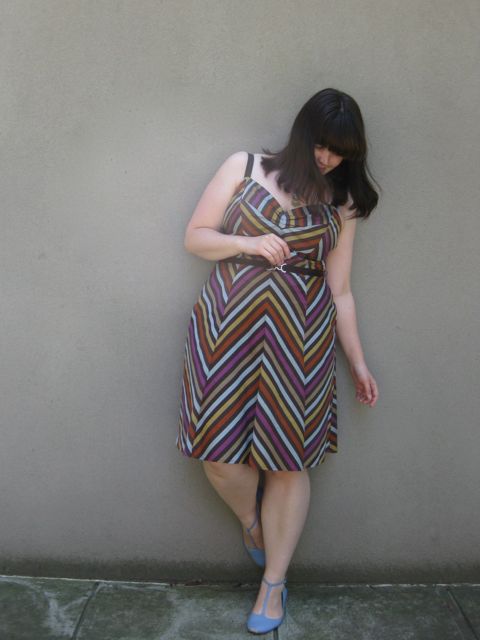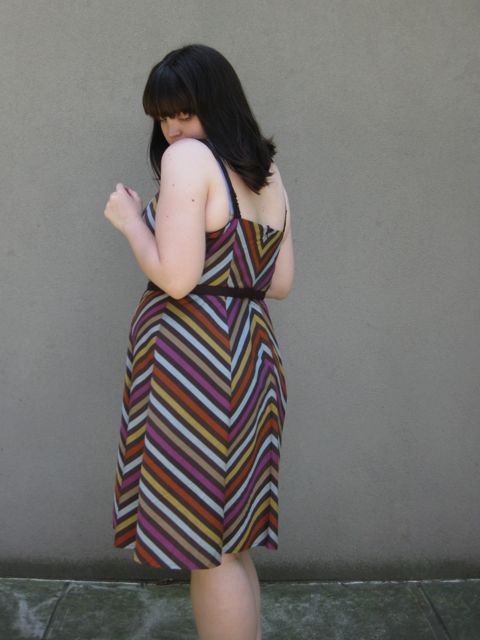 Dress: Bravissimo
Shoes: Wittner
Thankyou so much for everyone's kind words and emails of support about my Dad – it's so lovely to have so many of you wonderful people out there rooting for him, and he's doing pretty well. Hopefully I'll get the chance to go up to Canberra again to see him in a few weeks, so I'll update you all again then.
It's been so ridiculously hot the last few days – like summer just all of a sudden arrived – and I'm so excited to be dusting off my summer frocks, they almost feel new again! OK, so this one actually IS new.
I bought it from Bravissimo a few months ago in their sales, and haven't had a chance to wear it. I'd spotted it aaages ago when it was new, and it sparked in me a massive desire for Chevron Stripes, but I'd been burned by Bravissimo before, and couldn't quite rationalise the £70 price tag but when it went down to half price I thought I'd give it a whirl, and I'm glad I did.
Like it says on the website, it's not as bright in person as it looks online. This is sad, though it's not a dealbreaker. Also keep in mind that it's BIG. I should by all rights be wearing an 18 at Bravissimo, but I've found the 16 in this dress even a little roomy.
It's a breezy and beautiful cotton piece – perfect for these hot summer days – and the front and back are just low-cut enough to ventilate without exposing too much flesh, so it's still OK as workwear for me.
Also, I think that Bravissimo must cut their dresses with Freya bras in mind, because every Freya Bra I own disappears perfectly into this dress, the straps are in the right place, the underarms are cut high enough, the back, the front… Very happy indeed.
Meanwhile… In order to make a bit more room in my wardrobe I'm having another Epic Ebay Sale Of Goodness. I'm only about a third of the way through the pile, but feel free to check it out now if you're interested.