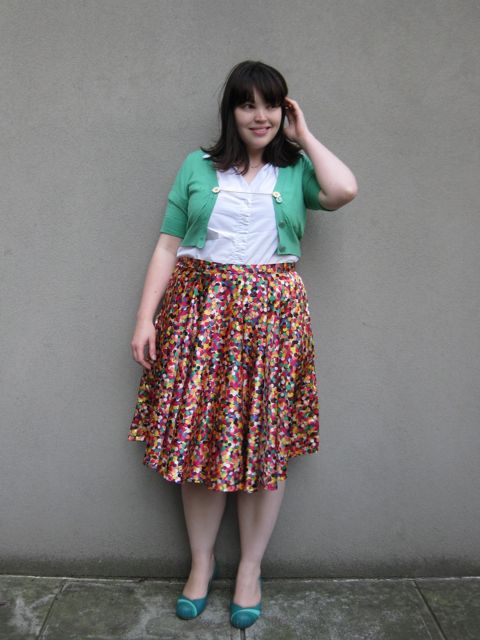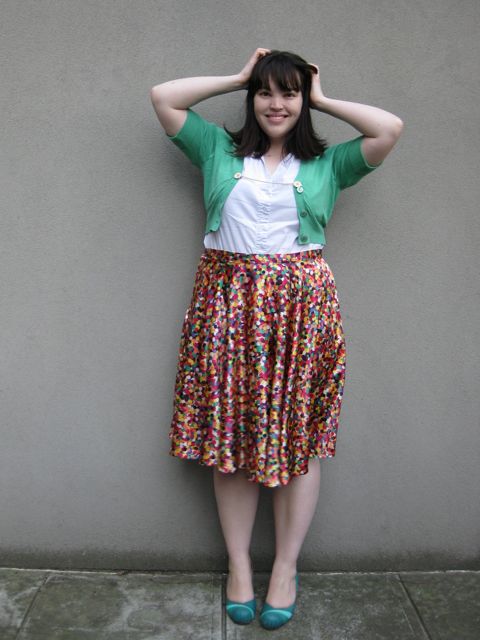 Top: Events
Cardigan: Portmans
Skirt: DIY
Shoes: Chie Mihara
Sweater Guard: Jackie D's Retro Boutique
I've had my Mum visiting with me over the last week – taking time out of her busy schedule Touring The World as a Grey Nomad to sneak a visit in.
Melbourne put on some amazingly pretty weather while she was here, and we had a wonderfully busy weekend full of markets, and meals, and manicures, and on Sunday (10:10:10!) we went to St Kilda to watch my brother jam with a few muso friends.
It was such a pretty, sunny day that I wore my confetti (smarties, gumballs, etc etc) skirt, with a blouse, cardigan, and sweater guard. It's not exactly a Melbourne-approved outfit, and I felt quite awash with colour.
In the breezy summer winds I had to watch myself, but there's nothing to give you the giggles like unintentionally flashing your knickers on a sunny Melbourne weekend in St Kilda.