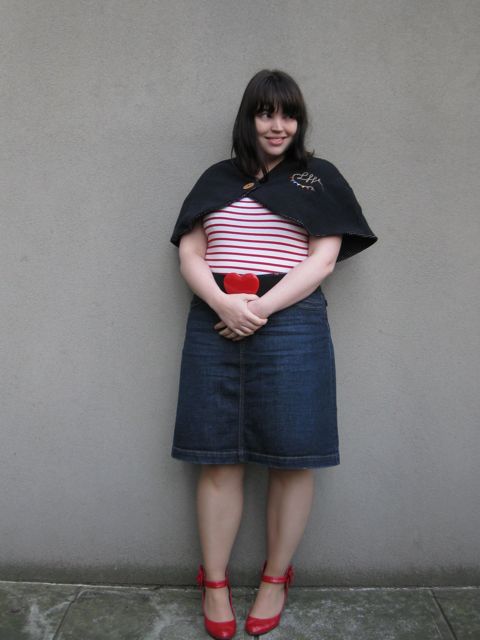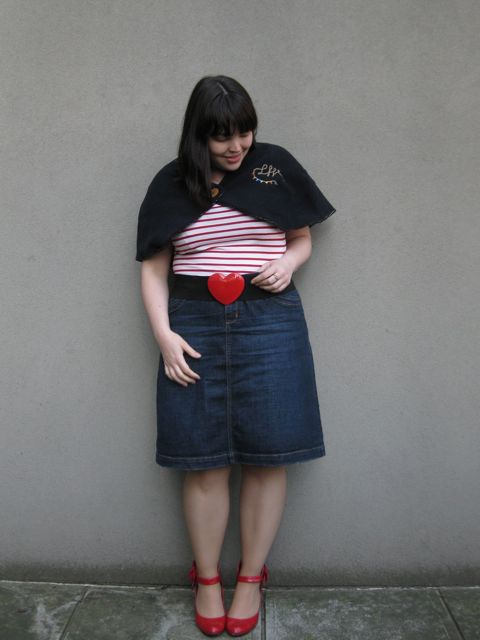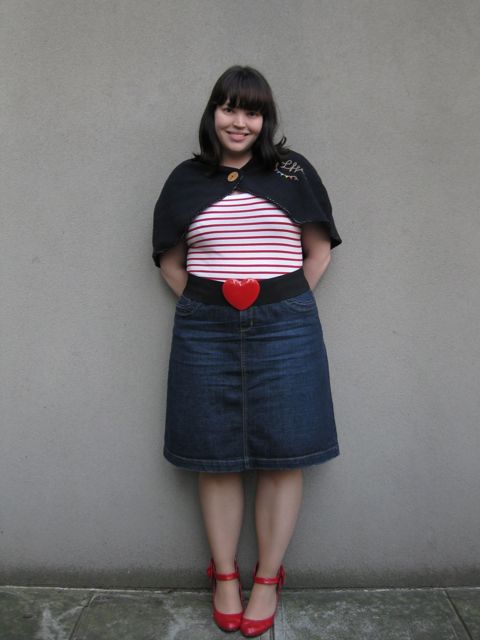 Cape: CatRabbit
T-Shirt: Jay Jays
Skirt: Sussan
Shoes: Schuh
Belt: City Chic
Confession: This outfit's exactly a week old! I wore it last Saturday and took the photos but haven't had a chance to blog them yet! Hope you'll forgive me!
It's been such miserable weather in Melbourne over the last few days (it was pooooouring yesterday) that I haven't had the chance to get out an take photos of anything fresh, and besides – I loved this look so much I wanted to share it!
These red shoes are old favourites of mine, though after only a year of light wear they are tragically coming apart (boo to you twice, Schuh. Once for making shoddy shoes, and once for letting them go out of production. *sob!*), so I only save them for Really Special Occassions, like Melbourne's first ever Finders Keepers Market.
Finders Keepers is a marvellous bi-annual market that features local independent artists, designers and craftspeople. They've had them in Sydney and Brisbane for some time now, but somehow Melbourne kept missing out.
When the divine Miss Sally from the Georgie Love Online Shop told me that not only were the markets coming to Melbourne, but that if I went I could visit her stall and personally ooh and ahh over such delicious items as Pearl & Elpeth's custom skirts and Boleros and Storybook Rabbit's illustrated Brooches rather than having to do in virtually through the interwebs.
I knew about a lot of the stallholders through my regular online shopping, and I know a few that have store fronts in Melbourne, but Finders Keepers got them all together in one place where I could go shopping crazy, and also introduced me to a few that have escaped my attention up til now like Black And Bird's deluxe headbands, and The Owl Utopia with her adorable crocheted wares.
If it wasn't so close to D-Day for my US trip I'd have no doubt bankrupted myself, but I managed to keep myself in check, bought one of two presents and an Only Midge tote for myself, because I've always kind of loved her stuff, but never could rationalise the price until I saw them on sale at the stall.
Enough about the shopping though, how about my cape?!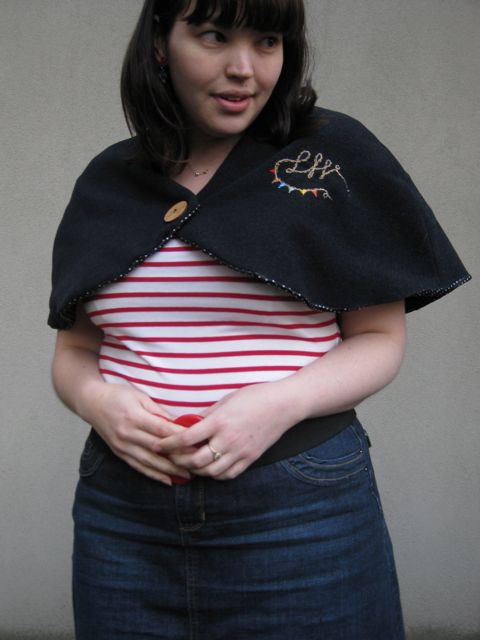 It was made for me by the incomparable CatRabbit, and I love it so much that every single person who's walked into my house since it arrived in the post has been lovingly shown it and encouraged to stroke its cashmere snuggliness. It has a CatRabbit button, and it's lined in polkadots, and it has my initials embroidered on it. I love it (can you tell?).