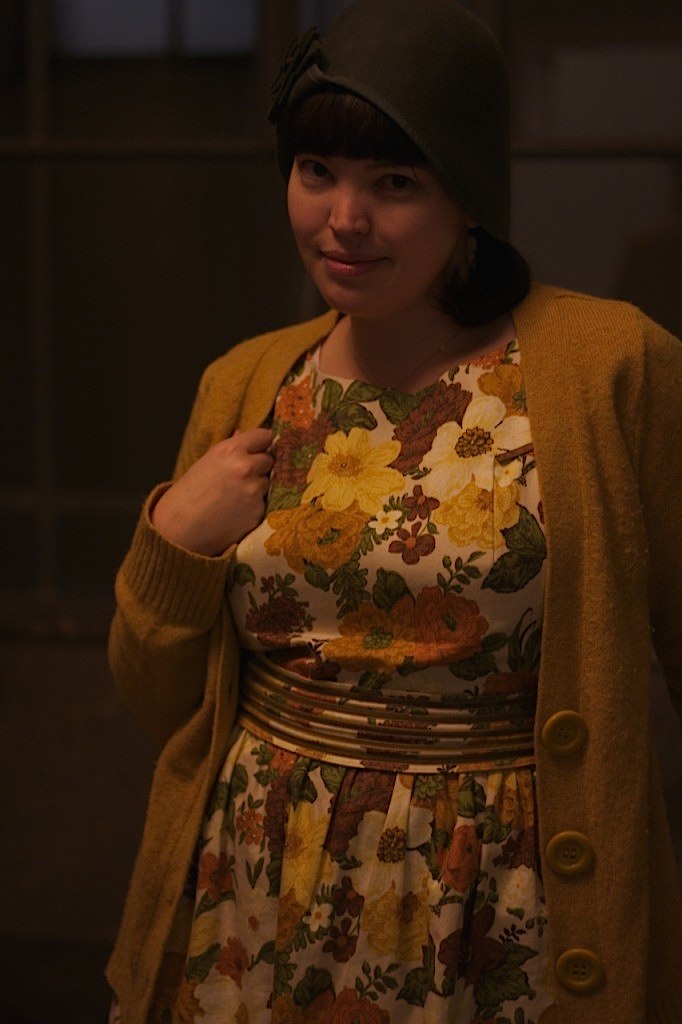 Welcome to the new home of Frocks And Frou Frou!
How exciting! I'm a dotcom! One step closer to world domination, eh? My very own Sophisticate, and our absolutely magnificent friend Elroy managed to pull this move off extraordinarily smoothly as a surprise, without me having to do any of the hovering around going "umn" and "what's bandwidth?" like I otherwise would have.
Elroy's a bit of an Interweb Master, and has a helluva website of his own, and I have it on good authority that I can ring him at ALL HOURS OF THE DAY OR NIGHT and he will make my website do whatever I want it to, up to and including the laundry. At the moment it's pretty minimalist, and as much as possible I'd like to keep it that way, but if there's anything you'd like to see feel free to shoot me an email or leave a comment.
Dress: Sohomode
Cardigan: Target
Boots: Duo Boots
Hat: Chitra's Closet
So, a new blog address and a new background, to boot? Actually I just thought that this outfit was so perfectly matched with The Sophisticate's wonderful heritage-listed building that I had him take the photos on the landing with his swanky new 550D camera.
It's really a dress for all seasons, this one. It has gorgeous autumnal colours and is a kind of heavy cotton. The low back and wide neckline will be nice and breezy come summer, but today I'm wearing it over a long sleeved top and under my snuggly mustard-coloured cardigan with boots and a hat. If I look like I'm glowing with warmth, I am.
Meanwhile my hair's just reached the point where it can not only manage a stumpy little ponytail, but one on the side. A side ponytail! I haven't worn one since I was a kid in the 80's!