Skirt: Target
Tights: Em Tee See
What a massive month May is shaping up to be!
The boyfriend and I kicked it off with a weekend trip to the Grampians 'Grape Escape' food and wine festival, which was blissful, then we've had a couple of visitors, including my Mum last week who came down to see Gloria Steinem (!) and help me celebrate my birthday. I'm heading off to Canberra this weekend to see my Dad and attend a conference for work. I've packed my woolies, and have cracked out my long sleeves and sweaters because it's sure to be frosty.
I picked up this 2-in-1 pussybow blouse from Dorothy Perkins while we were still deep in summer – it's one of those mock layered tops that were All The Things in the early noughties, and are making a return this season. I'm pretty on board with the trend, it's less bulky than ACTUAL layers (though considerably less warm). The pussybow ribbon comes attached, but it would be a simple thing to tie a ribbon around your collar for a similar effect.
Teamed with a midi length skirt and tights it channels a bit of  a schoolgirl/librarian chic – I'm hoping the starry tights keeps it from tipping into square territory.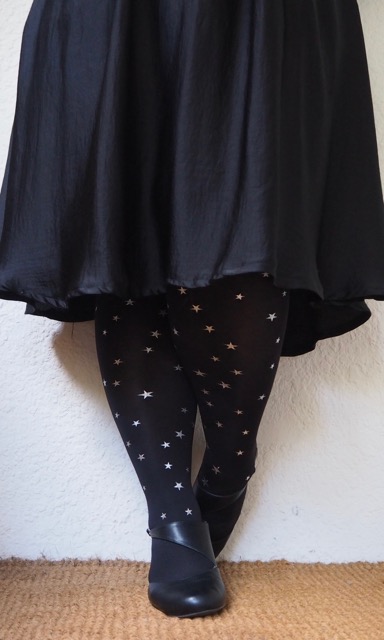 Tights: Em Tee See
Lauren from Em Tee See has updated her offerings since last year when I bought these starry printed tights, and I quite fancy some of the new styles: there's hearts and planets and shooting stars. I predict another order before the weather gets much colder.