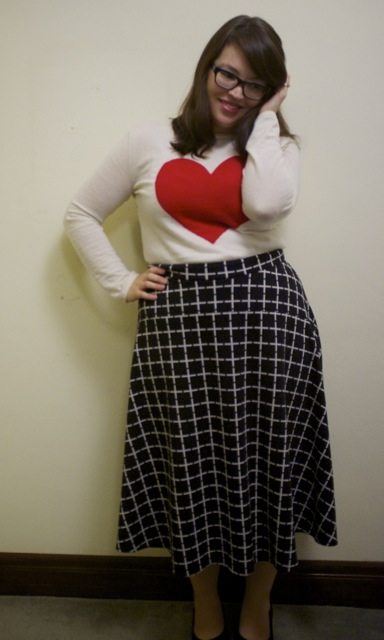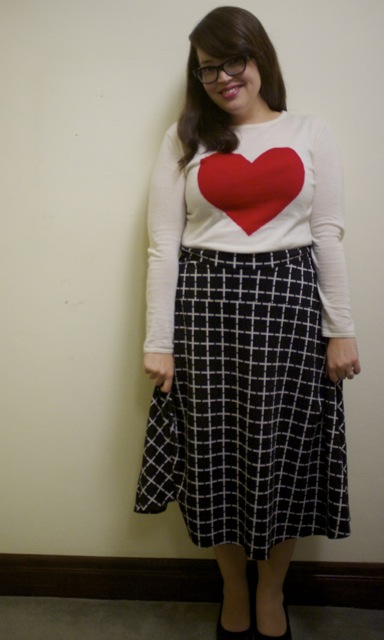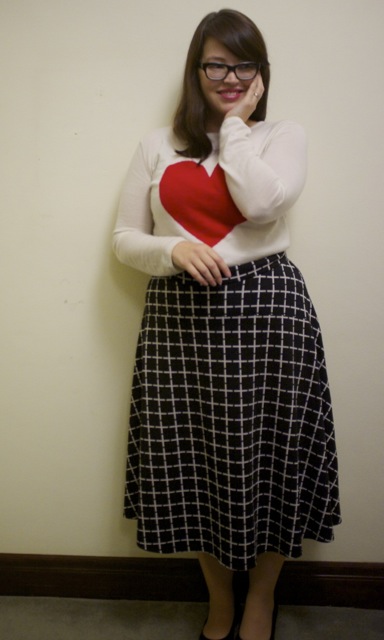 Top: Banjo & Matilda
Skirt: Asos
It's not difficult for a hard-core shopping addict like myself to rationalise a purchase, but even I had to work at it before I could talk myself into putting down the big dollars I needed to to get my hot little hands on a Banjo and Matilda Love Crew sweater.
The cashmere brand-darling of the elite, Banjo and Matilda is worn by socialites and celebrities including Naomi Watts, Claudia Schiffer and Gwyneth Paltrow. And now, little old me.
I spotted the Love Crew sweater a few years ago – it's actually what inspired me to make one of my very earliest remix projects, but I never managed to convince myself to shell out the not-inconsiderable dollars to buy The Real Deal.
Then, a few months ago  Chelle from Fat Mum Slim pinned (damn you Pinterest, you're going to send me broke!) a tutorial on gift-wrapping where Lauren Conrad was wearing The Sweater.
At first I was like "Oh! Nice sweater!" then I was all "Wait, I feel like I've seen it before…. wasn't it an Australian brand?" and then I went on a Google mission to prove myself right that somehow led to an extraordinarily lovely interaction with the online-chat customer service representative at Banjo & Matilda who then-and-there measured the ACTUAL SWEATER for me to make sure it would fit, and then – I'm still not quite sure how – I ended up buying it.
It was just after my birthday, and I was nursing my black eye and a bad case of Feeling Sorry For Myself. I'd had a particularly miserable couple of weeks and was at one of the great all-time-lows of the last couple of years. But my contract from the Guardian had just come through (proving for once and for all that it wasn't some dreadful case of mistaken identity) and I felt like maybe I deserved some retail therapy.
So yes, this sweater was ridiculously expensive. But no, I don't regret it for a second. And, I think if you're looking for a bit of over-the-top indulgence you won't either.
To start with; it's just beautifully packaged. It arrives in an embossed keepsake box, tied with ribbon, so you really do feel like you're giving yourself a nice gift.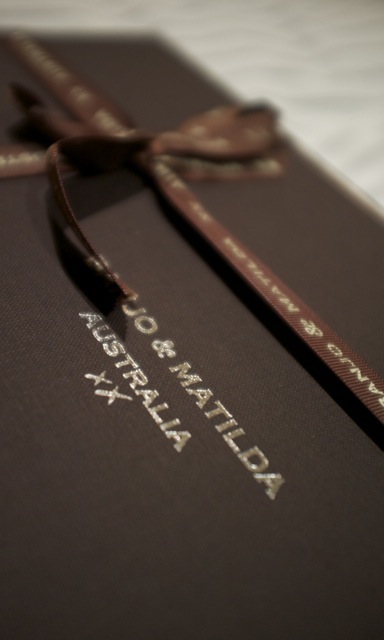 Inside the box is a custom-printed cotton bag for storage, and the sweater itself, wrapped tenderly up in tissue paper.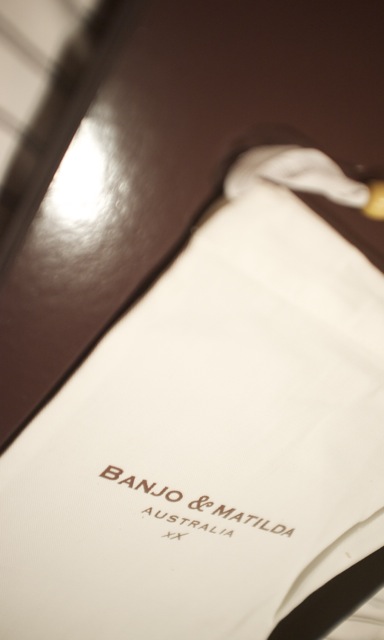 The sweater is made of single ply cashmere, buttery soft and not even slightly scratchy against the skin. It's quite thin – I'm wearing it with a singlet in winter because the wind whistles right through it – but this means it will transition between seasons comfortably. I have found pilling to be a bit of an issue (apparently that's pretty common with new garments & should settle down) but a quick run-over with a fabric comb and it looks as good as new. Despite repeated wearings the sweater hasn't stretched out of shape at all, though it's still to have its first launder. (p.s. I'm not gross – the website actually recommends that you air your cashmere as much as possible, rather than washing it.)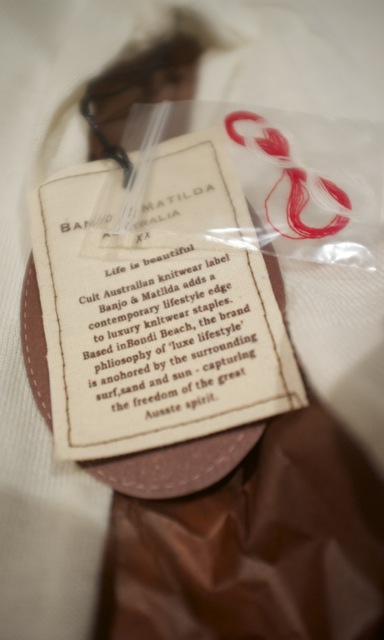 A little fabric and leather tag chronicling the story about Banjo & Matilda (a story that apparently doesn't include a spell check program, which is kind of endearing) accompanies a few spare threads for essential repairs.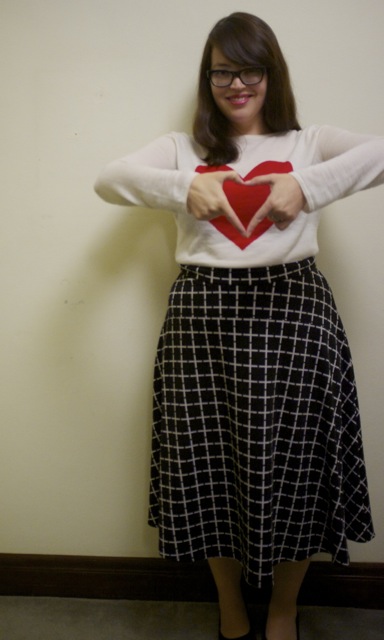 This has rapidly because the favourite sweater in my wardrobe. It's eye-catching and bold and versatile. I love wearing it with jeans or skirts. You can dress it up or down, and you'll always get someone commenting on it when you wear it.
Though it was thinner than I'd anticipated I have nothing but good things to say about the quality. I will admit that if you're buying a Banjo and Matilda sweater you should be paying that premium price for a cool intarsia print (they also have stars, flags and skulls. If you wanted a plain cardigan or sweater I'd direct you to Pure Collection or Eugenie Cashmere instead.
And if you can't quite rationalise the price tag (I found a discount code which took $75 off, and it was STILL more expensive than pretty much every other sweater in my wardrobe, combined) then there's a sort of similar sweater on offer at Asos at the moment up to a size 18, for under $50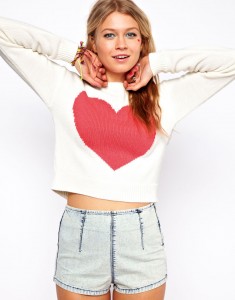 For the record, I saw the Asos top BEFORE I bought the cashmere sweater at Banjo & Matilda, and I'm still happy I shelled out the extra couple of hundred dollars for the original. Sometimes you just have to treat yourself.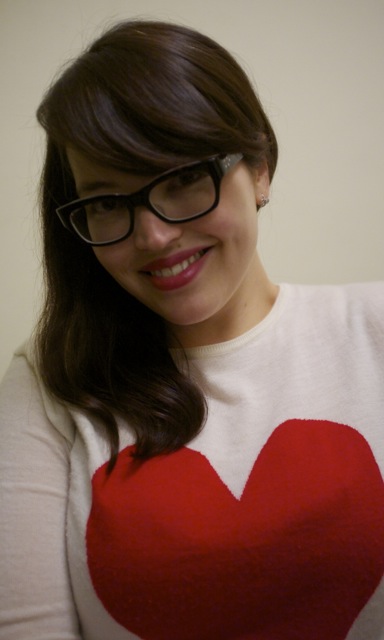 What have you bought yourself lately as a special treat?