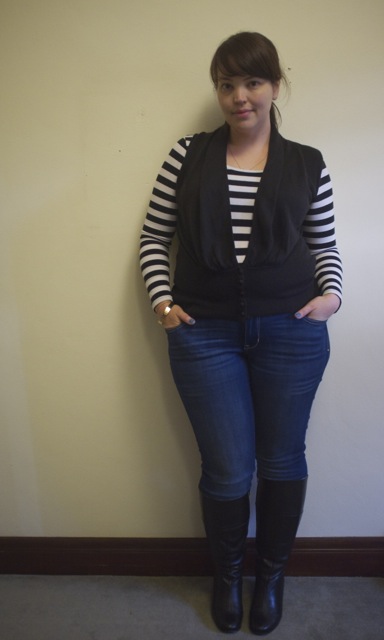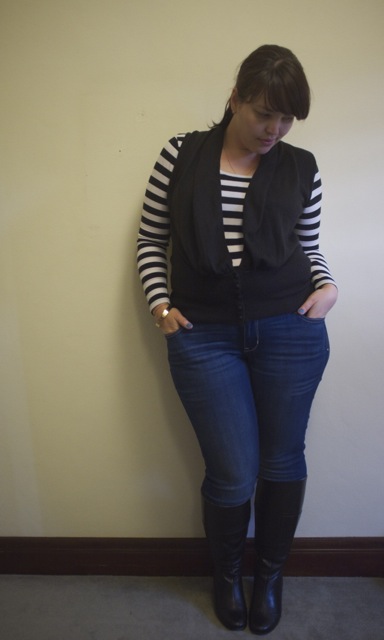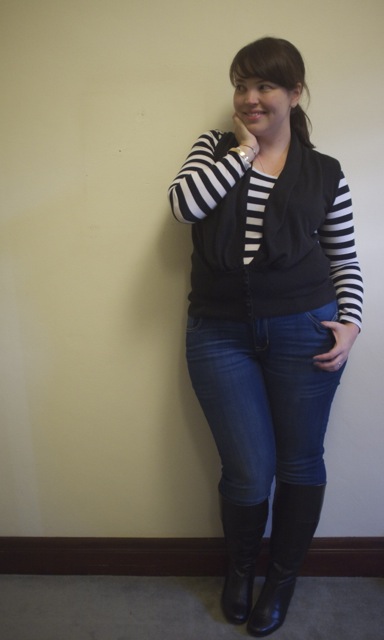 Top: Glassons
Vest: Barkins
Jeans: Old Navy
Boots: The Bootmakers
I don't know whether it's just because I've come back to a very chilly Melbourne after spending two weeks in hot and humid New York, but I'm really feeling the cold this winter.
I have my usual complaints of chilly arms (all of my cardigans are stretchy, cotton, and provide practically no protection from the wind) cold legs (I really need to get some more thick tights, but I've been putting off buying hosiery until Sonsee Woman launched… which it just did, so I'm about to do a big order!) and numb ears (one day I will buy earmuffs. I don't care how stupid they look). I don't have a wardrobe that lends itself to cold weather, and I always find myself a little stymied in the style department once the mercury starts to drop.
The only thing about this cold weather that's making me happy right now, is that thanks to The Bootmakers I now own the classic, black, knee-high leather boots of my dreams.
I've been on the hunt for the perfect pair of black knee-high boots for a few seasons now, since my old faithful Madrid's are looking a bit tired and dated, and I've never been that sold on the long rectangular toe anyway.
I've been a bit fed up with the fit of the boots coming out of my old favourite Duo Boots lately too. The quality is as good as ever, and the range of styles is great, but my legs just don't work with whatever fit block they're working from. The ankles always bag, the tops always billow, and they're inevitably too tight around the calves and work their way down during the day, resulting in me having to constantly adjust, unzip, and rezip every hour or so.
Enter The Bootmakers. Bespoke boots – every pair made from scratch to your specific calf, ankle and length measurements. Wide calves, but narrow ankles? Covered. Short legs, but big feet? Covered. Different sized feet, even? Covered.
They've got nearly 30 different styles, available in a range of over 15 different leathers, and with prices sitting around the 200 pound mark, they're not that much more than Duo. Plus they're constructed in a family-run workshop in Portugal from Italian leather.
I wanted a pair of boots that I could wear for years to come. A style that didn't date, heels that I could walk in, and a colour that I could wear with everything.
I decided to order a pair of the Capri boots in black leather, because I liked the squat rounded toe, the panelled details, and the chunky 5.5cm heel. It only took a few weeks before my order was ready to ship, and a few days after that before the courier came knocking at my door.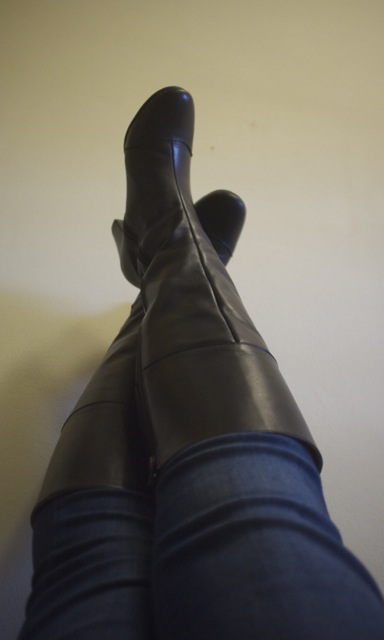 Readers… I love them.
They looked surprisingly dainty when I unpacked them – I actually had a heart-stopping moment where I thought "oh God, I've ordered the wrong shoe size!" but they actually fit the foot perfectly. The leather is soft and supple, and the shaft of the boot is fully lined with calf-skin.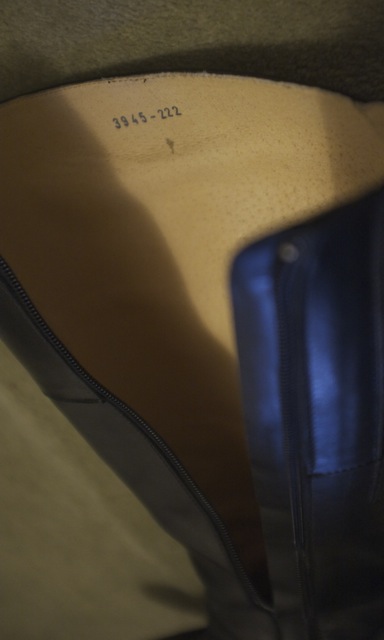 They zipped up smoothly, no pulling or tugging around the lower part of my leg where the calf starts to swell, and the boot curves sweetly around the contours of my calves, leaving no gumbooty gap below the knee.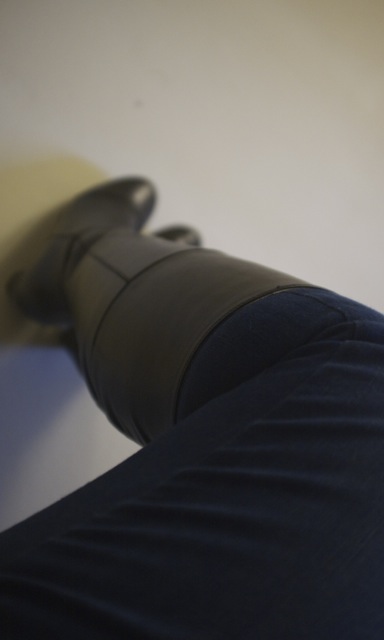 There's still a little more room around the ankles than I need, but because the boots are narrower at the top they don't slip down and scrunch up, exacerbating the extra bulk. I've been wearing them religiously for the last week or so, and I've found that no matter how much I walk and no matter if I'm wearing them over jeans or tights; they don't sag, or twist, or need constant adjustment like every other pair of boots I've ever owned.
The squat little heel is comfortable for all day striding, and is leather covered for a bit of extra luxury.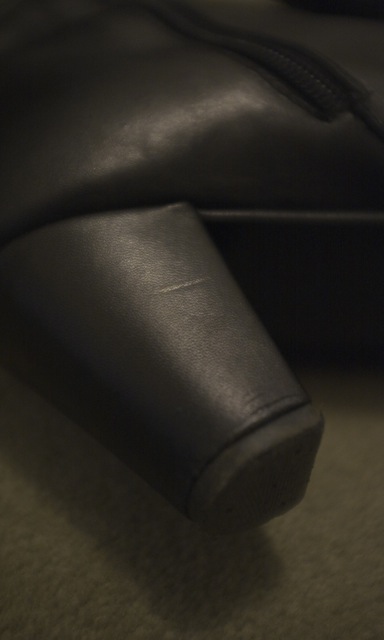 The boots came in their own fabric dust-bags for careful storage, but the bags won't be seeing much action until the weather starts to turn warm again, because these babies are going to be getting a workout until then.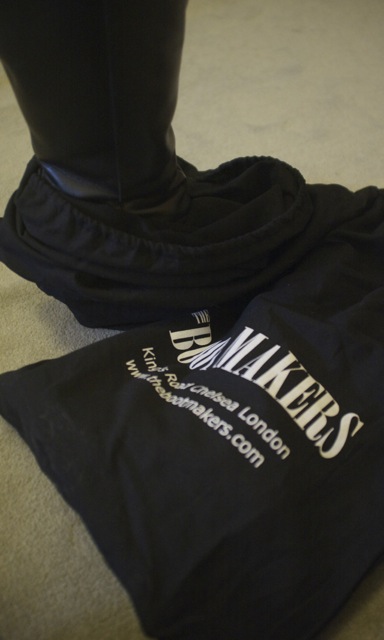 I'm so pleased with these that I'm seriously tempted to get another pair…. which I should do SOON, because for the month of July The Bootmakers are offering 20% off with the code July20% … and if you're ordering from outside the EU, you also qualify for a 20% UK Sales Tax discount on the prices shown, so the boots are PRACTICALLY HALF PRICE!
Plenty of winter to go, so if you've been deliberating over treating yourself to a pair boots I can wholeheartedly give The Bootmakers two thumbs up. And ten toes, too.