I love a good beauty shortcut.
Sometimes I suspect that when it comes to hair and makeup I'm one of the laziest and least educated fashionistas on the internet:
I got laser hair removal so I don't have to wax or shave my legs (painful and expensive, but so, so worth it!)
I use a BB cream as my primer/moisturiser/foundation/suncream.
It's a good day when I remember to put on blush or lipstick, and I haven't the smallest, foggiest idea of how to use eye-makeup. Which is kind of sucky, because I have quite terrible eyelashes.
They're sparse, and short and straight, and I get serious eyelash envy from just about everyone else I look at. Especially boys. Boys always seem to have the best eyelashes.
I get them tinted regularly, which at least makes them seem a leeeetle thicker and a leeeetle longer, but really the difference is negligible. Mascara just makes them clumpy, then smears all over my cheeks. And I've never mastered the art of using an eyelash curler without pinching my eyelids painfully in the clamp. I've tried growth serums (useless) and I even had them permed once, which was tedious, expensive, and absolutely ineffectual.
So mostly I just shelve my frustration away with my big-tits-means-I'll-never-wear-a-backless-dress gripe, and get on with my life.
For Very Special Occasions though I like to go all out and treat myself to eyelash extensions. I got them done for my wedding, and they looked amazing. And considering I'd be spending days in the company of some of the world's most stylish plus-size fashionistas getting them done for FFFWeek seemed like a good idea, too.
I went back to Play: Brow and Lash Bar, where I get my eyebrows threaded, and my technician Christina proceeded to painstakingly attach wow-worthy extensions to my stumpy lashes.
The process is pretty time-consuming, so make sure you allow yourself at least an hour. And relax… you'll be lying on your back for some time with your eyes closed; use it as an opportunity to have some me-time.
I chose the full natural set of acrylic lashes, which meant that around 45 to 60 lashes were attached to each eye. To start with they prime your lashes to make sure there's no oils or makeup that might make the glue less effective. Then – one by one – each extension is applied by bonding them along the length of your actual lash with a black glue. Theoretically they should last as long as your own lash does.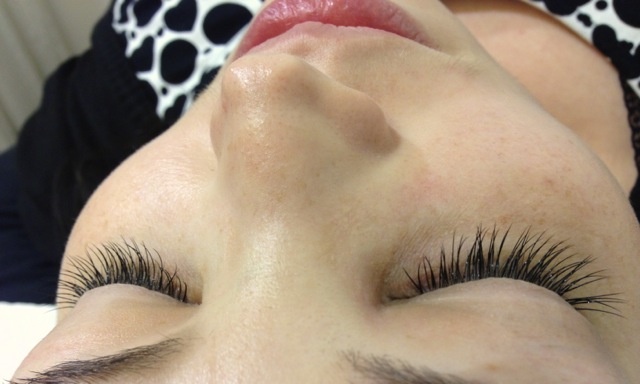 The result is very effective, and lasts for weeks.
You have to be a bit careful with them – don't tug at them or rub your eyes – but you don't have to wear any mascara… which is perfect for a shortcut girl like me.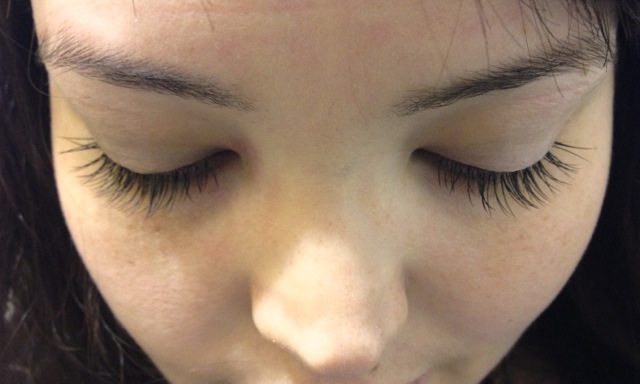 And for Melbourne readers, Play does a special price on lash extensions every wednesday and Sunday – only $95 for a full natural set.
Now, I wanted to get all serious for a moment and just clear the air a little about some comments that I've had over the last few days about my body, and whether or not I'm losing weight.
To be honest, I don't know.
A few years ago I decided that too much of my self worth was dependent on what the numbers on the scale said, so I threw them out. It was the healthiest decision I could have made for my body and my wellbeing.
Now I don't judge myself according to what I weigh. I judge it according to how I feel (great) how my body works (fine) and whether or not my Doctor says I'm healthy (I am).
What I can say, unequivocally, is that I am not on a diet; If I am losing weight, it's not because I've made a deliberate choice to do so.
The fact of the matter is that there are two kinds of people in the world: those that eat for comfort, and those who in times of great stress or unhappiness find that the thought of food makes them nauseous. I'm the latter.
These last few months have been particularly challenging emotionally. Work has been rewarding, but stressful. I hate change, but I've had to pack up and move house twice in the last five months. Long-distance has taken a toll on my personal wellbeing; it's been harder than I could have imagined to live on the other side of the world from my other half.
I don't want you to worry about me because most of the time I'm fine. I've moved to a lovely house, and I'm living with one of my oldest friends. I have a wonderful network here, and understanding and supportive workmates. But sometimes I spiral into misery for a few hours, or a few days, or a few weeks because of one reason or another. And when that happens it's an effort to eat.
I don't mind if people ask me if I've lost weight because I don't consider my dress size to be a defining factor of who I am, but I'm afraid I have no diet or exercise tips to offer. However, I'm also not offended by the idea of dieting and weight-loss; It's not the right choice for me, but I've always believed that everyone's body is their own to maintain however they want to.
So that's my two cents on the issue. Sorry to get all heavy for a moment, but I just wanted to put that out there before things got carried away.