Dress: Sohomode
Belt: Dangerfield
Shoes: Wittner
Presenting: The New Wall!
What did you think? It's actually in my bedroom, which courtesy of a wall-sized floor-to-ceiling window is flooded with natural light, and I thought it provided a good neutral palette to show off the frocks.
Like this new frock, which is a Sohomode dress with a difference. Both my previous Sohomode dresses have been her traditional tea-dress style, with the cap-sleeves and ribboned yoke neckline.
For my third I thought I'd try something  a little different, both in style and in colour.
Louise suggested I try her "scoop" variation, which has a wider, scooped neckline (my favourite!) and does away with the capped sleeves.
I choose a dreamy pastel blue fabric, because there wasn't anything in my wardrobe that vaguely resembled it.
When it arrived I decided it was a pretty confection of a dress that resembled the classic party dresses of the 50's and early 60's. The fabric's much floatier than the heavier cottons in my two previous dresses, and the skirt is fuller. When I wear my pink petticoat from Domino Dollhouse underneath it completes the vintage look.
I love the wider neckline, and the way it plays up my shoulders and collarbones and doesn't flash any cleavage. I might have to sew in some bra-keepers as the straps to have a tendency to slip on my slopey shoulders
It still has all the little details that are a signature of Sohomode's beautifully made dresses: lining in the bodice, hidden pockets in the side seams, a beautifully dipped feature back, and it comes with it's own belt, though today I subbed it out for this narrow navy blue one.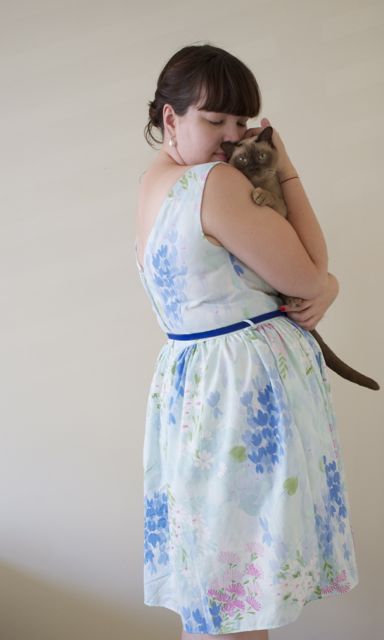 And a gratuitous photo of Suki, who ventured out of her hiding place in the wardrobe to investigate what was going on.
We're both gradually settling in – my brother's made us feel very welcome – and though I still feel a bit disorientated if I wake in the middle of the night, I think both Suki and I are going to like living here. There's fantastic cafes all around, a pilates class only a few blocks away, and one of Melbourne's best craft markets an easy walking distance from the front door. Maybe I'll see you there one Saturday.