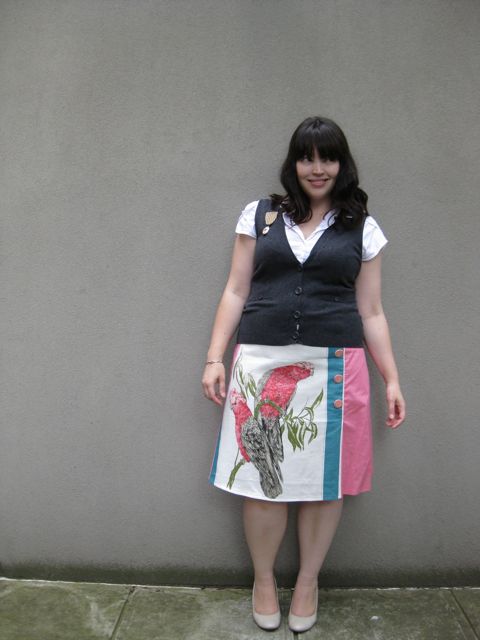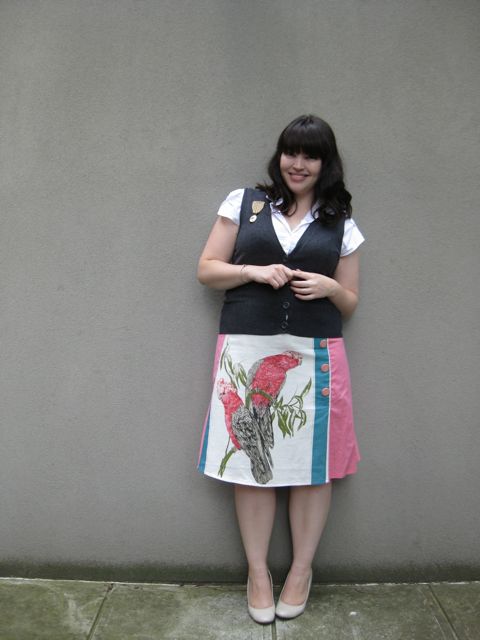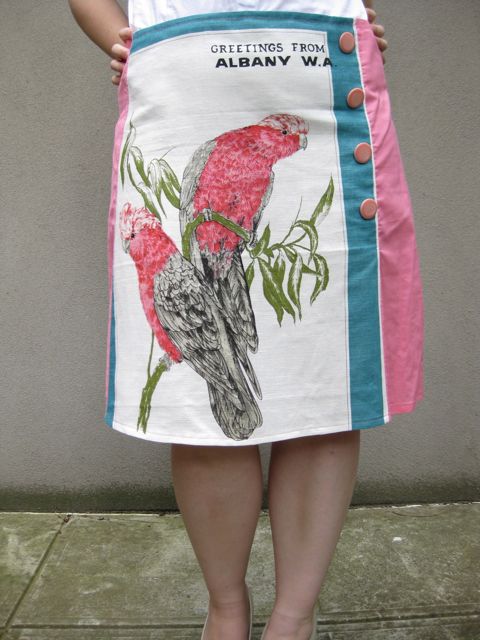 Blouse: Barkins
Vest: Target
Skirt: Pearl & Elspeth (via Georgie Love)
Shoes: Zu
The Sophisticate and I spent last weekend in Canberra, catching up with my family and friends for a pre-Christmas Christmas, as I'm spending Christmas itself with The Sophisticate's family back here in Melbourne. It'll be my first in thirty-two years that I've spent away from the family, so it'll be a bittersweet celebration, but I'm looking forward to the food-fiesta that The Sophisticate promises me.
Melbourne's been having an unseasonable cold snap in the last few days, which means that despite it being a meagre few days before Christmas (pause to hyperventilate) I'm still spending most of time in jeans and cardigans. Sigh. Today was the first day warm enough to brave bare legs, so I whipped out the new Pearl & Elspeth skirt that arrived last week which I've been so looking forward to sharing with you!
I'd been eyeing up Annie's pieces on Georgie Love for some years, and when I saw them in person at the Finders Keepers Market last year I knew I'd have to have one. They're constructed out vintage fabrics and bits of ephemera, like tea-towels, sheets and tablecloths. My favourites feature quirky bits of Australiana, which ties in neatly with Annie's penchant for local wildlife and restoration of native bushland.
Fortunately for me, Annie's started making custom skirts. All I had to tell her was that I liked her "Aussie" skirts, and that I wanted a bit more pink in my wardrobe, and this wonderful skirt arrived in my mailbox.
There's lots of different styles available – check out the Pearl and Elspeth Blog for a bit of an idea of the range – and she's also doing the most darling boleros which are definitely the next item on my wishlist. Perfect for throwing over a singlet and jeans.