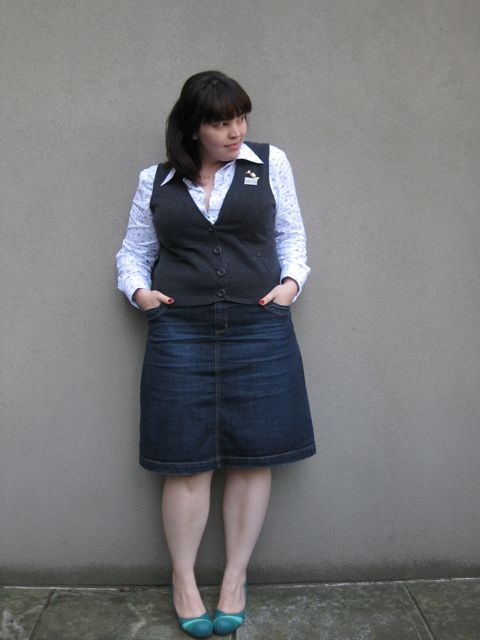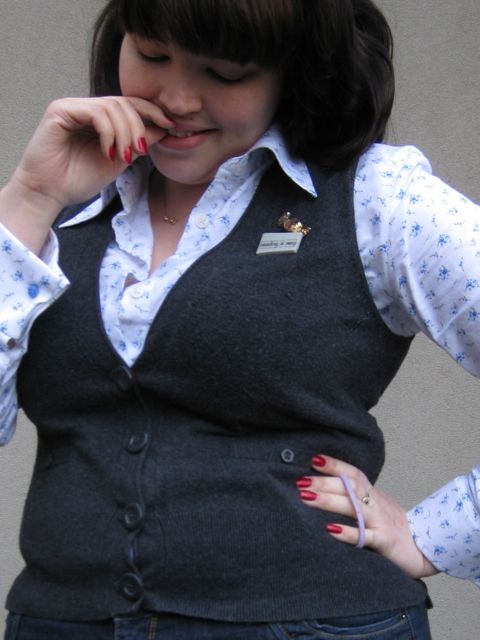 Blouse: Nina Kay
Vest: Target
Skirt: Sussan
Shoes: Chie Mihara
All right, I'll admit it. You're not seeing double, I actually bought two of these ditzy floral blouses from Nina Kay. Or rather, I bought the pink one, then decided I loved it so much I had to go out and get the blue, too. It's not quite as awesome, but it keeps me going when the pink's in the washing machine (because God knows I don't have enough clothes to tide me through otherwise. *snort*)
In considerably more exciting news….
I'm going to America!
The Sophisticate invited me a few months ago to join him on a familial visit, and what's a girl to say when a delightful young man asks her to go to her SHOPPING MECCA but "I'll pack my bags right now"?
I've got my passport, and we've bought tickets, and paid for accommodation, so it almost feels real enough to announce it publicly.
I'll be there for just two and a half weeks over November, starting with San Francisco, and I'm going to keep blogging so stay tuned for Lilli's Adventures In The United States.
I've been doing a dreadful job of "saving" (see above for case-in-point) and I'm planning to be doing a great deal of sightseeing, as I've never been to the USA before and The Sophisticate is very excited to show me his Motherland, but fear not: There will be shopping. And dressing room photos. And visits to those wretched American stores that refuse to ship Down Under but whose clothes I pine for (Banana Republic I'm looking at you). If anyone has any suggestions for Can Not Miss Places I should visit during my sojourn I'd love to hear 'em!