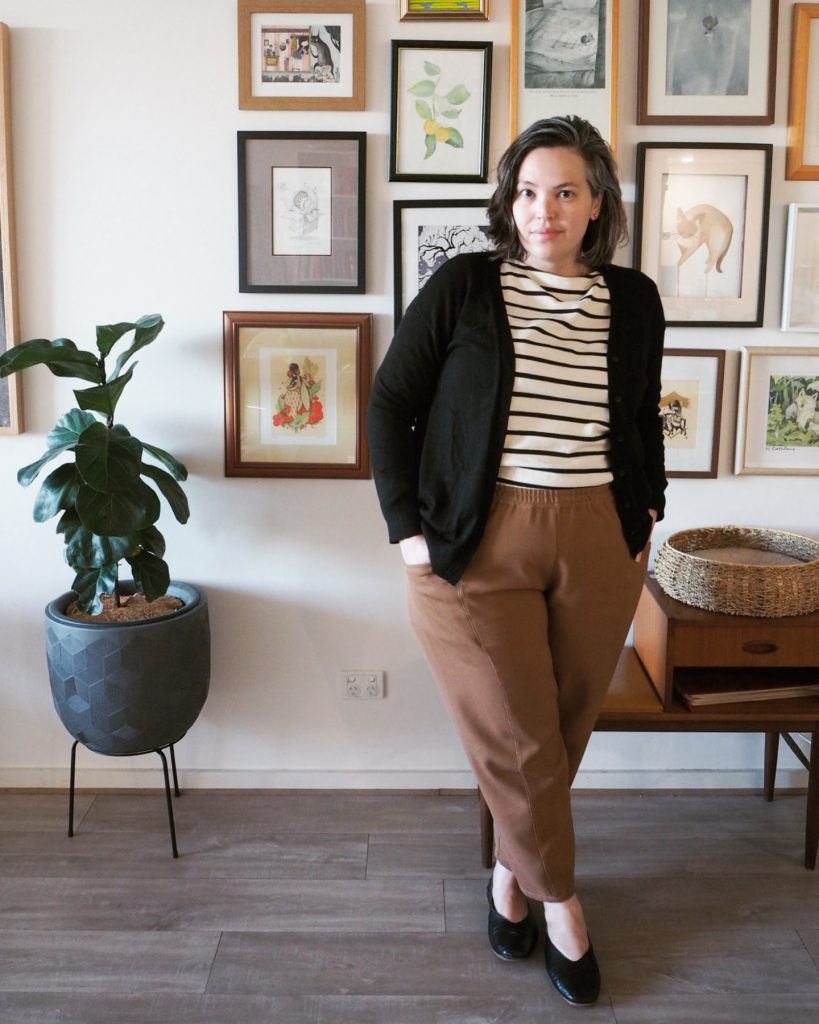 Yep, it's these Sculthorpe Pants again, sorry! They're just so comfortable and warm and they go with EVERYTHING apparently.
Worn today with a striped top from Uniqlo and a cardigan from Target.
This seems like as good a place as any to tell you a bit more about my shoes too. While I was pregnant I basically lived in my FitFlop ballet slippers, and ever since then all of my heels – even the only very little ones – have been gathering dust in the bottom of my wardrobe.
I do love my ballet slippers, but I wanted something a little less sweet to wear with trousers. I tried approximately three thousand different pairs of loafers on, and then Empress Shoes started popping up in my Instagram feed. They're an Australian brand started by two brothers who wanted to give their Mum a decent pair of comfortable but stylish shoes, which is just about the most wholesome thing I've ever heard.
The brothers worked with podiatrists to put together a shoe that offered support and comfort, and developed some kind of fancy rubber sole for evening out the pressure of walking. They promise that the shoes will mold to your feet and not slip off yours heels, which seemed like a fairytale TBH.
I loved that they had a low profile at the sides (a gorgeous V shape that you definitely can't see in these photos) but a relatively high vamp. When they released a wide-foot version I didn't even hesitate, and to my surprise they were everything they'd promised to be: Comfortable, non-slip, long lasting, stylish, and affordable.
I only have the one pair, but I'm definitely planning to go back for a second ( they've got RED!)