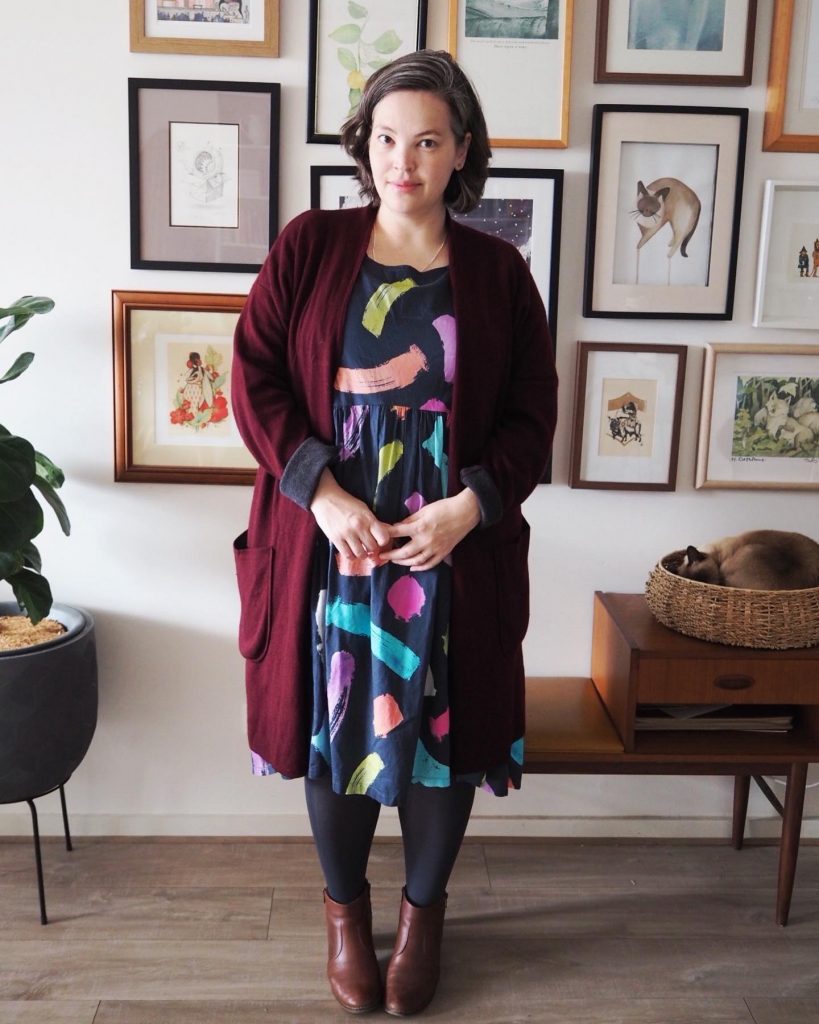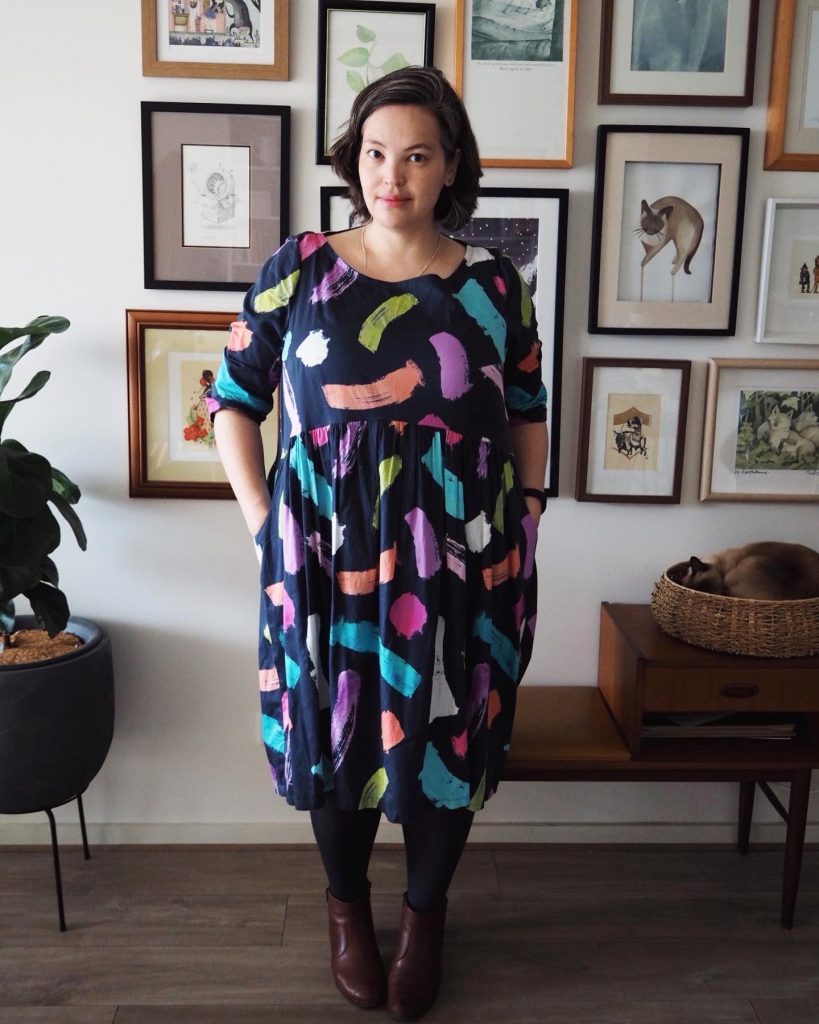 Day two of Me Made May is a dress I made last year using Seamwork's free York top cut with a high scooped hem and attached to the skirt from Fancy Tiger Crafts's Fen Dress. I used a cotton sateen fabric from Nerida Hansen, featuring a design from Elephant and Rose (how I wish I bought more of this fabric at the time!)
I've teamed the dress a long cardigan from Trenery tights from Snag Tights, ankle boots, and even though you can't see it, a long sleeved slip dress from Sonsee because it is COLD in Melbourne today!
On the topic of both Snag Tights and Sonsee, because it's cold and these are two terrific small businesses worth supporting, especially at the moment:
I've been a Sonsee fan from way back, and was very sad to hear that they were closing. Their tights are incredible quality, as are their undergarments, and I wear their anti-chafing shorts consistently throughout summer. They were the first company to do plus-size tights that actually fit plus-size bodies (and they actually advertised them on plus-size models, which was pretty revolutionary at the time). They're running a 50% off sale at the moment, so make sure you take the opportunity to stock up.
Snag Tights is a relative newcomer, but they've already garnered a huge number of devotees. They offer a broad range of colours, and fit up to a size 36, and the prices are cheaper than you'll find in most department store hoisery departments. What caught my attention was everyone swearing black and blue that the tights actually stayed up throughout the day; I've only ever found one brand that I didn't have to wear a second pair of underpants over the top of, and they were the gorgeous but outrageously pricey Heist tights. I bought a couple of pairs of Snag's without expecting anything special, but remarkably… they do stay up! They fit without cutting in, don't roll down or sag or cut in, and while they don't feel as luxe as Heist's or Sonsee tights they are still exceptional quality for the price. Snag's been hit pretty badly by Covid-19, and it would be devastating to lose both them and Sonsee, so if you need new tights, chub rub shorts, or tights for your kids please go support them. They're offering cheap International shipping (they're based in the UK, but ship worldwide), plus they're doing discounts for multiple pairs.