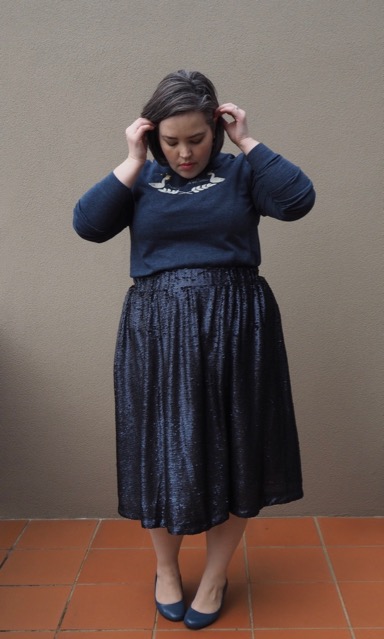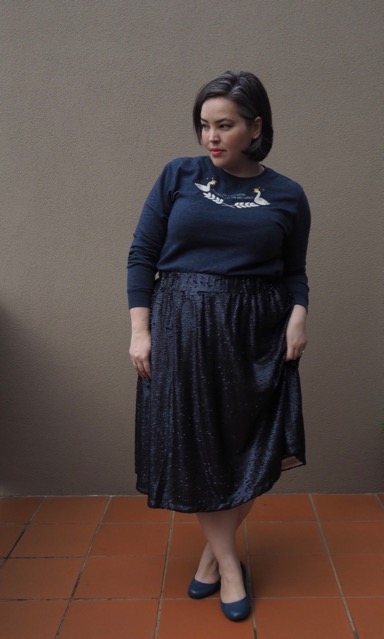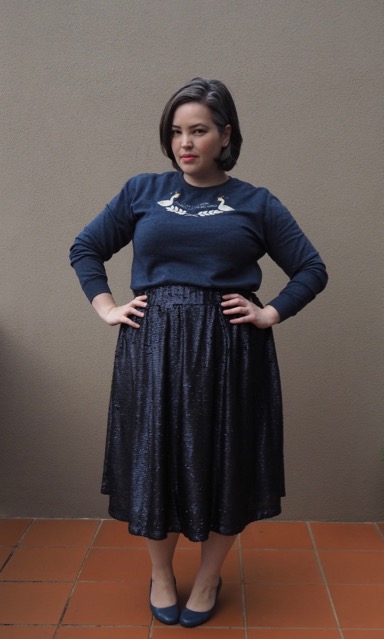 Sweater: Locher's
Skirt: Society Plus
Shoes: Comfortview
I've been crowing about these uh-may-zing sweary sweaters over on Instagram for a while now. I bought three (showing enormous restraint, I can't even tell you) pretty much the instant I learned of their existence.
Designed and produced by Paris-based Locher's, these delicately embroidered sweaters and t-shirts look very sweet and lovely, until you read the carefully discreet slogans:
Calm The Fuck Down, suggests one featuring pretty embroidery of Bambi-faced deer. Fuck Shit Up says another under the sweet image of a French bulldog. There's soft-bellied pussycats (Let's Pretend I Give a Shit, and Leave It At That) and jaunty bunnies (It's A Beautiful Day, Now Watch Some Idiot Fuck It Up), sassy cowgirls (I Ain't Your Fuckin' Sweetheart), and my personal favourite – a pretty bouquet of flowers that proclaims I'm Mostly 'Peace And Love' And A Little Bit 'Go Fuck Yourself'.
I want the lot, honest.
I'm not quite brave enough to drop the F-bomb in public – not even in embroidery form – so I for my first order I bought two long-sleeved sweaters and a tee-shirt, with a slightly milder expletive.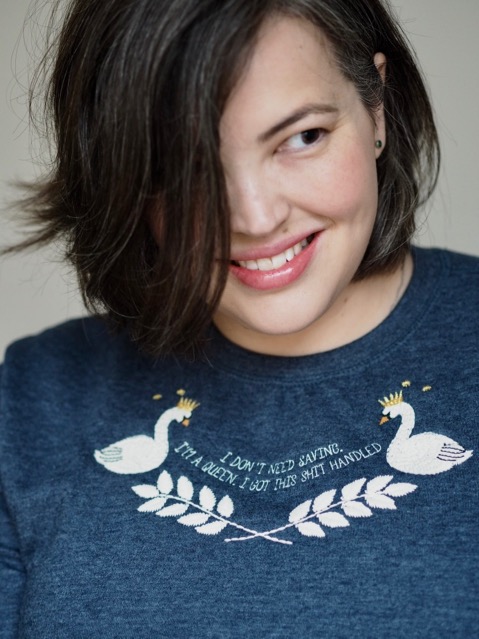 "I Don't Need Saving. I'm A Queen. I Got This Shit Handled"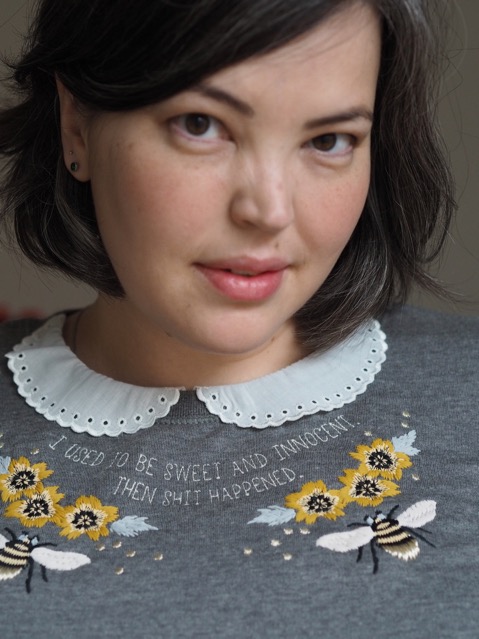 "I Used To Be Sweet And Innocent. Then Shit Happened"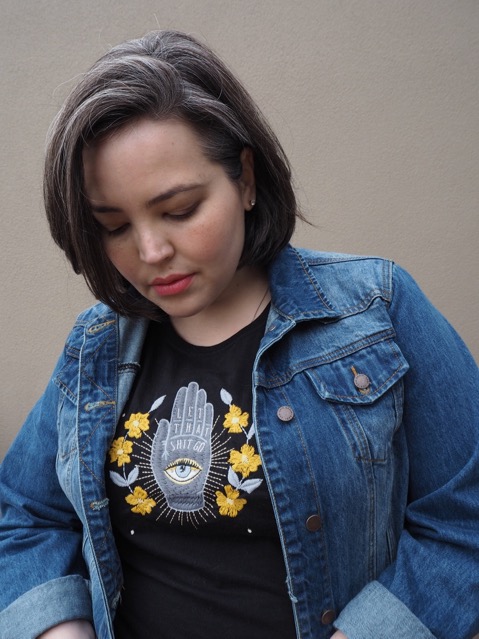 "Let That Shit Go"
And, look, no one's told me off in public. In fact most people who've even noticed seem as tickled as I am. There's just something wonderfully subversive about combining swear words and needlework, and I for one am here for it. It's very much in keeping with the whole craftivism, protest knitting thing, and it's pretty much the best thing ever.
There are non-sweary options as well (The Harry Potter-esque I Solemnly Swear I Am Up To No Good is adorable), and sweary-in-a-foreign-language options (Je M'en Fous, which translates to I don't give a shit).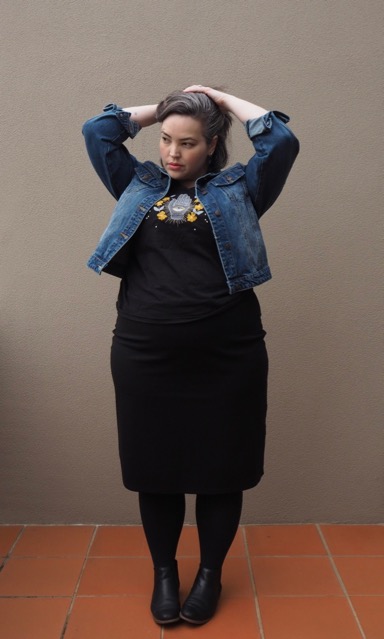 Tee: Locher's
Skirt: Taking Shape
Tights: Heist (Use the code HEISTLOVESFROCKS for 20% off 2+ pairs)
Boots: Clarks
Unfortunately Locher's only goes up to a size XL in the sweaters (about an 18) and an XXL in the tees (about a 16), so I just managed to squeeze into their largest size. Check the size chart carefully – in my experience the measurements are spot on, but they have almost no stretch, so if you're very full at the shoulder or the arms you might have a issue.
The fabric is very soft and fairly thin, but soft and fleecy in the inside. They're not particularly warm, I've got to be honest, but the lack of bulk is actually a selling point for the Very Busty like me. The embroidery (which is beautifully sewn) is backed with a layer of non-stretch cotton so it doesn't pull out of shape. I've just been chucking them into the wash, and they still look and feel like new.
Locher's is actually having a 30% off flash sale at the moment, and regularly have free worldwide shipping offers. So, what the (fuck) are you waiting for?
(p.s. sorry for all the swearing!)