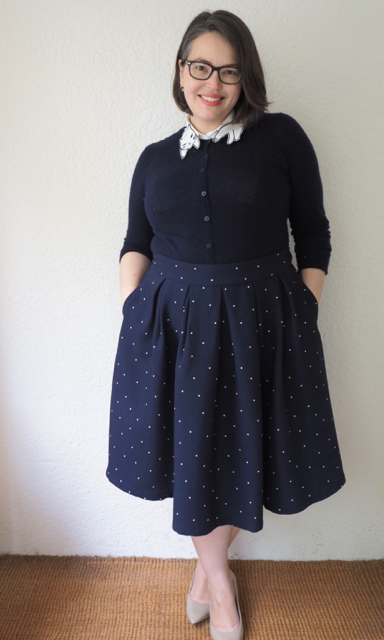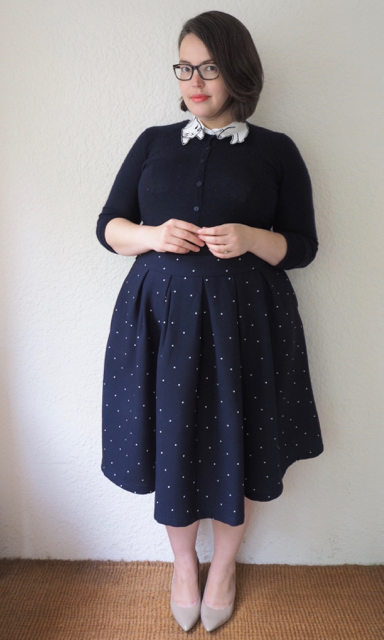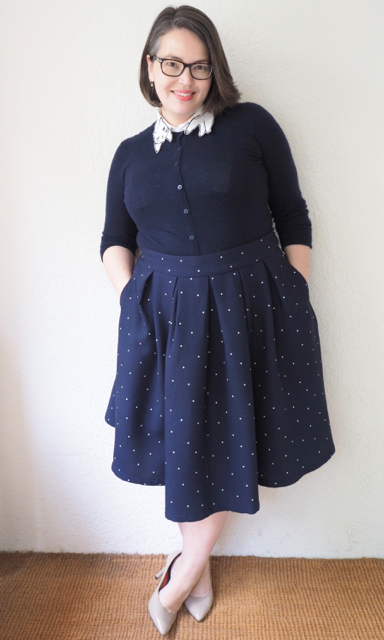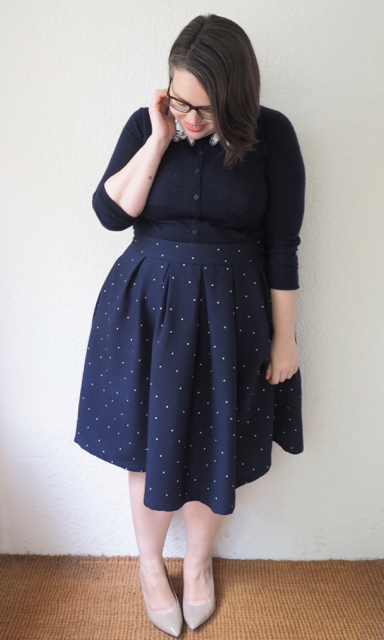 Collar: Collar Me Pretty
Cardigan (Eugenie Cashmere, no longer available): Similar Here
Skirt (Society Plus, not currently available): Similar Here
It seems like I begin every blog post these days apologising for how long it's been since I last posted, so I'm not doing that any more. This is me: not apologising for how long it's been between posts. Nope. Not apologising. (But, like, sorry.)
Life's been a whirlwind lately, but to be honest I'm just running out of puff at bit by the end of the day/week/month. My day-to-day style's evolving to be a bit less flashy and bloggable too, and I'm sure it would be hilariously boring for you guys to check in every day and see the same. damn. outfit. over. and. over.
Life's good though, and if you've ever worried about me you can always check in on Instagram, where you can discover that this month I've 1) been published in a book (eeek!), 2) done a fancy pastry course, 3) sewn a bazillion pink pussy hats, and 4) continued to be totally insufferable about how much I love my job. (You can also check me out on Twitter, but it's mostly me losing my shit about the NBC TV show Emerald City… you guys know how much The Wizard of Oz means to me).
 Anyhoo. I've been doing a bit of crafting lately, which – if my track record is anything to go by – you'll get a tutorial on in about six months. Projects have included an embroidered collar that was in part influenced by this super-cute kitty collar that I bought about seventeen seconds after seeing it on Etsy.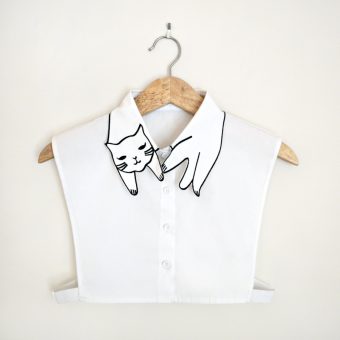 Collar Me Pretty is a Sydney-based Etsy shop run by the lovely Sev, who makes embellished detachable collars and "dickies" for layering under sweaters.
What with The Rack of Doom, I thought a dickie might be quite a good option, but unfortunately it didn't work at all on my body. In the future I'd probably go with a simple detachable collar, but once I snipped off the elastic strips off, and sewed the bib to a singlet to help it sit smoothly it worked beautifully under a high-necked sweater.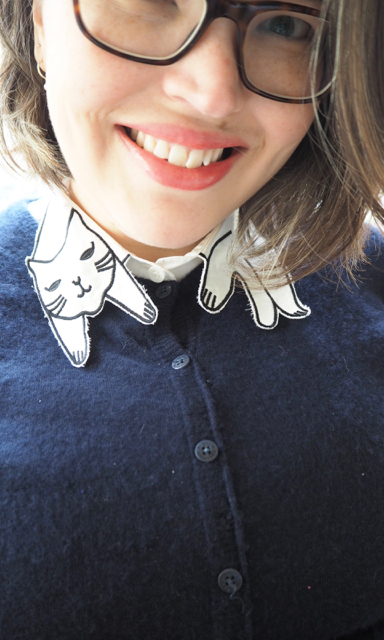 It's a really cute way of adding a bit of preppy whimsy to a simple outfit, but (because it's me) I teamed it with my favourite full midi skirt from Society Plus. The whole ensemble is just a little OTT… just the way I like it!
Save
Save
Save