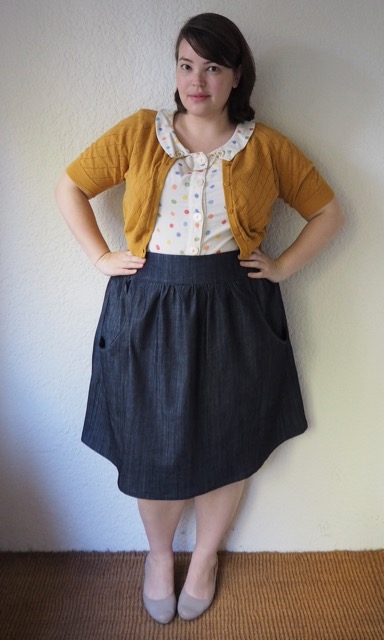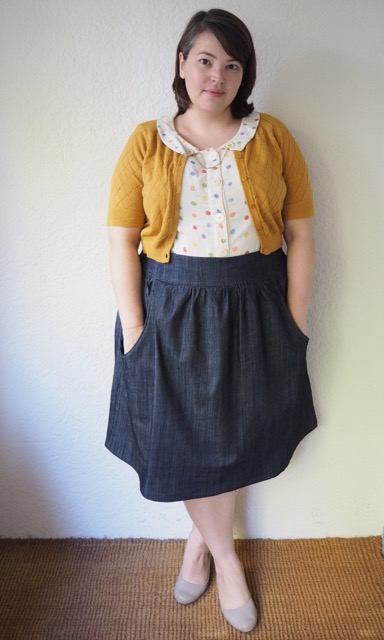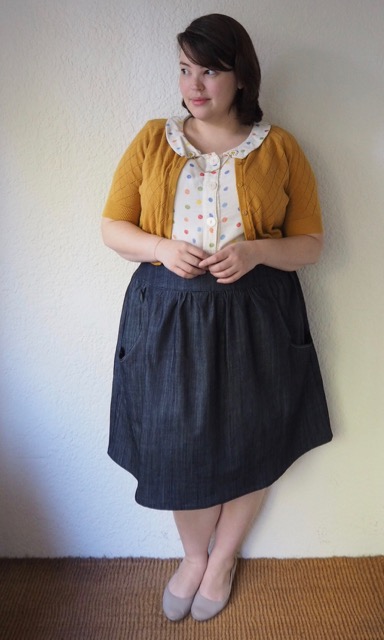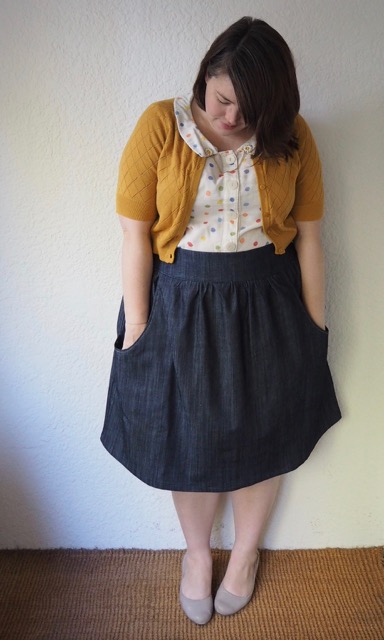 Cardigan: Princess Highway
Blouse: Love to Love You
Skirt: DIY Brumby skirt
While I was at the A+ Markets I was lucky enough to meet Laura, a reader and fellow sewist who I know peripherally through a mutual friend, Hellen. Laura was wearing this magnificent skirt, with big, deep, wonderful pockets. She told me that she'd made it herself (damn) from a pattern that I knew from experience didn't go up to my size (double damn) but that if I wanted she could send me a copy, graded-up to fit a wider waist (hurrah! and double hurrah!)
Grading patterns is still well beyond my skill-set, so I can't properly express how thankful (and impressed!) I was when an impeccably marked-up set of paper pattern pieces for Megan Nielsen's Brumby skirt arrived in my letterbox.
I got myself to a fabric shop quick smart, and picked up some lightweight denim so I could give the pattern a whirl. It's a lovely and fairly simple skirt with deep scooped pockets, a wide curved waistband, and soft gathers that fall in fullness from the hips.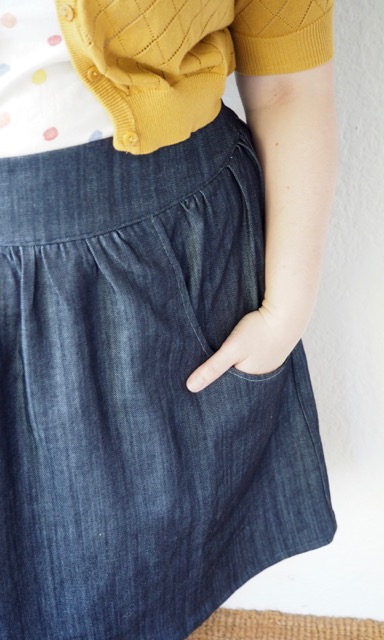 The pattern is fairly straightforward, though I managed to attach the waistband upside down the first time (apparently nearly everyone does). The curved waistband is divine, and I don't know if it was Laura's mad sewing skillz, or the weight of the denim fabric, but I wore the skirt all day today, and didn't have to wriggle it down from under my boobs once. Good stuff.
I'm already keen to make it again – I think in a softer fabric – and I thought I'd experiment with the gathering and maybe try piping for the first time to really make those pockets sing. Today I teamed it with my old confetti blouse and a short sleeved mustard cardigan
To keep the cardigan in place I employed a set of daisy sweater clips that I bought a few years ago from Etsy.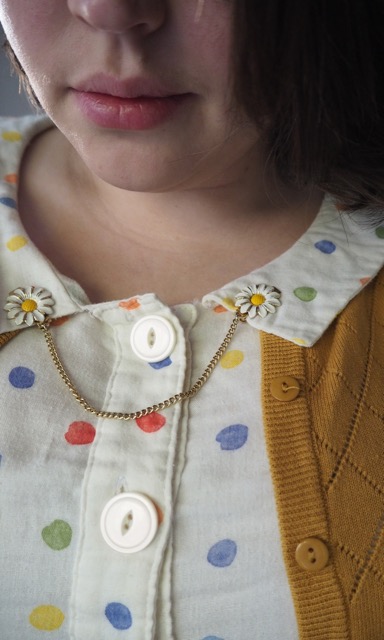 My thanks again to Laura for providing me with this pattern – I'm in your debt!