Jeans: Levis Plus
Not a terribly inspiring outfit, but actually that's not the point of today's outfit!
Little (I suspect) known fact about bras: the support should come from the band, not the straps. Which means if you've got big boobs you need a good, tight band. And if you've got big boobs and are a bit squishy you're going to have back rolls.
Years (and years and years) ago, before I started Frocks and Frou Frou, I discovered the Unbelievabra. Here's my review on the Vogue Plus Size Fashion Forum, way back in 2008:
Oh My God, girls. I'm head over heels in love with my new Unbelievabra,
It's like a sucking innie cami top whatnot with a built in bra, and it's ohmigod comfortable, but what I LOVE is… NO BACKFAT! Hurrah! It gives you a really lovely smooth line, so I'm really looking forward to wearing all those tight tees and light knits that I couldn't before because of the love handles. Pics for your interest:
Me, in my normal bra (after a long day, so it's ridden up a bit, but still) vs me, in the Unbelievabra: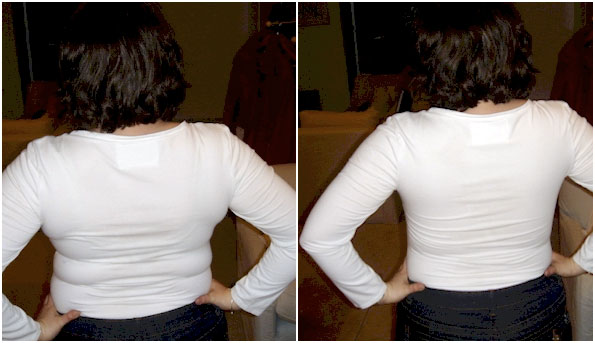 They're not cheap… $85, plus $20 shipping, but honestly; I've paid more for a bra that I've been less happy with.
Staci – the woman who developed the bra is extraordinary, and really goes out of her way to make sure you're happy, and wearing the right size.
It's been a few years since I retired my last Unbelievabra and just got a bit more creative with how I dressed (cardigans, layers, blousy tops and slips cover a multitude of sins) but I've never forgotten how comfortable and flattering the Unbelievabra was.
Recently I decided I wanted another. I've put on a bit of weight, and in my job I'm spending a lot more time sitting down. I was sick of the welts around my ribcage, the constant digging and adjusting. I have some amazing bras (Ewa Michalak is my boob-guru) but I still can't wait to have them off at the end of the day.
'Unbelievabra' has been rebranded as 'Shapeez', and the range has been dramatically expanded, but the product is still as brilliant as ever.
A Shapeez bra differs from a regular bra in the way it resembles a tank-top from the back. Made from a moisture-wicking lycra fabric it provides a smooth line, and support without cutting in. There are two lengths – a full camisole that can be tucked into waistbands, and a shorter piece that resembles a regular bra from the front, but curves down to cut off at the waist at the back. Other variations are differences in neckline and strap width, and molded foam cups, or seamless non-padded cups.
I ended up buying the Silkee Long and the Tankee Short both of which sport the lower back neckline and cut-in shoulders that make more suitable for sleeveless tops and dresses. They both take a bit of contorting to get into (how I wish the front-fastening 'Demee short' was available in larger cup sizes) but once on they are ridiculously comfortable, and you can see, they work a treat.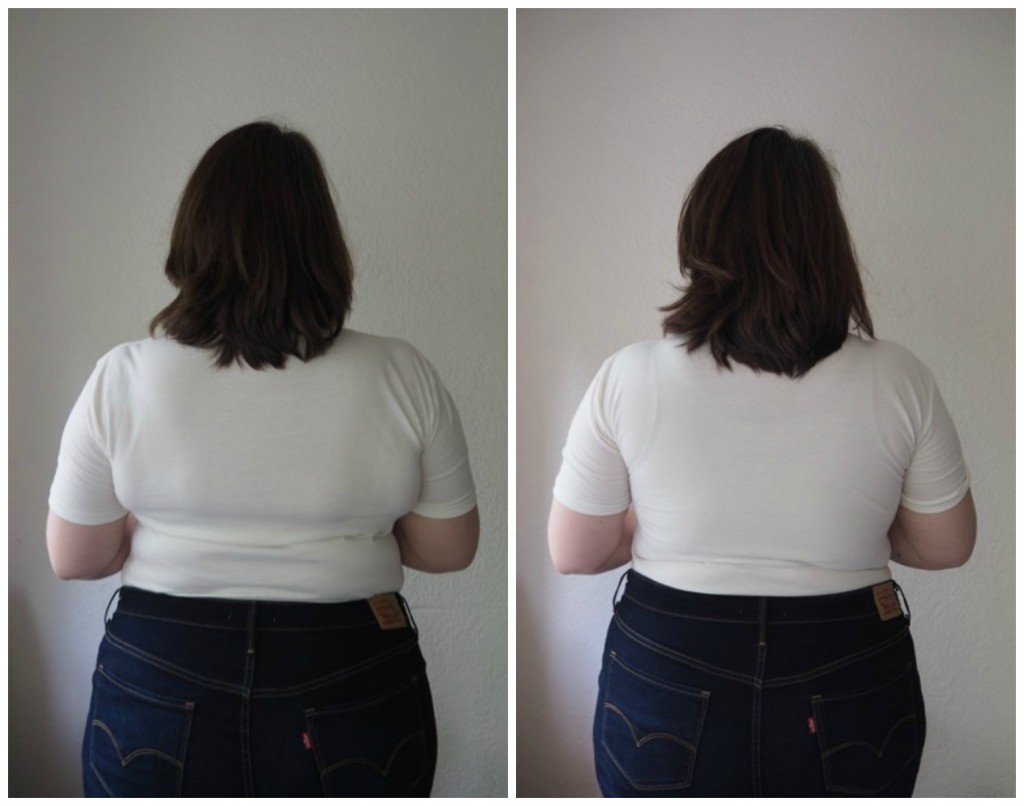 This is me, wearing the Tankee Short, and as you can see the bra dramatically smooths the line of my back compared to my regular bra.
They're still not cheap (between $80-$90) and International shipping is still fairly prohibitive ($45 to Australia), but you're unlikely to ever find another bra with this much support that's this comfortable and provides such a nice line under tight clothes. Consider it an investment.