Shoes: TUK (or available here on sale in black)
So close to naming this post "Cats, Boobs & Tea". SO close. Because, boobs, amirite?
This fabulous t-shirt is available in unisex sizes, so (silly me) I sized down, and the result is… pneumatic, to say the least.
I love the design though. Love it. Cats, books and tea are three of the best things in life (along with long hugs, the smell of rain, and chocolate), so I couldn't resist this top once I saw it. It's been on my wishlist since last year, and when my brother gave me an Etsy gift card for my Christmas present I finally snapped it up.
It's made of a lovely soft worn-in fabric with plenty of stretch (obviously). Despite being a unisex fit the sleeves aren't wide and flappy, and the shoulders aren't too wide. In retrospect I should have trusted the seller and ordered according to measurements. To be honest, I'm severely tempted to order another in the larger size.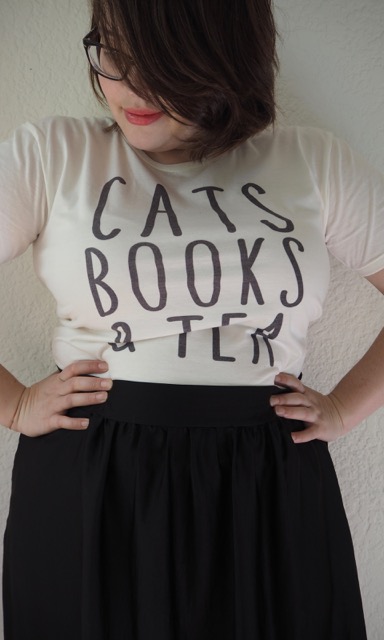 When I first spotted the tee I knew I wanted to team it with a full black skirt, and I do really like it with this one from Target.
The shoes though… let me give you a close-up on the shoes:
Shoes: TUK
Adorable cat shoes with a wearable little heel, in my favourite, plummy colour (it's finally back in style this season, thank God).
They're from UK brand TUK and they fit my wide foot comfortably, plus the little heel is perfect height for walking. If you're finding the burgundy velvet just a little bit too baroque you can also find them (on sale!) in a black suede.