Skirt: Sussan
Cardigan: Sussan
Shoes: Chie Mihara
Spring feels tantalizingly close: it's in the air, the new growth on the trees and the evening light.
It's a fresh start for me, too. After my redundancy a few months ago I just started a new full-time job in a brand-new industry. After twenty years working with books I've found the change a little bit sad, and a little bit daunting, but mostly exciting. As much as I love bookselling and publishing it'll be good to try my hand at something new for the first time in my professional life.
So transeasonal transition, huh?
I've always found that the secret to surviving these in-between months is layering, so I was really thrilled to be able to try a couple of Ruby & Lilli's long-sleeved tees.
I've been a fan of the Ruby & Lilli fit every since I bought my Hello Lover tee, and I was interested to see what their winter range was like.
The fabric's quite different, it doesn't have the same slouchy softness of my three previous t-shirts, rather it's a more structured cotton fabric. I did love how the gold foil dots were on the sleeves and the back of the tee as well as the front, (though on me the critical placement of two of the dots, um, raised eyebrows).
The fit, of course, is perfect. The body of the tee skims without clinging, and the neckline has that wide scoop that really flatters a full bust. One major issue I've found with other long sleeves tees has been that if they're not skin-tight in the body then the shoulders and upper arms are way too big. It's a real credit to the designers at Ruby & Lilli that they understand that making clothes for plus-size women doesn't means just making them BIGGER all over.
And the sleeves are long enough to cover my wrists, hurrah!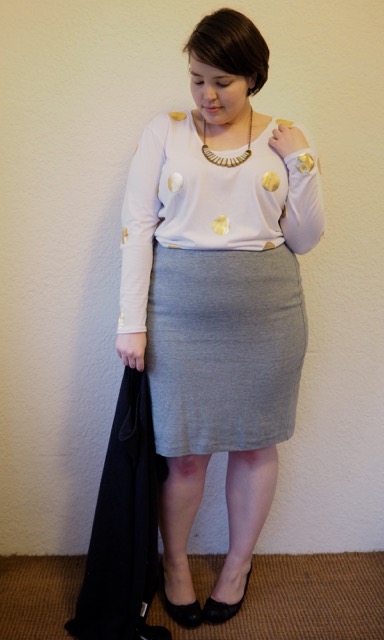 The Ruby & Lilli long sleeved tees are only four dollars more than the regular short-sleeved versions, and they're an ideal item to carry you over these inbetweeny months before summer hits for real.