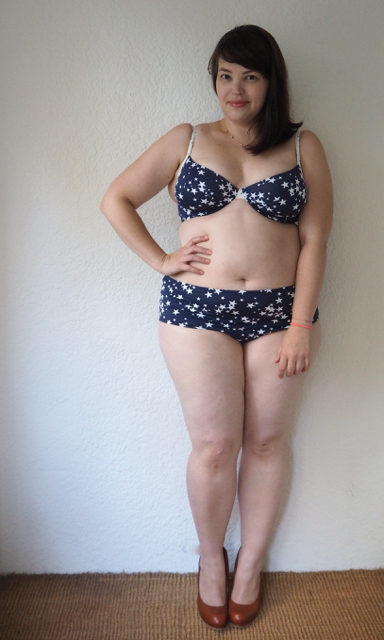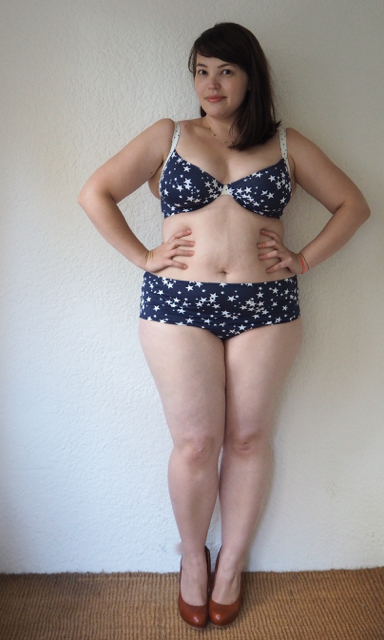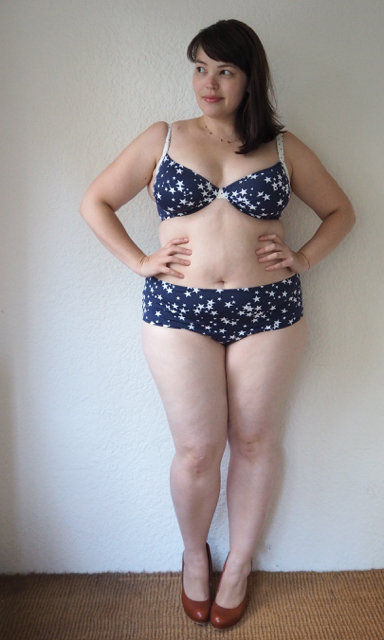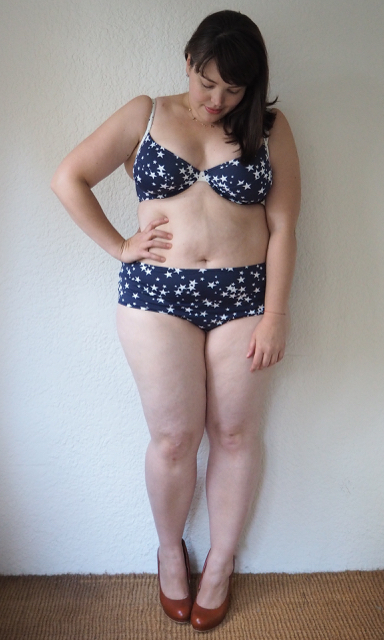 Bikini: Surania – designed by me!
There's been a lot of hoopla in the media lately about Jessica Kane's wonderful Instagram post where she bares an unashamedly plus-size body in a – shock-horror – swimsuit, and refuses to accept that doing so was brave.
Bravery, she says, is "A family battling tragic illness, a mother trying to beat addiction, a person trying to break free of domestic violence, reaching out for help when you have already planned your suicide and feel like you can't breath one more day."
As tragic as I find it that a healthy woman wearing a bikini in public can still make the news globally I can't help but applaud her for her words. Being a plus-sized woman in the public eye shouldn't be an act of bravery, even though I know for a lot of us it is.
Body-shaming still seems like one of the only socially acceptable forms of harassment and discrimination in modern society. It's often disguised in concern-trolling, hand-wringing, and won't-someone-think-of-the-childrening and for every article with someone like Jessica telling us that daring to bare a larger-than-average body on the beach isn't an act of bravery there's countless trolls in the comments section reminding women that unless they've got bullet-proof self-esteem they'd better not follow suit.
I'm proud of the fact that for the last eight years I've been part of a community that has helped to promote the visibility of body diversity. We're moving towards acceptance and I hope that one day everyone will be able to wear whatever they want to the beach without it making the news!
Anyhoo. Enough politics from me, mostly I wanted to show you my new Surania bikini!
Since I ordered my first bikini last year Surania has updated their range of designs and fabrics, and they're also doing a range for men and kids.
Over Easter the boy and I drove up the East Coast to visit my family and while we were in warmer climes I got to try the suit out properly. I ordered the "basic" set, which comes with an underwired top that supported me beautifully through plenty of aquatic romping. As with my first pair these were beautifully made with high-quality fabric, and I didn't have the same problem as I did last time with the fabric not matching the photo – the navy star-print was exactly what I'd envisaged. The manufacture and shipping were quick and easy, and the fit was spot on.
For more information about Surania click here to read my original review.