Dress: Monsoon
Shoes: Shoe Buy
It was a very dear friend's O-birthday a short while ago, and the theme was "formal".
After moving so many times in the Year Of Sheer Awfulness (as 2013 shall henceforth be named) I culled my wardrobe down to essentials (sort of, anyway) and all of my "formal" type dresses were deemed "non-essential" and got donated or re-sold.
SO! Never one to pass up the opportunity to indulge in something I've had my eye on for a while, I decided to try and track down the Skylark sequin dress that I'd seen on Monsoon a couple of years ago, but never bought on account of not wanting to look like a giant mirror ball.
There's probably not a lot of opportunities to wear an all-over sequin dress, even if the sequins are of a flattering matte silvery-gold type variety, rater than the blingy mirror-shine variety. I figured a "formal" dress code was probably my best bet.
Fortunately there's still quite a few of these kicking around on eBay for a steal, so I snapped up one in what I was optimistically hoping would be my size.
Unfortunately the top half appeared to be about three sizes bigger than the bottom half, and though it fit perfectly at the waist and hips my – not insubstantial – bosoms failed to fill out the billowing bodice.
I don't know if it's a Monsoon fit issue (I've never had this problem with them before, but it's been years since I bought from them) or an attempt to get some draping action going, but I decided I needed to have it taken it by a professional tailor.
When it came back I decided I quite loved it, and with the addition of some spangly jewellery and high heels I fit right in at the birthday party. In fact, the birthday girl and I inadvertently matched in a sequinned dresses (hers in an absolutely outstanding blue) and side buns.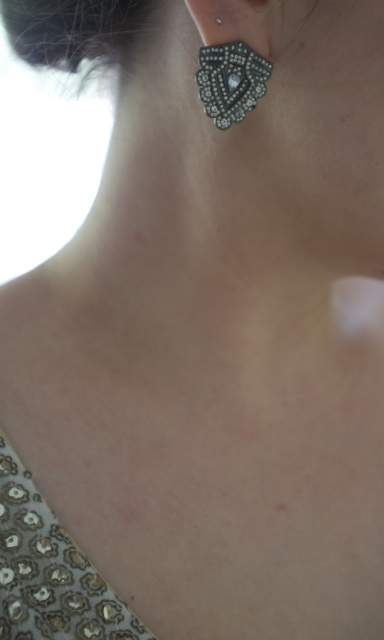 The earrings that I wore were some cheapies from Colette Dinnigan's collaboration with  Lovisa. Sort of deco-esque, and the subdued bling suited the dress perfectly.
I pulled the rhinestone bracelets that I'd bought for – well, you know – out of storage as well and stacked them up. I love the look of several worn at once, and more is more right? They definitely won't be going back into their boxes any time soon, they're so gorgeous they deserve to see the light.