Blouse: Embody
Skirt: Portmans
Belt: Glassons
Shoes: Chie Mihara
You remember how I said a couple of posts ago that I don't buy shoes online? Well, there's a few notable exceptions, and Chie Mihara is one of them.
Years ago, a friend introduced me to this wonderful Spanish brand… she owned the most darling pair of Mary-Janes, and when she told me a bit about the brand (Chie's training in Orthopaedics, her knowledge of foot anatomy, and her determination that you didn't have to suffer to wear nice shoes) I was intrigued.
Luckily, my local shoe shop stocked Chie Mihara at that point, and even luckier they had a pair of amazing shoes, on sale, in my size. I bought them almost immediately, and I've never looked back.
Less luckily, I work in publishing (which automatically means I don't make a lot of money) and, even on sale, I sank more into that one pair of shoes than I've ever paid before or since.
Good shoes are an investment, I get that, and I've more than got my money's worth out of the shoes I bought that day. But still, I don't earn enough to sink that kind of capital into SHOES, and it was probably silly to have done so in the first place.
Because then I was hooked.
I now own five pairs of Chie Miharas, but I haven't had to rob any banks. My secret is… eBay.
I know, I know, second-hand-shoes, ewwwww. But seriously, most of them are virtually unworn, some come in their boxes even, with their little heel replacement caps intact and everything.
And because Chie Miharas are one of those brands not many people know about (not like Jimmy Choo, or Louboutin), you can often snaffle a pair up on eBay for a steal.
These, for instance, were just $74 plus shipping from the UK.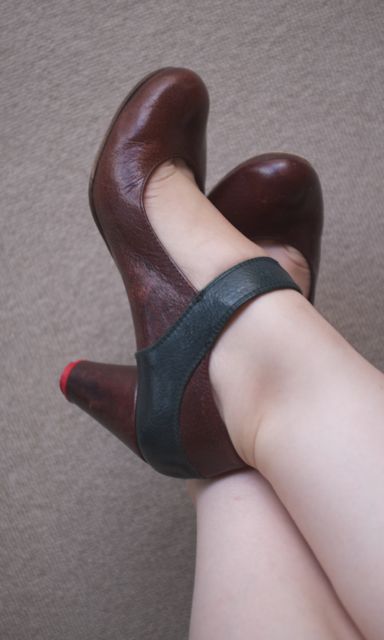 The contrast green strap and bright red heel cap are very on-trend colour-blocking, but the style's a classic retro mary-jane that will no doubt still be in vogue even after the shoes have crumbled into dust.
The wide footbed, soft leather, and sturdy heel all combine to make a shoe that was instantly comfortable.
And yeah, they're "second hand", but I prefer to think of it as "already broken in for me".
p.s. Gratuitous shot of my earrings, because I bought them in Tokyo, and I love 'em.