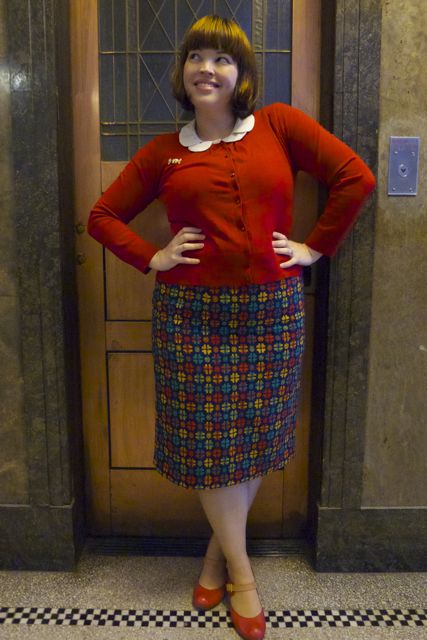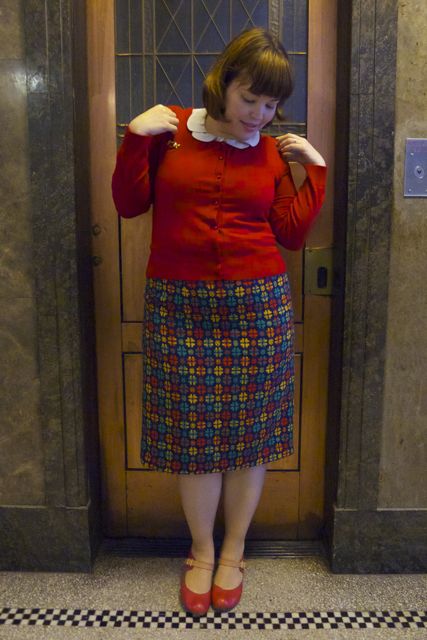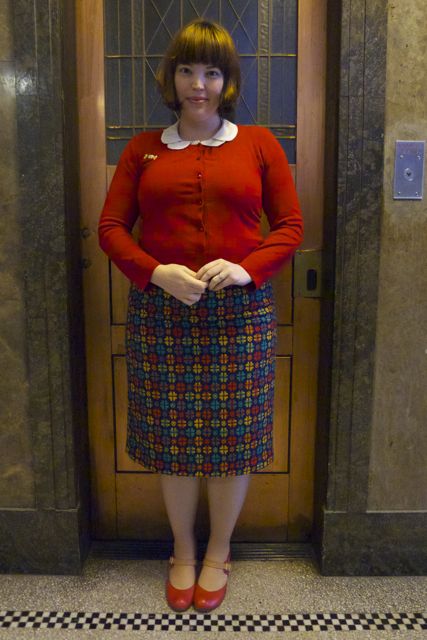 Blouse: Dorothy Perkins
Cardigan: Crossroads
Skirt: "Vintage" (Probably homemade) via Bombshell Vintage
Shoes: Chie Mihara
I'm feeling QUITE pleased with today's outfit! I don't know if it's because this the first time in a week where I've been home early enough to catch some daylight coming in the window, or whether it's the combination of bright red cardigan and multicoloured vintage skirt. Whatever it is, I've dubbed this my 60's Catholic Schoolgirl outfit, and it's a hit with The Sophisticate.
I think it's the scalloped peter pan collar that really MAKES this outfit, and it's made me realise how obsessed I've become with this Dorothy Perkins blouse (which is on sale for only twelve quid. Just sayin'). I've decided that my wardrobe needs MOAR peter pan collars, and I think I'll try making my own detachable version as a DIY project this weekend. Maybe.
There's a reasonably easy-looking tutorial on Honestly WTF, but there's a few differing elements I've got in mind (which depends on what supplies I can find) so we'll see. I might have to cobble together a project from different sources,
Stay tuned, I guess!
Brooch: Vintage, c/o We Are Large, People