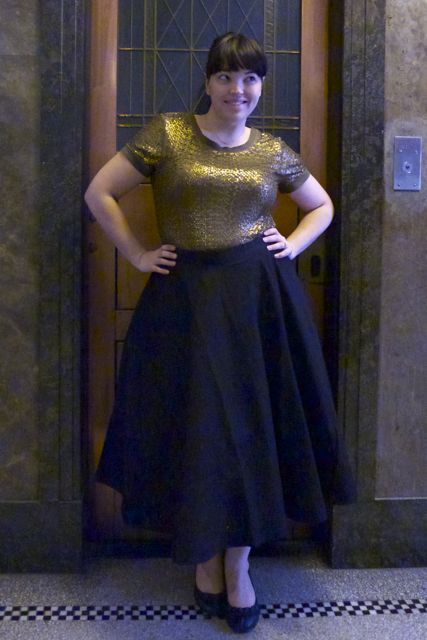 Top: Portmans
Skirt: Asos
Petticoat: Domino Dollhouse
Shoes: Wittner
If imitation if the sincerest form of flattery, then you should probably just consider me flattering the hell out of the lovely Tanesha from Girl With Curves here.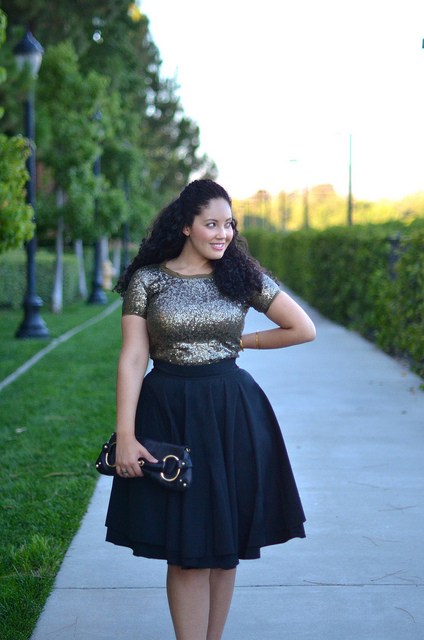 See? Isn't she gorgeous?
I fell in love with this outfit last year, and have off-and-on tried to replicate it with little success.
First, the sequin top (thrifted) was impossible to find… at least until someone on twitter pointed me towards the Portmans clearance store where I found a pretty passable imitation for just $20.
Secondly, the skirt. Tanesha's is from Modcloth, but my far more substantial waist doesn't fit much at Modcloth, so I turned elsewhere. I finally found this one on Asos, and when it arrived this afternoon I discovered to my delight that it's pretty much perfect.
It's called the Fit & Flare Midi skirt, and it's made of a heavy drill cotton. I'm wearing it fresh out of the box and with a petticoat underneath (I was that excited to receive it) so it's  bit smooshed. I need to get it hemmed and pressed and then convince The Sophisticate to take me out somewhere swanky that's sequin-worthy and then I can finally wear the Tanesha-wannabe outfit of my dreams!