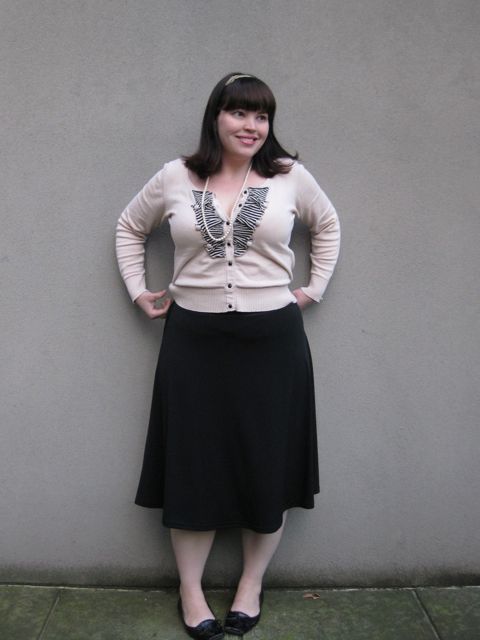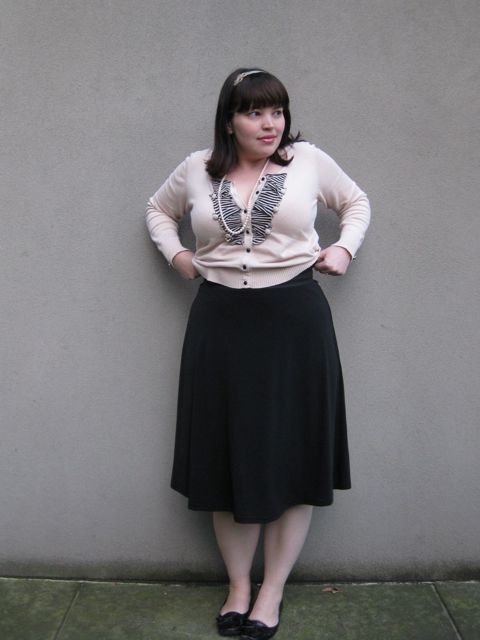 Cardigan: Friends of Couture
Skirt: Eliza Parker
Shoes: Naturaliser
Headband: Mimco
Jessica Tengalia is a familiar name around the "fatshion" world. She used to be with one of my favourite clothing companies, Igigi, but recently struck out on her own to found a new plus-size label named "Eliza Parker".
I'd heard about the range from other bloggers online, and I'd taken a bit of a look at their website, where I promptly fell in love with everything, so I was absolutely delighted when Jessica contacted me with an offer to do a review.
They've got wonderfully classic and wearable designs, and it's easy to make choices as to what would suit you by using Jessica's "Perfect Fit" system (whereby girls are catergorised by five distinct body shapes). The size chart's spot on, and the site's very easy to navigate… it was easy (too easy!) to find a number of items I was keen to try.
To start with I decided to give the high-waisted a-line skirt a whirl, and I was really impressed with the quality. Jessica's obviously adopted Igigi's dedication to using good quality materials – no flimsy, easily crushed jersey here. The skirt's a deliciously slinky and heavy poly-spandex, and it's fully lined to boot. It sits perfectly and skims my hips rather than clinging, and it simply will. not. crush.
This gives me high hopes that Eliza Parker may actually have my perfect wrap dress
Stay tuned, because we've got another review coming…