I've never "done" linen before. I've always thought it was a bit rough, a bit unforgiving, and ridiculously easy to crush. But there was something really… inviting about this linen-blend shirt from Trenery. It's made with viscose (which I've recently discovered is actually made from tree cellulose) which gives it a lovely softness, a smidge of stretch, a leeeetle bit of a shine, and less of a propensity for creasing.
It's a collarless shirt – which works better on my full bust than those with collars – and the breast pockets are positioned nice and high, so they don't create extra volume where I definitely don't need it. The button placket only extends half-way down the shirt which I actually prefer (it'll be a really nice piece layered under sweaters come the cooler months) and while the stretch meant that the gaping was fairly minimal I sewed it up, just in case.
The sleeves are designed to be rolled with little tabs to keep them at elbow-length, but they can be unrolled and buttoned at the wrist, too.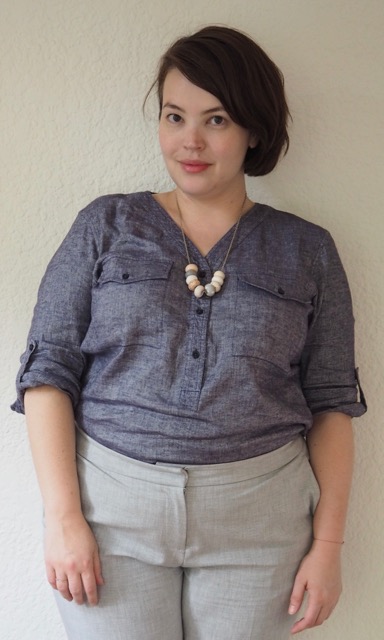 I teamed it with some amazingly comfortable trousers from Sportscraft. The dove grey is a great colour for the warmer months, and it's virtually impossible to find (especially above a size 14) so even though these were a bit dear I snapped them up as soon as spotted them. They're on sale now, and don't be put off by the bad review on the website – I suspect she's talking about something else, because these aren't cotton: they're a linen/rayon/elastane fabric that has the textural effect of a linen, but the stretch and weight of a ponti. Also, she says "shirt".
My shoes are from Airflex, and I was thrilled to find a pair of pointed d'orsay pumps that fit my wide foot. I bought them half a size too big, because the store I visited didn't have any in my size left, and I'm kind of regretting it, because you can get all sizes online now (also on sale, le sigh)
My necklace is, obviously, from Made By Emily Green, and it lends the whole outfit a bit of softness and femininity.