I'm pretty happy in my skin. My body works well and I'm strong and I'm healthy. But there are some limitations to what I can do, and what I can wear. I can't go bare-legged on hot days without some protection. I can't wear backless, strapless dresses. And I've never been able to wear my boyfriend's boxers and shirts in that relaxed, sexy, tousled way that Hollywood makes look so effortless (but in reality probably requires two hours in the make-up chair, and carefully tailored wardrobes).
Well, apparently most of those relaxed, tousled ladies have given up their boyfriend's boring white jocks for the sexy, but equally laid-back range of "tomboy lingerie" that's available from Foxers.
The brand launched in the US in 2007, and promptly started taking over the top drawers of the Cool People in Hollywood, including J-Law, Elizabeth Banks, Kathleen Turner and Beyonce. Apparently Alicia Keys found them so comfortable she bought twelve pairs to wear during pregnancy.
I can certainly vouch for the comfort factor. Foxers have been designed as women's underwear, but with the waistband design of men's boxer shorts. If you like the sporty boxer briefs that Bonds does, but have never been able to wear them because that wide band of elastic cuts in then you might like to give the range at Foxers a go.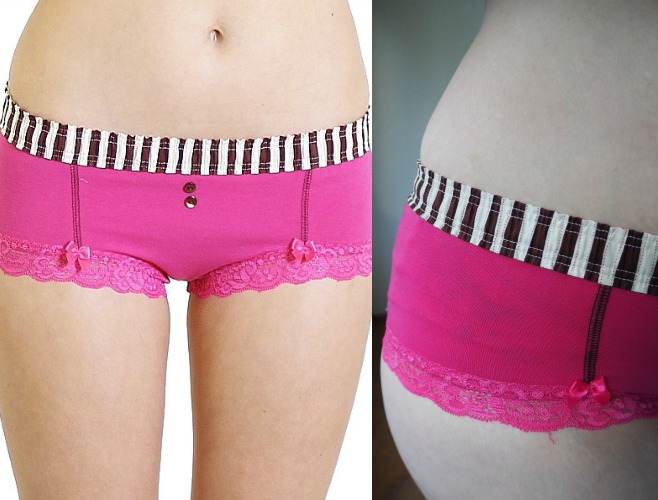 Boyshorts
April Spring came up with the idea of Foxers (original name Box Hers, heheh) when she was studying fashion illustration in Malyasia and liked to spend the muggy evenings mooching about in comfy cotton boxer shorts. She took the concept and ran with it, creating a range of loungewear that's fun, irreverent, ad doesn't sacrifice comfort for style.
That's my whiter-than-white hip up there, wearing a pair of the Boyshorts. I found them hilariously comfortable, and have been wearing them to bed, or like a pair of knickers. To be honest, they're probably a bit too high cut on the backside for me to mooch around the house in them – they're more like panties than shorts – but they don't cut in, restrict, or ride up.
For mooching I'm more likely to be wearing a pair of the Boxer Briefs which are a little longer in the leg and come with little details like pockets and a button fly.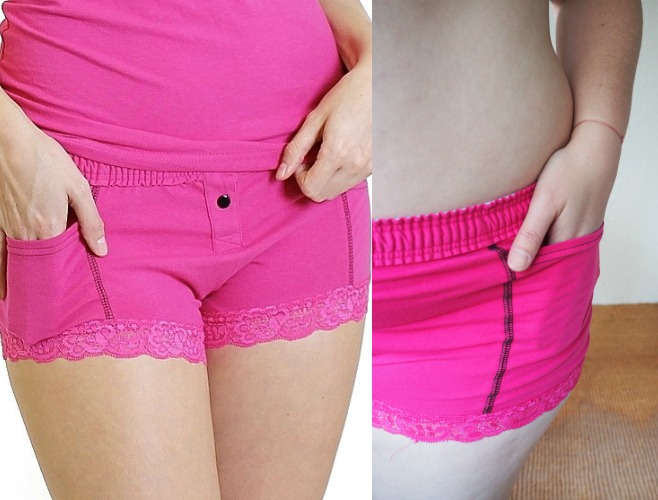 Boxer Briefs
The lace range is gorgeous, and would actually be a great option for someone who wanted something sexy but also comfortable for special occasions. I got to try both the boxers and the lace cami. I can imagine picking up a set as an alternative to PJ's for a romantic holiday, or honeymoon. And the ivory/blue set could be just the thing if you were looking for something beautiful but comfy to wear on your wedding day.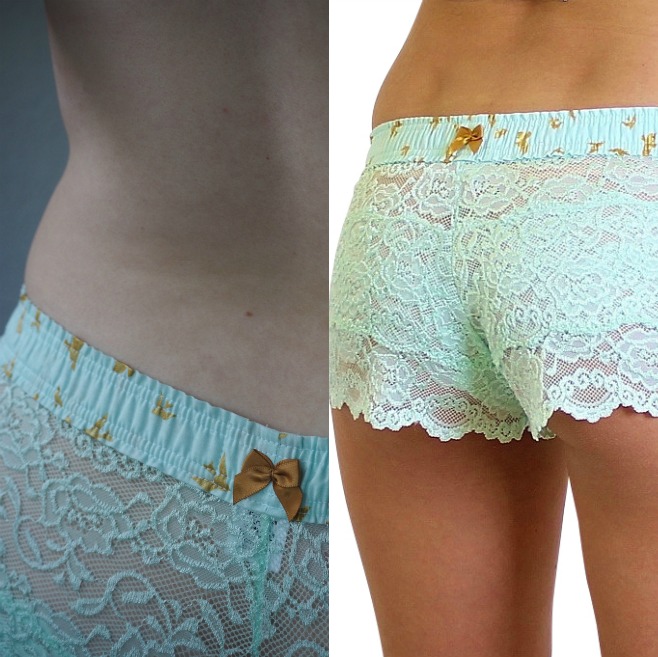 Mint Lace Boxers
I got to try the mint, and I loved the gold doves printed on the waistband, and the little bow on the waistband. The matching lace cami is very pretty but offers literally no support for my F-cups. Worn over a bra and under something with a deep v-neck the scalloped lace provides a bit of extra coverage, and because the lace is soft as soft it's definitely nice for sleeping in.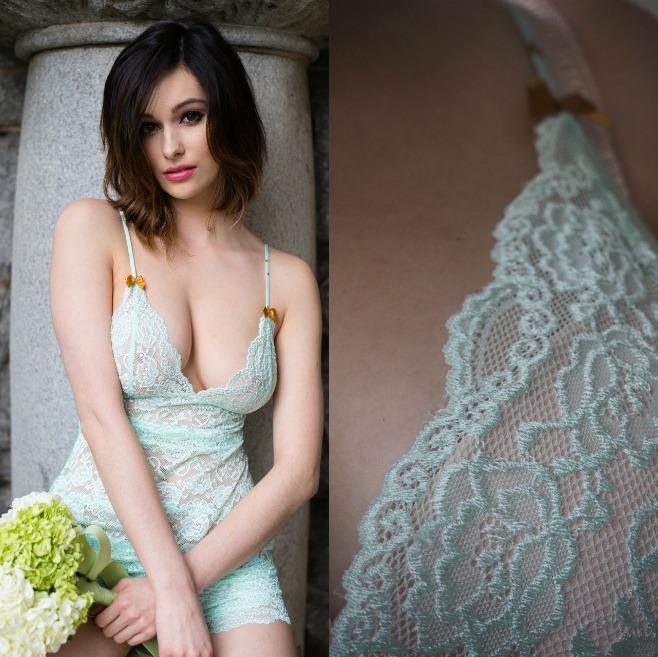 Lace Camisole
Foxers launched in Australia just a couple of months ago, and local sales are being managed out of NSW, so if you're in Australia or NZ you're not going to have to wait forever for your order, and you're not subject to the fluctuations of the good ol' Aussie dollar. They're priced between $15 to $40 for the shorts, and are available up to an XXL. You'll have to go to the US site for the size chart as I can't seem to find one on the Australian website, but I LOVE how they give you both the unstretched and stretched measurements for the waistbands.
Thank you to the team at Foxers Australia for giving me the opportunity to try your product out – you definitely have a new fan.