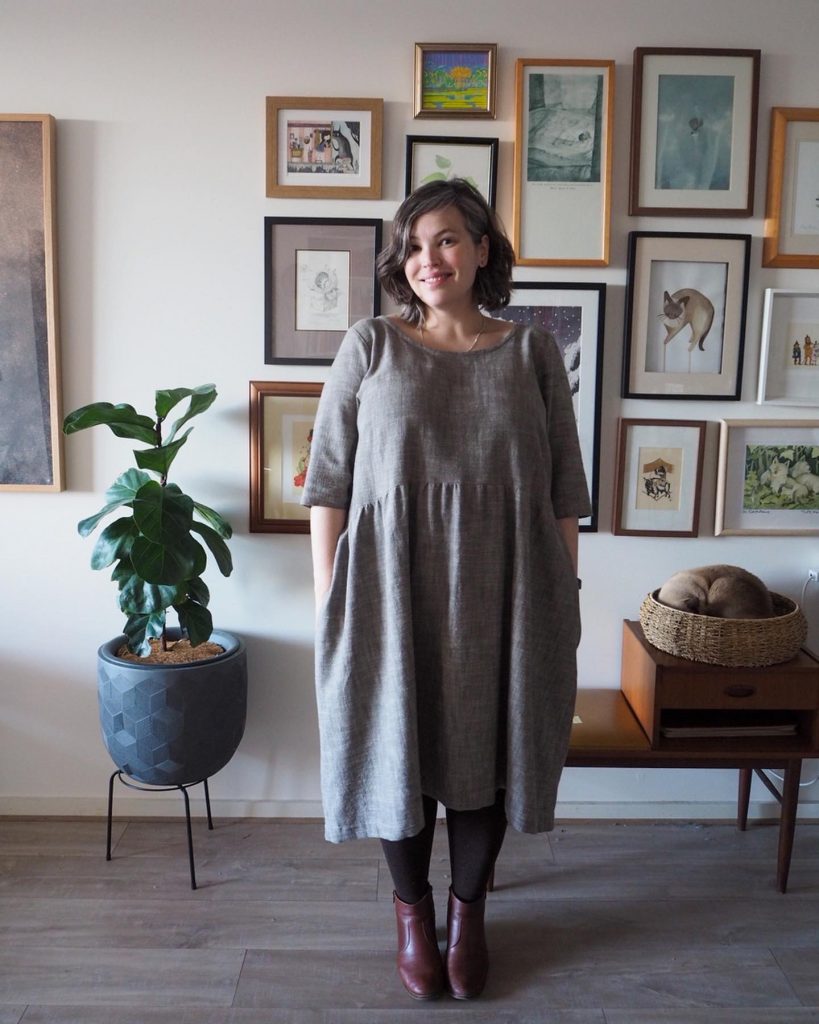 I'm on the hunt for the earth-mother-Brunswick-hipster-farmers-market-smock-dress of my dreams, and I'm almost positive the Demeter dress from Anna Allen is it.
A scooped high-low waist band, relaxed bodice, slightly gathered skirt… it was the perfect match for the gorgeously soft cotton homespun that I'd recently bought from GJ's Fabrics. (For the record the fabric was a complete pain in the ass to sew, and I had to finish every seam three times to try and make sure it didn't fray into nothing but a pile of loose threads by the time I'd finished sewing.)
I'm not sure if I love it quite as much as I'd hoped. The pockets are most of the way down to my knees and blow the line of the skirt out a little, and the neckline is a little wider than I'd anticipated. I think next time I might make a size smaller and bring the waistband up a little and see if that helps. Any suggestions from more-experienced sewists would be welcome!
It's still a comfortable, functional frock, but for the full earth-mother-Brunswick-hipster-farmers-market effect I've teamed it with wool tights from eBay (why is it so hard to find knitted tights for plus sizes?), ankle boots from Ziera, a long cardigan from Uniqlo, and the legendary Night Shift Shawl (well beyond my skill set, but impeccably made by Georgina, a very talented knitter from Sydney)