Top: Uniqlo
Cardigan: Similar here
Skirt: Target (Similar here)
Shoes: Naturaliser
Tights: Em Tee See
Just a quick one before I head off for a long weekend away at the Hall's Gap Food & Wine Festival with my guy (lucky me!)
I've been using this long-sleeved top as a layering piece since I bought it from Uniqlo a couple of months back. It's not the most flattering fit, but the print is such a killer (especially for someone who works in publishing) that I had to buy it when I saw it.
Layered under vests and pinafore dresses it doesn't really make much of a statement, so I tried wearing it under a longline cardigan which gives the great typographic print a bigger canvas without it being overwhelming.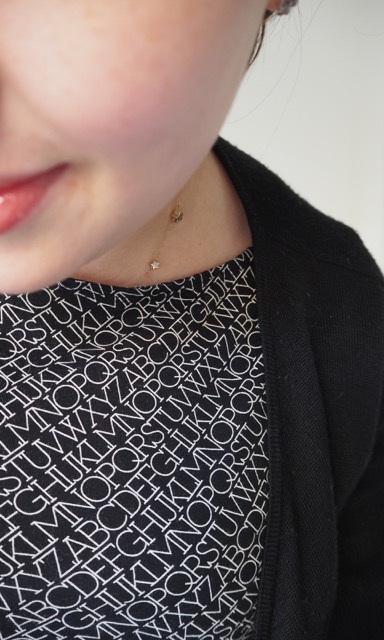 The ankle boots were because I'd walked some spectacular blisters into my feet by wearing ill-fitting shoes without any socks. They're the one pair that I always reach for when my feet are aching, but they don't have a very flattering effect on my wide-calves, so the opaque tights were a must. 
And just because I like a little touch of whimsy (and a feature back) my tights have adorable little cat faces that peek over the cuff of my boots. 
The tights have come from Em Tee See, who also did my wonderful starry tights. They've been designed so that the little cat faces can be worn to the front or the back. 
I've worn them both ways, but I really love the little cries of surprise I hear when I'm walking away…
Meow!