Top: Luxx
Shoes: Shoebuy
 More of this cute grey skirt – dressed down with a pretty t-shirt featuring Fifi Lapin, then up again with heels and another sparkly necklace from Totally Jewel.
The Finny Feathers Diamond Necklace is a little less blingy than the Diamante Blosson Necklace, but just as well made. The contrast between the thick brass chain, and the dainty deco-styled feathers give it a bit of a found-object feel, and I've actually been thinking about how nice it would look as a sash too. It'd be an easy remix project, so that's a possibility for the future.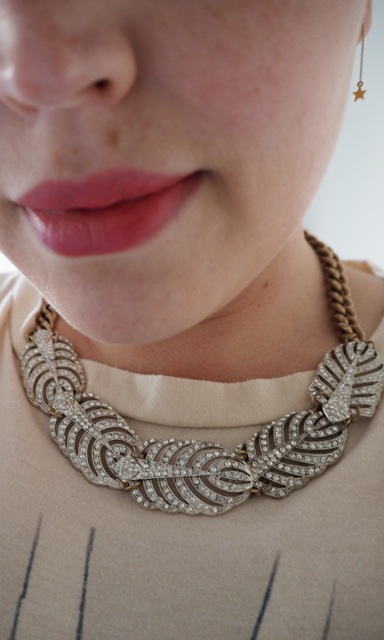 At the moment I'm enjoying wearing it as a necklace. It's classic style that sits nicely on the breastbone and doesn't twist or catch on delicate fabrics.
Totally Jewel also offers matching earrings, and I think the two make a lovely, affordable set   that would partner beautifully with a simple pastel frock, or a long maxi-dress for a special occasion.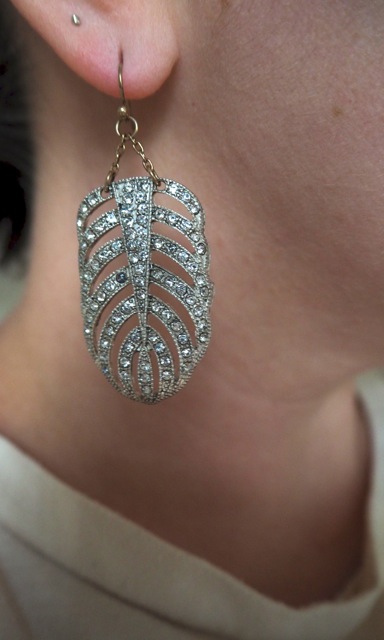 To wear the two together you definitely need a less-is-more ensemble, because the feathers themselves are so detailed.
I found that the earrings twisted a little, so the sparkly side wasn't always facing out. To remedy this I just shortened the chains they hung from a little, and now they're perfect.
Don't forget Totally Jewel offers free shipping in Australia on orders over $50, a surprise gift with your first purchase when you sign up, and a special 30% off discount for Frocks and Frou Frou readers with the code FROU30 until the 29th of September.