Blouse: Princess Highway
Skirt: Asos
Shoes: Seychelles
I've been seeing different incarnation of this midi skirt pop-up on the blogs that I read for some months now. It looks like Asos knows that they're onto a winner with it, and has released it in umpteen different colours, so I've seen it in blue and pink on LuAnne, in hot pink on Sian, in white, and red on Georgette.
It's called the "Full Midi Skirt in Scuba with Pockets", and I figured that since I was a fan of four out of five of those adjectives (full, midi, skirt, pockets) and totally unfamiliar with the fifth (scuba) maybe I should give it a whirl.
The skirt doesn't fasten with a zipper – the scuba fabric is stretchy enough to allow it to pull on, and the reviews online recommended that you size down (I bought the 14, which fit my waist comfortably). I couldn't go past the peach colour, which ended up being a more deeper coral hue than the blush I'd anticipated, but will probably be more versatile in the long run.
It turns out "scuba" is a very dense stretchy fabric…. like a scuba suit, unsurprisingly. It's soft and vaguely rubbery to the touch, resists crushing, and stands out on its own so it's well suited for full-skirted styles like this one. It's not by any means a "natural" feeling fabric, but I'm a pretty tactile person and I wasn't repulsed by the touch; it's not crunchy or plastic feeling, just kind of… squeaky.
First the good: It fits well at the waist, and flares very satisfactorily at the hips. This is an ideal skirt for people with a high hip to waist ratio, and it's also a good for faking an hourglass shape for those of us who are a little bit more up-and-down The pockets are deep and practical, but be aware that they do add a bit of extra volume because the fabric is so thick.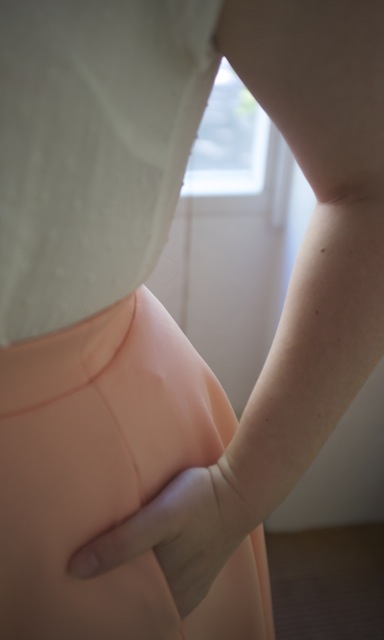 I liked that the skirt didn't have any zippers or fastenings, it's a good length (even on 5'4″ me) and a really classic style for a very good price.
The only thing preventing me from giving this skirt a resounding two-thumbs-up review is that fact that, unexpectedly, scuba fabric pills like a BITCH. I've had this skirt for a couple of months now and I've discovered that on both hips where my bag bumps it has scuffed up rough patches that have become as pilly as a pair of fleece tracksuit pants. I had a bit of a go with my fabric comb, but that only seemed to exacerbate the problem, so I'm going to try and get one of those electric-razor-fabric-shaver type things and see if that helps.
It's not a huge issue, and for the moment it's not obvious enough to prevent me from wearing the skirt, but it's annoying and means that I can't wholeheartedly endorse the product without adding the disclaimer that unless you liked a friction-free life, you'd be unlikely to get much more than a few months worth of wear out of the skirt before it started looking tatty.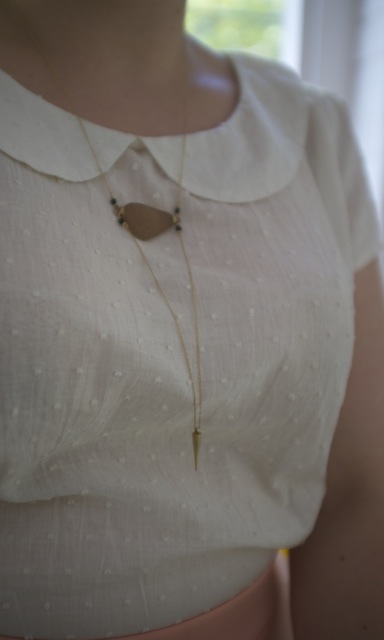 Necklace: Kim Lyons Jewelry