You might not believe it, but most of my clothes are on high rotation in my wardrobe. You might only see something on the blog once or twice, but behind the scenes I'm wearing it regularly.
So much of my wardrobe is statement pieces: Bright colours, fabulous prints, and styles that speak for themselves. It can be a challenge not to repeat myself too much, but I'm conscious that not everyone has the luxury of a gigantic wardrobe and it's nice to be able to curate a variety of outfits around a single item.
I thought I'd try a new regular section that I'm calling "Two-Ways Tuesdays" that will illustrate two ways to wear a single statement piece. It's a challenge for myself to think a little more creatively about my wardrobe (and also to encourage me to guarantee at least one new blog post a week!)
This isn't a great example of what I'm trying to accomplish I'm afraid, but I'm sure you'll agree it's a very cute dress.
I was wearing it during the warmer months (I bought it full price, but it's on sale now for 50% off) and now that it's turned cold I've just added nude tights (from Sonsee, naturally) and a cardigan and it's a pretty ensemble for autumn.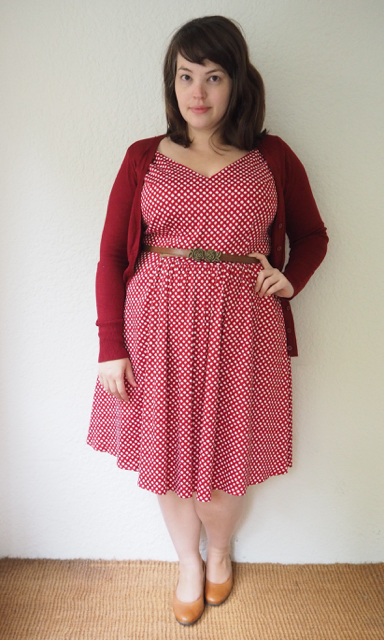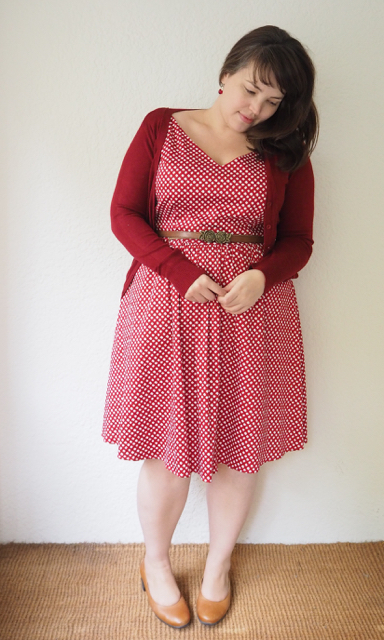 Cardigan: Paper Scissors
The dress comes with a patent leather red bow belt that I'll admit was what tipped me over into buying it, but when I got it home I decided I preferred to dress it down with a brown leather belt.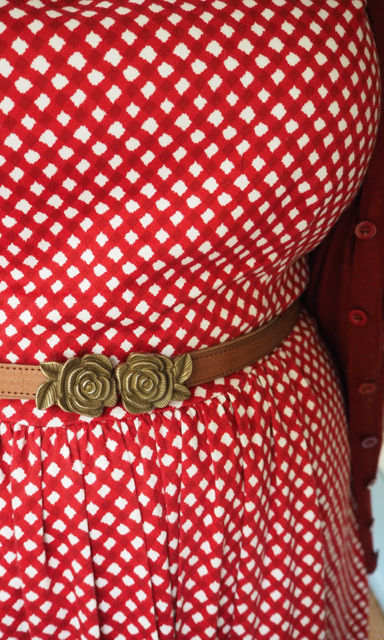 I bought this one a few years ago from a little store on Brunswick Street. It's now a total mystery to me what the store's name was. Oops! This one from Etsy is sort of similar though, and the seller offers custom sizing.
I've been fairly impressed with the quality of City Chic clothing lately. For instance, this dress is fully lined. The cut is carefully considered, the arm holes don't gape, and while the skirt is gathered at the front of the skirt the sides are smooth, meaning you don't end up with extra volume on the hips. There's no pockets, but someone wonderful has suggested the inclusion of bra-keepers that allow you to wear the straps wide without flashing your bra.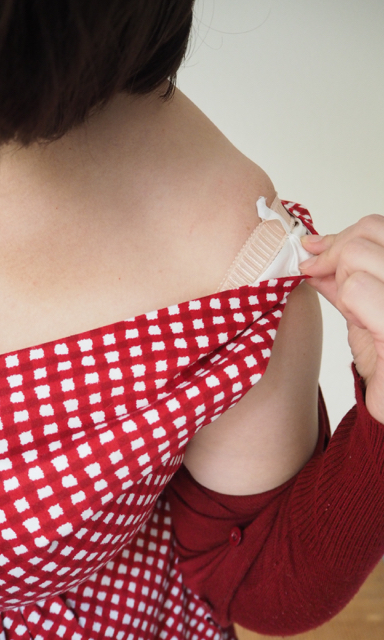 I kept my accessories simple: tan pumps to match the belt, and the ruby red bow earrings which I bought years ago from a store on eBay – Imogen Rose Jewellery, I think!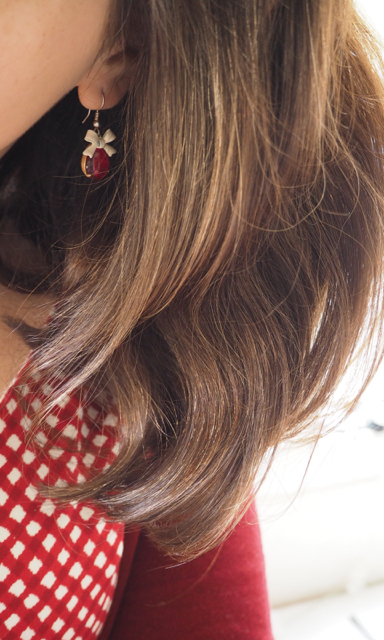 So anyway – There's your first Two Ways Tuesday post: One dress, two outfits, and two pieces of frou-frou so old I can't even remember where they're from! Stay tuned for next week's installment when hopefully I'll have a better example of how to mix-it-up!