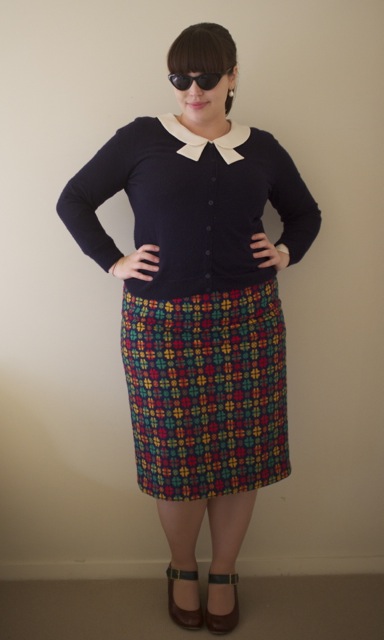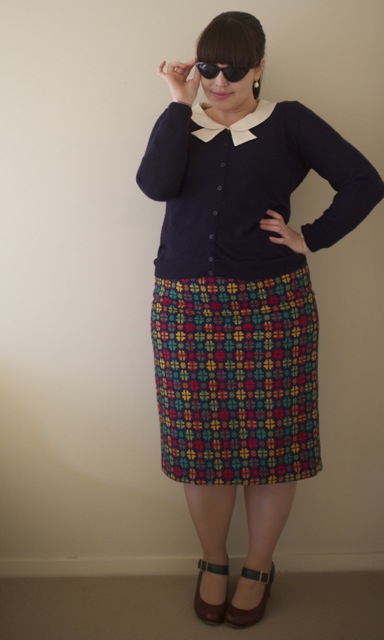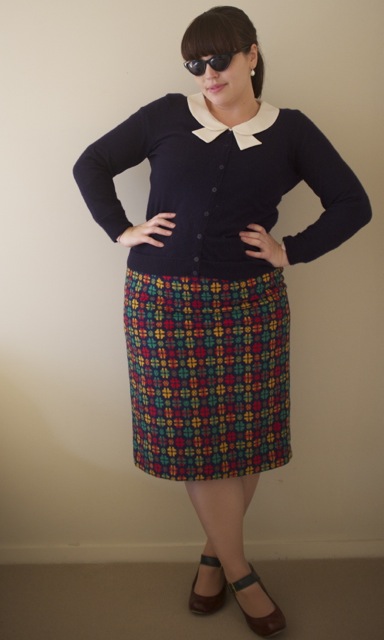 Blouse: Princess Highway (remixed)
Cardigan: Eugenie Cashmere
Skirt: Vintage via Bombshell Vintage
Shoes: Chie Mihara
I know, I know. Sunglasses inside. It automatically makes you look like a try-hard. But, look, it's been two weeks and I still have a black eye. Nowhere near the shiner it was last week, but enough to draw attention and comments wherever I go.
I've been walking with my head down, making sure not to make eye contact with people on the street. I haven't spotted my reflection in a window for days. I barely recognise my face with the black eye. And, oh my God, I'm so sick of having to explain to people how I got it fainting onto a cement floor. And no I wasn't drunk. Or pregnant.
Good news is, I've had a full and thorough check-up, and it looks like it was Just One Of Those Things. Maybe a little bit of stress; the last few weeks have been challenging, to say the least.
But something really exciting and wonderful happened yesterday…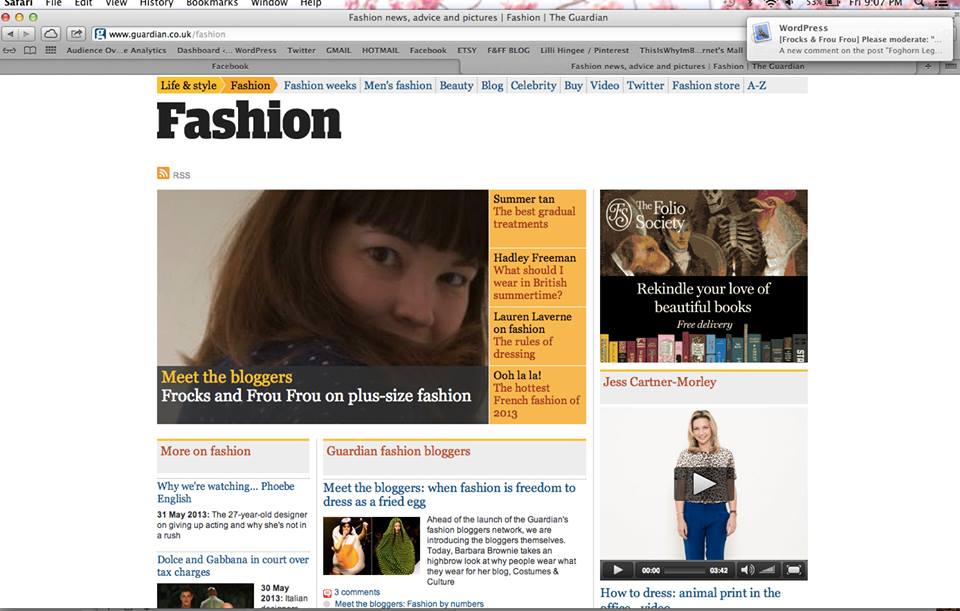 Earlier this year I was selected to be one of a new group of bloggers who will be contributing to the Guardian newspaper's fashion pages.
I couldn't quite believe it when they contacted me, and I'll be honest with you; my introductory post is up and I STILL can't quite believe it. Me. On the front page of the Guardian's fashion pages. It just doesn't seem real.
Thank you to all long-time my readers – I wouldn't be here without you guys – and thank you and welcome to my new readers too! I hope you enjoy the blog. If you're looking for some older posts to start with, here are a few of my favourites:
Rest assured, this new and exciting blogging opportunity doesn't mean things will change here at F&FF. I'm going to endeavour to write original posts at the Guardian, but I will link back here when they go up, so you can check them out if you're interested.
It's quite cool and rainy in Melbourne at the moment, and I'm doing my usual trans-seasonal thing of realising that I've "retired" the bulk of last year's winter wardrobe and everything I own is too thin/short/summery for the chilly days. Coupled with the fact that I want comfort, and really I can't go past my navy blue cashmere cardigan (sewn up the front like my favourite remixed blouse so that it's more of a sweater). It's warm and snuggly and soft on my skin. A cuddle in clothes form.
I've teamed it today with the probably-home-made skirt that I bought last year at Bombshell Vintage. I'm a little embarrassed to admit that I haven't yet made it in to their new home at the Lost and Found Market, um, twenty minutes walk from my front door.
This skirt's a fave, but it's pretty tight, especially around the legs (there's no slit in the back to facilitate striding) so I usually try to reserve it for days when I know I won't be doing a lot of walking.
Wouldn't want to take another tumble, would we?