Shoes: Naturaliser
I tried not to buy this dress. I really, really did.
I have enough dresses. I even probably have enough STAR PRINT dresses, and just because Modcloth – that wonderful repository of whimsical printed frocks, that brilliant online store that allows me to ask for true measurements for every item in every size, that body-positive, indie-designer-supporting, community-orientated fashion company – was doing a star print dress didn't mean I had to buy it.
So I linked it up on Facebook, I pinned it on Pinterest, and I sat back and waited for it to sell out.
Unfortunately (fortunately?) my self-control lasted less time than Modcloth's stock reserves, so here it is: proof that you can never have too many star-print frocks, and that Modcloth's "Day After Day" dresses are a bit amazing, and you should buy one in every colour and print they do forever and ever amen.
Actually the "Day After Day" dresses have been designed by the British company "Emily and Fin" who – despite being available through a variety of avenues including their own webstore, and Asos – seem only to do plus-sizes with Modcloth.
I'm going to hazard a guess that Modcloth themselves have commissioned the extended size range to fit with their #styleforall philosophy of inclusion and body positivity as well as their awareness that an appreciation for cute frocks in endearing prints doesn't end at a size 16.
Whatever the reason, they've got a new fan, and I definitely won't be hesitating next time they bring out more Emily & Fin dresses in prints that make my heart sing. For one thing, the fabric's a lovely tactile viscose that drapes well, and the dress is full lined with 100% cotton. The waist is in the perfect position for me, and the bust is full enough to encompass The Ladies. The arm-scyth isn't so giant that I'm flashing my bra as soon as I lift my arms above my waist, and the little puffed cap-sleeves are flattering on my slopey shoulders.
There's pockets…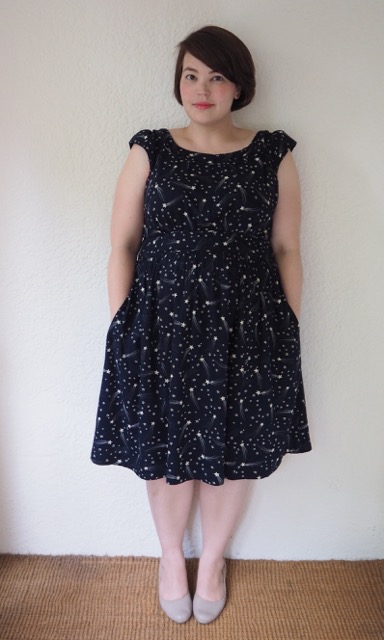 … and a feature back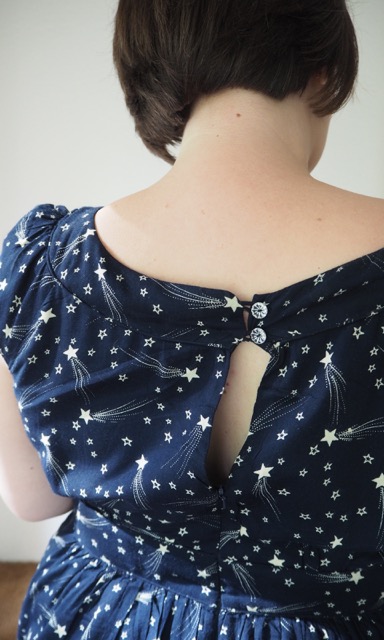 …and really, what more could you want from a dress?