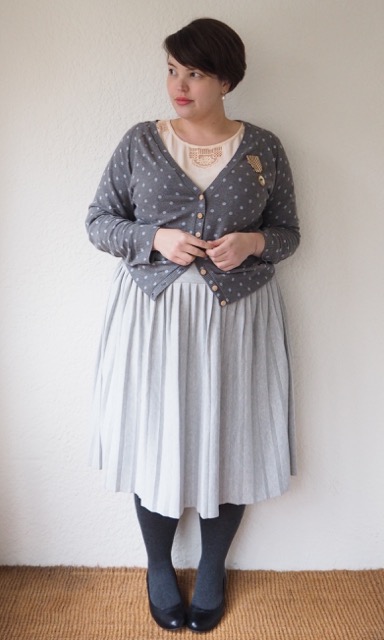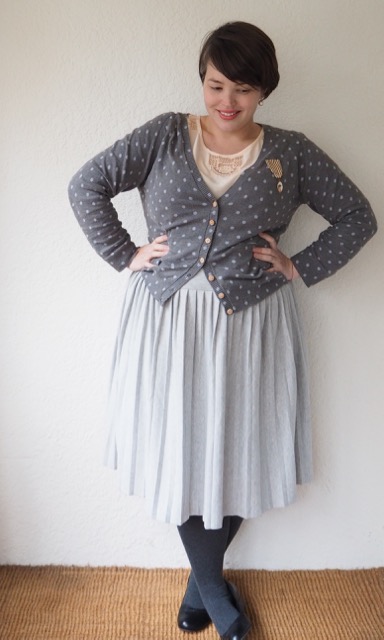 Cardigan: Gorman
Blouse: Laura Ashley
Skirt: Asos
Tights: BigW
Shoes: Wittner
Sometimes I feel a bit like my life is one of those circus shows when there's a performer spinning plates on top of sticks, and he's always trying to keep them all spinning so none of them fall down.
In most of my adult life I've always felt like one of those plates was wobbling just a little bit. The home plate, or the work plate, or the family plate, or the love plate. For a while at the start of this year I had them all spinning merrily: great home, healthy sister, lovely boyfriend, and a challenging job that I adored. Sadly last week I developed another wobble.
After twenty years in the book trade, and close to four in my current job I was informed that the company was "tightening their belts", and they'd discovered a way to make my role in the company redundant.
It's a horrible feeling, being made redundant. Like being dumped, but with more financial impact. It's never happened to me before, though I know it's fairly common in the publishing trade, and it's come as a huge shock.
I'm madly updating my CV (I was headhunted to this role, so it's looking pretty out of date) and trying to apply for positions both in out of the book trade. (If you need a fashion conscious, social-media savvy, salesperson in your company, you know where to find me!)
In completely unrelated news (ha!) I'm doing a really big sale on eBay, and if you'd like to take a look the link is here: So far I've only got my frocks up – it's a pretty big job – so I'll keep you posted on Twitter and Facebook when everything is loaded in the next day or so.