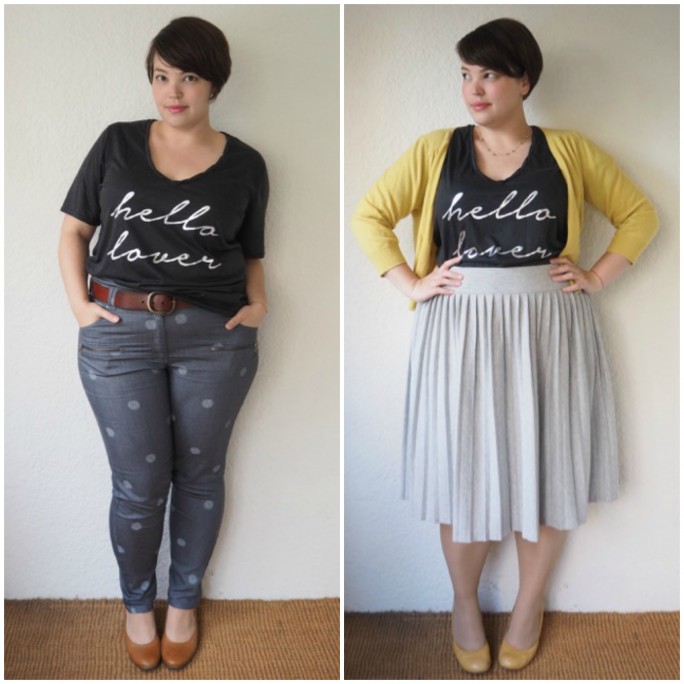 I've been seeing this awesome "Hello Lover" t-shirt doing the rounds lately, which means that there's probably a few bloggers like me who saw gorgeous Jojo of iCurvy rocking it on her blog, and decided that their wardrobe wasn't complete without it.
It's the most wonderful fabric; butter soft with a beautiful drape. The foil text shines against the heathered grey tee in a not-too-over-the-top fashion, and the wide twisted neckline and relaxed fit give it an air of casual chic.
It's been made by the Australian company "Ruby And Lilli" (and with a store name like that I really didn't have any other alternative but to buy it, right?) who specialise in on-trend t-shirts designed to flatter the fuller figure.
The site is easy to navigate, the shipping was super-quick, and my t-shirt arrived wrapped in tissue paper with a lovely little handwritten note encouraging me to visit the Ruby And Lilli Instagram page for inspiration on how other customers have styled their tees.
Well, here's my contribution(s!)
Skirt: Asos
Shoes: Seychelles Via DSW
 OK, so with the slogan "Hey Lover" it's not really an office-friendly tee-shirt, but it does look pretty elegant with the grey skirt picking up the silver in the text. The addition of the cardigan makes the tee-shirt part of an outfit, rather than being the statement piece that draws all the attention.
Because the skirt is so voluminous I've tucked the top loosely into the waistband giving the outfit a bit more shape. Because the top is oversized you get a slight blouson effect that allows it to stay relaxed, but the waist gives the outfit a bit more polish.
Jeans: Carmakoma
 My second Two-Ways outfit is a lot more casual. It's a great weekend ensemble – the slouchy statement tee-shirt teamed with a pair of comfy skinny-leg jeans. I've half tucked the t-shirt this time, which helps to maintain my proportions and elongate my legs without sacrificing the relaxed effect of the t-shirt. I added a belt and a pair of low tan heels to break up the grey.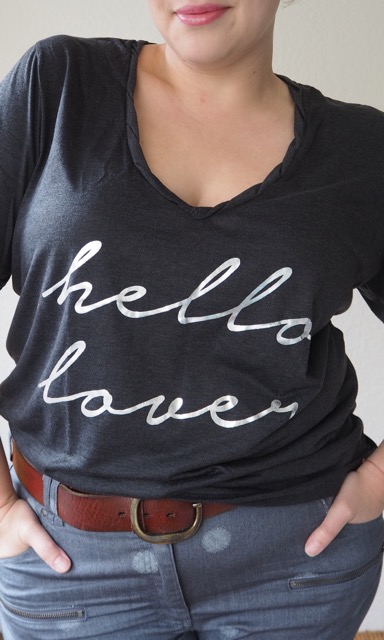 If you have your eye on this – or any of the other tee-shirts on offer at Ruby And Lilli – I've encourage you to put your order through soon, as they seem to be having a sale right now, and all the t-shirts are priced at $25, down from $45!
I've just bought my second…